There is an old Zen saying, "Wherever you go, there you are." A modern, less Zen variation on this may be, "Whatever you apply for, there's your credit score." In so many situations, that finicky three-digit number is used to judge us; if it's subpar or non-extant, we may have to pay more, or see our way out the door.
However, not having credit can be worse than having a low credit score.
"If someone doesn't have a credit score, they can't show they've been responsible with their credit and bills. Lenders may be nervous and decline applications because there's no history for them to analyze," Bethy Hardeman, chief consumer advocate at Credit Karma, told NBC News.
And it's not just buying a home or purchasing a car that is adversely affected by poor credit.
Credit Affects More Than You May Know
A new report by WalletHub found that people with no credit pay 65 percent more for car insurance than people with excellent credit, on average.
"Many consumers probably don't realize their credit score is being used at all when they're applying for car insurance," said WalletHub's Jill Gonzalez.
Alaina Leary, a 24-year-old based in Boston, Massachusetts, is one such consumer. Leary's credit was slashed as a result of identity theft, and while she knew this would affect her chances at getting a loan for a car (at the dealership, she provided proof of regular income, copies of her savings and checking account, and receipts of bills paid on time), she didn't know the dismal score would drive up the price of her car insurance policy.
"I have a shorter driving history than most people my age, so I assumed the cost was inflated due to that," said Leary.
It may be a shocker for some, but it's actually nothing new for car insurance companies.
"Credit has been used for at least 17 years and has been proven to be an effective tool by insurance companies to predict risk of claims," said John Espenschied, agency owner and manager of Insurance Brokers Group. "The thought process is simple: Responsible people are more conscientious about their credit and tend to be more thoughtful about filing small claims, and are more cautious drivers."
This kind of thinking — that good credit reflects a responsible adult — is one that all kinds of companies embrace, including, quite possibly, your prospective employer.
A 2016 Career Builder study found that 29 percent of companies ran a credit check on potential hires.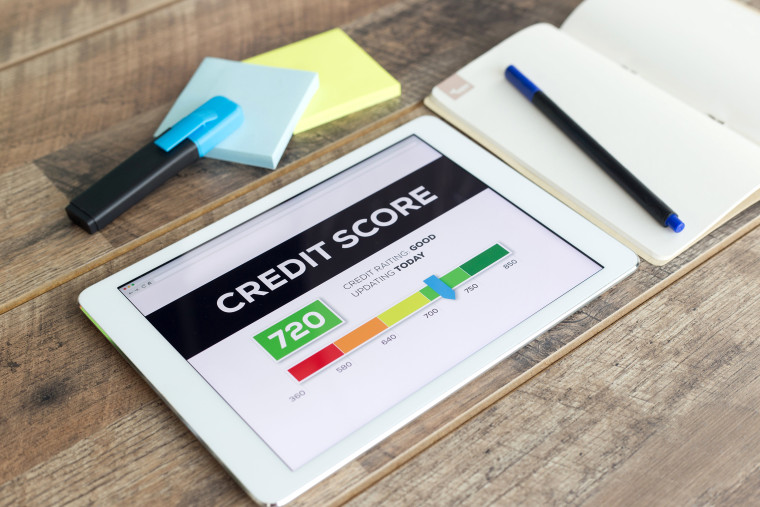 "In most cases, employers can't actually check your credit score, but checking an individual's credit report actually give them far more information about the individual such as public records like bankruptcies and tax liens, balances and payment history on loans, like mortgages and student loans, even things like medical bills," said Ian Atkins, financial analyst at Fit Small Business, adding that employers have to get written permission in order to do a credit check and must also advise if a credit check will lead to not getting the job or a promotion. "To date, 11 states have passed laws to limit a potential employer's ability to check your credit, but even the strictest of those laws have exemptions."
What's The New Grad to Do? Pay Her Rent.
It can all feel horribly daunting — not just for those working to build their credit back up, but to those who haven't yet established a credit history. Credit isn't easy to form because credit card companies, like any other lenders, don't want to trust someone with no history. Most commonly, a parent will bring you on as an authorized user to give you a foundation. Or, you'll pay a bank a refundable security deposit (usually a minimum of $200) for a secured credit card.
But alternative methods have emerged and are gaining steam as practical ways to launch or rehabilitate a credit score. One way? Paying your rent — and proving that you do it in full and on time.
Companies like Rental Kharma, RentTrack, and Credit Rent Boost work with consumers who are either trying to create or improve credit by reporting their rent history to a credit bureau.
"We report monthly rent payments and validate it through the landlord," said Sarah Roberts, partner, Credit Rent Boost. "For 12 months at the same residence, we charge $35; if a property manager signs up his entire complex, we give everyone the current year free of charge."
Roberts added that Credit Rent Boost can report up to two full previous years of rent paying, which "boosts credit scores by an average of 35 points, and have helped [scores grow by] over 100 points."
A Nest Egg That Builds Your Credit
Another way to build your credit is to set up an account with a company like Self Lender, which is like a "savings plan that builds credit," said James Garvey, co-founder and CEO of Self Lender.
The process entailed with Self Lender is similar to setting up a secured credit card line with a bank, but requires less money up front: a $12 deposit to set it up, and then monthly payments of $48.50 for one year, Garvey explained. You can't touch the money while you're depositing it, but at the end of the year, $550 plus 55 cents in earned interest (hey, that's enough to buy a postage stamp) is yours, and you've established credit history with all three credit bureaus.
Garvey says that on average, customers who started from scratch build a credit score of 650 using Self Lender — if they make all their payments in full and on time.
Stay on Top of It
Keep in mind that companies like Credit Rent Boost or Self Lender report not only the good but also the bad: if you're late with rent while using Credit Rent Boost, or if you miss a monthly payment with Self Lender — your delinquencies will be reported, and it won't be pretty.
"If you don't pay you will still establish a credit history — just not the kind you want," said Garvey.
And of course, while these businesses can help you build up credit — it's up to you to keep your score above cruising altitude. Not only should you make all payments on time, you should look at bringing down interest rates.
Related: Free Credit Score? Not So Fast
"Once you have a high enough credit score (700+) and a decent income, you can refinance your loans to a lower interest rate," said Brandon Yahn, CEO and founder of Student Loans Guy. "If your income isn't high enough to meet your monthly payment amount, you can go on an income-driven repayment plan for your federal loans."
You should also check not only your credit score regularly, but read through your credit report at least once a year.
"Under federal law, you are entitled to view your credit report every 12 months from each credit bureau (Experian, TransUnion, and Equifax)," said Zack Friedman, founder and CEO of Make Lemonade. "Since each credit bureau may have different information about your credit history, your credit score may vary across the three lenders."
Related: Why Your Credit Score May Have Just Gone Up
Also worth noting: It's essential to remain wary of companies that promise to clean up your credit files and boost your score. Last month, four California-based credit repair companies agreed to settle charges brought by the Consumer Financial Protection Bureau that they deceived consumers and charged them illegal fees. The companies — Commercial Credit Consultants, Prime Credit, IMC Capital and Park View Law — did not admit any wrongdoing, but they'll pay fines and restitution totaling more than two million dollars.
"Under the law, companies cannot charge for credit repair services until six months after they have achieved the promised results," Deborah Morris, CFPB deputy enforcement director, told NBC News. "Here they charged three types of fees which all began within the first three months of signing up for the service. Those fees were charged in violation of the law."
In a joint statement, Commercial Credit Consultants, IMC Capital, Prime Credit and their former principals said they decided "with great reluctance" to settle the case and pay the $1.5 million in order to avoid the "further time and expense of a legal battle over an enterprise that we sold several years ago."
Related: Many Americans Are Still Totally Confused About Credit Scores
The attorney for Arthur Barens, who owned Park View Law and who's agreed to pay $500,000 in relinquished funds to the U.S. Treasury, sent NBC News a statement from his client: "Unfortunately, the burden of litigation against a large government agency can be overwhelming," Barens wrote." This investigation had dragged on for more than two years and in an effort to put this matter behind me and get on with my life, I chose to pay a fraction of what the CFPB sought to settle its allegations. Most telling about this settlement is that there have been no findings of any wrongdoing or any harm to consumers."
The fact is there's no quick fix for poor credit, no matter what the ads claim. Credit repair companies cannot remove information that is negative but accurate from your credit history. If there really is an error in your file, it's your legal right to challenge it and you can do that for free.
"Never take a credit repair offer at face value and always be aware of the limitations of those services," cautioned Bruce McClary, vice president of communications for the National Foundation for Credit Counseling. "This is especially true in situations where people are promised impossible results and asked to pay in advance."