In the U.S., the price of whale meat could be time in prison. But having whale for dinner is perfectly legal in Japan, where whalers last week set out to hunt and kill the protected marine mammals despite international condemnation.
Whale meat is, of course, hard to come by these days. So how much is it worth in Japan? Not as much as it used to be.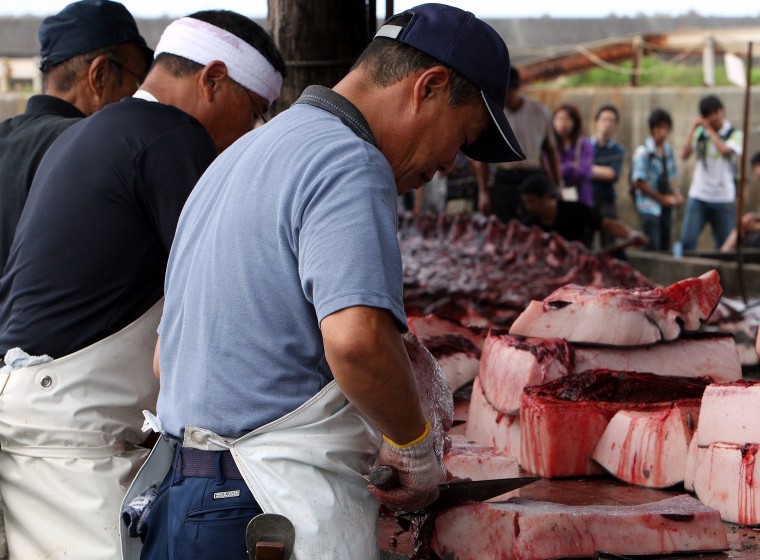 Since the 1986 international ban on commercial whaling, Japan whalers have taken advantage of an exception for scientific research. They catch whales as part of what they call a research program and then sell the meat "byproducts" to consumers. How much that meat sells for depends on the number of whales caught, customer demand and the volume of meat stockpiles sitting in freezers around the country.
In 1985, there were more than 10,000 metric tons of wholesale whale meat for sale at the 10 major city markets in Japan at an average price of about $4 per kilogram, according to government data compiled by The Big Crunch. That was about the retail price of ground beef in the U.S. at that time.
By the early 1990s, fewer than 1,000 metric tons were for sale at those markets, costing more nearly $40 per kilo — more than the retail price of choice filet mignon today.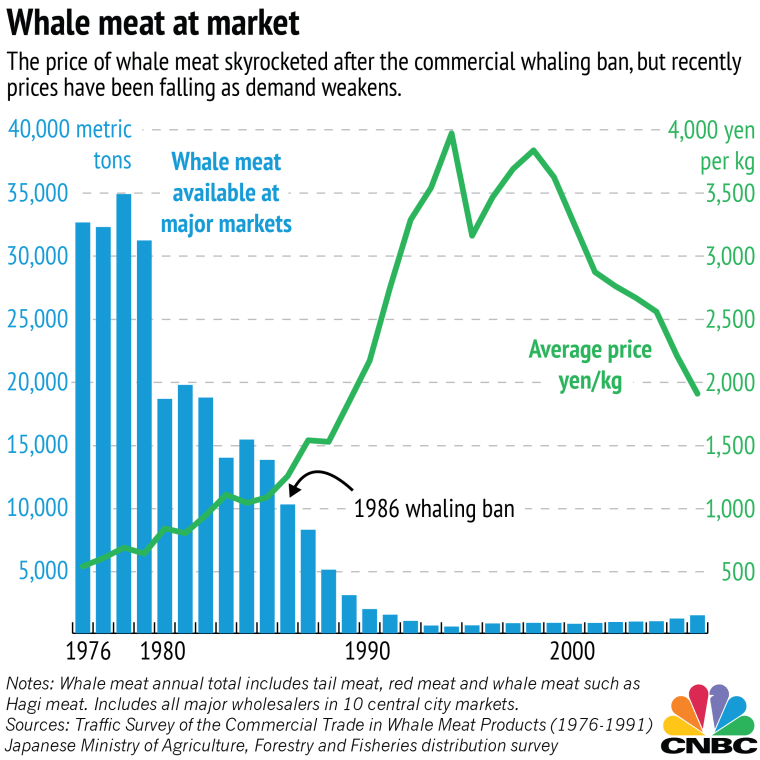 The survey tracking whale meat prices is only available up to 2006, but news reports in Japan suggest that public demand for whale meat has been waning in the last decade. The price in 2006 was less than 2,000 yen ($16.60) per kilo – nearly back to the lower ground beef prices before the international ban.
That's not altogether surprising, considering that factory whaling ships and widespread consumption of whale meat was first introduced to Japan as a protein supplement by Gen. Douglas MacArthur after the end of World War II.
Avid eaters of the meat, then, tend to be old folks who grew up at that time with whale meat in their school lunches. According to a 2014 survey, only 4 percent said they occasionally ate whale meat and half of all Japanese in their 20s and 30s said they do not eat it at all.
Buying a whole whale
So how much is a single whale worth in Japan these days?