It was the classic story of boy meets girl. But then boy made girl homemade gift, which spurred an international business.
Chris and Paige Curtis didn't set out to become small business owners, but after Chris built a picture frame for a photo of the two of them, there was immediate interest from friends and local businesses for him to make more.
Alibi Interiors was born shortly after, the name playing off the product that got the couple's business started.
"We're building picture frames," joked Chris, "and if you've been framed, you need an alibi."
What started from the Curtis' back yard in Santa Cruz, California, using discarded fence posts and reclaimed redwood has grown into an operation that creates at least 2,000 pieces a month, reaching customers from Kansas to Japan.
Alibi embraces the omnichannel approach in today's retail world, selling frames and home décor wholesale to galleries and print shops, hosting customers at their workshop studio, holding pop-up shops at craft fairs, and reaching customers from a distance on their website.
"The online portion is really neat," Chris told NBC News. "You go to sleep and you wake up in the morning, and realize you've sold a picture frame and it's going to New York. And I wonder, how in the world did somebody in New York find us?"
"We used online to tap into the retail space, to make our business different," said Paige. "All of a sudden, we were able to reach customers far beyond our small town instantly."
With the business growing rapidly, Chris quit his day job, while Paige took over managing the website and marketing materials. The couple credits technology like Weebly - the platform they used to build their website - and Square - a service that processes mobile payments - with their success.
"Without these tools, I don't know where we would be," said Paige. "It makes it quite a bit easier to run a small business; the ability to make our own business cards, build our own website, and run all of our own transactions. I'm not sure where that was 10 or 15 years ago."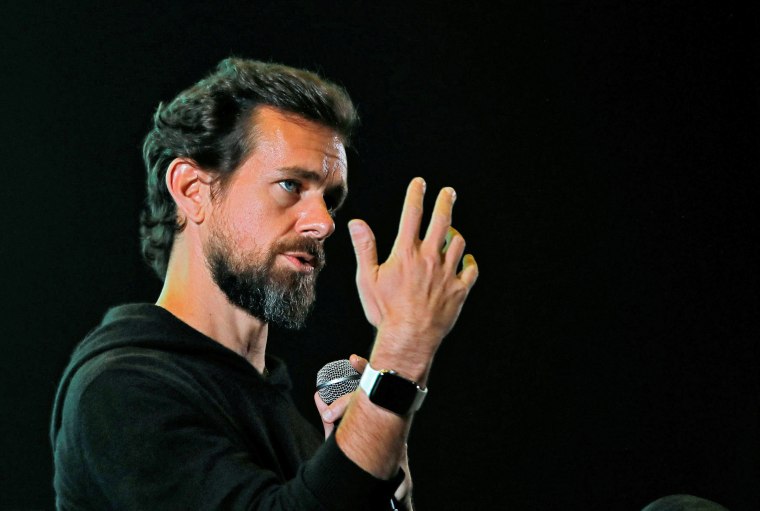 Square, used by 2 million sellers globally, was founded and is run by Jack Dorsey. The payment system is known for its small white card reader that lets small businesses scan a customer's credit card. But Dorsey wants his company's presence to be virtually invisible when it comes to its users.
"We want to be the table that supports their business. We work for them; ideally we aren't even noticed at all," Dorsey told NBC News. "It doesn't matter if someone wants to use cash, a check, card, or even bitcoin. Why should a seller have to concern themselves with any of that? What they're trying to do is sell something that they worked hard to make or produce, and their customer just wants to enjoy that."
"It also means we can sell anywhere we go," said Paige. "If I've got Square downloaded onto my phone and we've got product in the back of our truck, which we normally do, we can sell to anyone at any time."
Small businesses make up more than 99 percent of American companies, according to the Small Business Administration. Despite big box retailers like Kmart and Sear struggling this year, the amount of small businesses has grown in recent years thanks to a strong economy and the technology that allows ease of use.
"Small business is very community oriented right now, and maybe that's why small business is thriving," said Chris. "If we're all thriving together, then we're all being successful."