New reports show that people are eating out less and less — because why walk to a restaurant when you can have an entire meal brought to your desk or sofa via a tap on that ever-present smartphone?
The NPD Group, a market research firm, says a new report shows lunchtime visits — the time of day people are most likely to go — to fast-food restaurants fell by 2 percent in 2016. And new research suggests our increasingly diverse digital lives and more loosely defined workdays are to blame.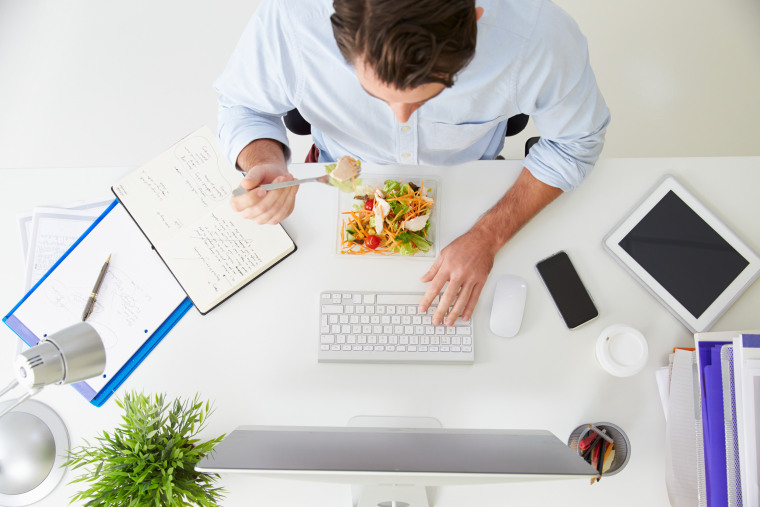 "Consumers no longer have the same definition of convenience that they once had, given the rise in technology, mobile apps and delivery," said Diana Kelter, food service analyst at market research firm Mintel.
"I think there are a number of things that are having an impact on the decline in lunch visits," said Bonnie Riggs, NPD Group restaurant industry analyst.
Whatever Happened to the Lunch Break?
One big problem for restaurants is that the workday lunch hour just isn't what it used to be, especially for the telecommuters who can just walk to the fridge for a midday meal instead of hopping into the car.
"We definitely have a lot more people working from home," Riggs said. In addition, the shift to online shopping means fewer people hitting the mall during their lunch hours, then swinging by a fast-food chain on their way back to the office.
It appears more people are just skipping lunch, turning coffee shops and even grocery store dining areas into extension of their home offices, or taking a mid-afternoon break instead.
"The rise in the remote workforce likely creates fewer occasions for workforce meals," Darren Tristano, president of research and consulting firm Technomic, said via email.
"More consumers are spending time at places like Starbucks and Panera lingering, working and meeting with others," he said. "Workers are eating out but spreading their purchases across a larger volume of restaurant choices including convenience stores, supermarket foodservice and delivery options."
There also is a generational element at work here, Kelter added, as millennials become more dominant in the workforce.
Where There's Wi-Fi, There's a Way
"With the shift in more offices offering remote work policies, this generation is not only changing their lunch habits, but also seeking convenient locations to work from," she said. "With more places offering free Wi-Fi, which is often the only requirement consumers need to accomplish their work, the competition only grows."
"Lunch is a meal that you can cut back on and you have other options," Riggs said. "When it comes to lunch we're not having a full lunch. We're trading down and calling it a snack."
NPD found that while the number of people hitting the drive-thru for afternoon snacks — predominantly between 2:00 and 4:00 p.m. — ticked up 2 percent in the last quarter of 2016, those visits make up only 18 percent of the total for the fast food sector, which isn't enough to offset the falloff at lunchtime.
Diners have more options if they want to eat lunch at home without having to turn on the oven. Third-party delivery services are proliferating; in addition to GrubHub, the growth of the so-called gig economy means that on-demand options from Uber, Postmates and other digital platforms are entering the market.
Fast Food, Slow Money
The economics of eating out has shifted, as well; food inflation is low, but other factors have contributed to a creep up in menu prices, deterring would-be diners.
A December NPD survey found that three-quarters of respondents said they're watching their finances, and Riggs said gap between what it costs to cook a meal at home versus eat out is significant enough that it deters cost-conscious diners.
In the fast-food category, the average difference in checks where a deal like a buy-one-get-one free offer was used versus a la carte purchases shrank from nearly 50 cents to just 12 cents.
"It's cheaper to eat at home," she said. "Consumers are saying it's not a good value for the money, it costs too much."