Mylan says middlemen and suppliers have forced them to jack-up the prices on EpiPens by hundreds of dollars, but two industry insiders say the company pays no more than $30 per device.
Meanwhile, some patients are forced to pay a little over $600 out of pocket for a two-pack of the lifesaving medication. Mylan sparked outrage last month when it was revealed the company had hiked up costs for the drug by over 400 percent since it acquired the brand. At the same time, CEO Heather Bresch's salary soared over 600 percent to nearly $19 million in 2015.
Sources estimate Mylan pays no more than $30 per EpiPen
A third expert pegs Mylan's cost even lower, at about $20. Kevin Deane, head of medical technologies for PA Consulting Group, a global technology and design firm that sold a drug delivery technology company to Pfizer in 2004, told NBC News that the base components for each EpiPen, including the plastic cap, tube, and needle, might cost between $2 to $4 to purchase. Pharmacists contacted by NBC estimate that the epinephrine inside costs less than $1.
Additionally, based on industry norms, Mylan would have to pay a licensing fee to companies involved in research and development of the device. This amount might generally multiply the price that Mylan pays Pfizer's wholly owned subsidiary Meridian Medical Technologies, which manufactures the epinephrine auto-injector between two and five times, said Deane.
"What they've been doing is they've been making little updates to it, refinements to make it work better," said Deane. "But it essentially is the same core technology that was there for many years," he said.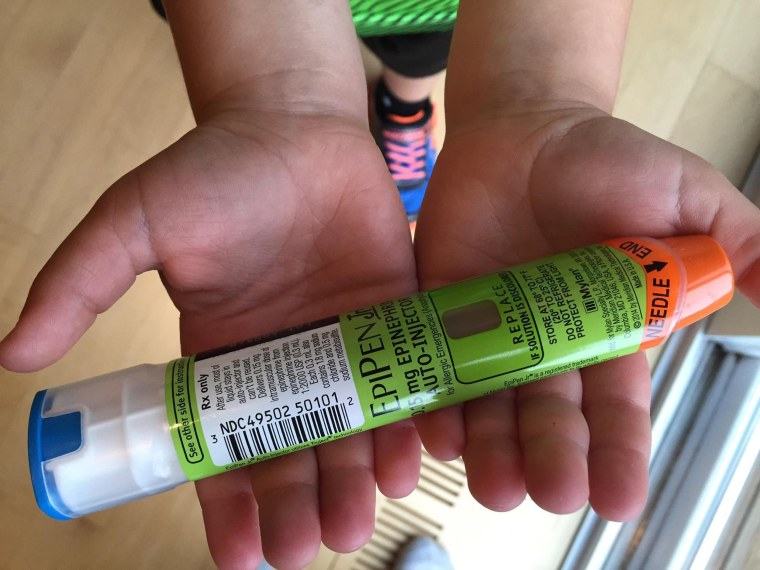 In a call with NBC News, Pfizer spokeswoman Rachel Hooper declined to comment on or confirm the pricing arrangement, citing confidential contract agreements, a position echoed by Mylan.
"We do not comment on the terms of third-party contracts," said Mylan company spokeswoman Julie Knell.
UPDATE: In September, Mylan's CEO testified before Congress that its costs were $34.50 per EpiPen.
The System
In a recent CNBC interview, embattled Mylan CEO Heather Bresch tried to shift blame for EpiPen's spiraling costs onto the "four to five hands" that touch the product between Mylan and the consumer.
But under standard industry practices, besides the portion to your insurer, most of those middlemen only take a single digit percentage.
And while the supply chain particulars or even the premium prices are not themselves unusual in the context of the U.S. healthcare system, Adam Fein, president of Pembroke Consulting, a healthcare firm that advises drug makers on commercial issues, said Mylan did do two things that were different.
Estimated gross profit per $600 epipen 2-pack: Mylan $274. Insurer $249. PBM $40. Pharmacist $27. Wholesaler $10. Source: Pembroke Consulting
Mylan ended up with a monopoly because of the failure of the government and competition to put viable alternatives on the market, he said, and they "aggressively increased prices last year."
In 2015 EpiPen's price rose 30 percent — more than double the average branded drug price increase of 12.4 percent, according to a recent IMS Institute report and an analysis by Connecture, a health insurance technology and data analytics company.
This profit-taking led to impressive margins for Mylan, which posted $1 billion in sales for the past two years, following years of awareness campaigns and legislation that increased the number of patients being prescribed the device and schools stocking it.
A model provided to NBC News by Pembroke Consulting broke down the gross profit to each of those intermediaries, based on industry norms and using the costs stated by Bresch. For illustration purposes, it assumes a list price of $600 per two-pack.
Under this model, your insurer keeps $249. The pharmacy benefits manager that negotiates between Mylan and your insurer gets $40. Your local pharmacist keeps $27. The wholesaler gets $10.
"Many people will only pay a copayment of say $50," said Fein. "The insurer would pick up the remaining cost of more than $300. But if the patient has a high deductible plan, then the insurer could pocket the $300 rebate and not share it with the patient."
Bresch stated that Mylan then gets $274 in the transaction. From there, it must pay for "manufacturing, distribution, regulatory, patient assistance program, My EpiPen Savings program, disease awareness initiatives and product donations," according to a slide displayed during Bresch's CNBC interview and distributed in a press release afterward.
"Mylan works with pharmacy benefit managers (PBMs) and insurers to provide coverage and access to our products; however, those entities, along with the payors, make the decision regarding choice and pricing of products," said Mylan's Knell. "As aligned with standard industry practice, we pay rebates to PBMs and insurers to allow for patient access to EpiPen at the lowest possible cost."
Mylan didn't respond to an NBC News request to itemize those costs, but a Mylan spokesperson told NBC that "all of those costs would clearly make the $274 number significantly lower."
"Whether you like it or not, it's the way the world works."
"Mylan in a very inartful way tried to deflect blame by pointing to the system," said Adam Fein, president of Pembroke Consulting. "Whether you like it or not, it's the way the world works."
One lawmaker who has been vocal on the EpiPen price increase took a dim view of the information about Mylan's costs.
"There's no reason an EpiPen, which costs Mylan no more than $30 to make, should cost families more than $600," said Vermont Senator Bernie Sanders in a statement emailed to NBC News. "The only explanation for Mylan's outrageous price increase is that the company values profits more than the lives of millions of Americans." On September 21st, 2016, the House Oversight Committee convened a hearing on Mylan's EpiPen price hike.
Competition Blocked
Pharmaceutical companies will sometimes pay PBMs steeper discounts in order to shut out their competition, said Fein. And, in the past, two of the biggest PBM companies have excluded EpiPen competitors from coverage: In 2014, Express Scripts excluded AuviQ (PDF), and in 2015 Caremark didn't cover Adrenaclick (PDF). This meant that if your insurance company was their customer, you would not be able to get the EpiPen alternative without paying full retail price.
"In 2014 and 2015, we leveraged the competition between EpiPen and Auvi-Q to earn additional discounts for our clients," said Express Scripts spokesman Brian Henry, saving their customers $750 million and $1 billion in those two years, he said. Caremark did not respond to a request for comment.
No Quick Fix
Amid a backlash so widespread that it's launched its own parody video game, lawmakers have called for price rollbacks and investigations. In late August, Democratic presidential candidate Hillary Clinton announced a plan to track prescription drug price hikes, fine companies whose increases weren't justified, and make it easier for competition to bring down prices. Mylan's first round of answers to Congress were due September 5th.
In response to the upset, Mylan is giving insured patients a $300 coupon, is launching its own cheaper generic EpiPen version, and increased the number of patients eligible for financial assistance.
Even before the crisis emerged, Mylan said it was taking steps to increase EpiPen access and affordability. Mylan said that it has given away more than 700,000 free EpiPens to schools since 2012. When its coupon program for insured customers was $100, it said nearly 80 percent of those customers were getting their auto-injectors for $0.
"...taking immediate action to help ensure that everyone who needs an EpiPen Auto-Injector gets one."
"We have been a long-term, committed partner to the allergy community and are taking immediate action to help ensure that everyone who needs an EpiPen Auto-Injector gets one," said Bresch in a statement. "We recognize the significant burden on patients from continued, rising insurance premiums and being forced increasingly to pay the full list price for medicines at the pharmacy counter."
On Tuesday that schools program became the source of its own new controversy, with New York State state Attorney General Eric Schneiderman launching a probe into whether the company had violated antitrust laws by requiring participating schools to agree to not buy any products from Mylan competitors for 12 months. Senators Blumenthal and Klobuchar also called for a new FTC investigation into the same.
"There are no purchase requirements for participation in the program, nor have there ever been to receive free EpiPen Auto-Injectors," Mylan spokeswoman Nina Devlin wrote NBC News in a statement. "Previously, schools who wished to purchase EpiPen Auto-Injectors beyond those they were eligible to receive free under the program could elect to do so at a certain discount level with a limited purchase restriction, but such restriction no longer remains."