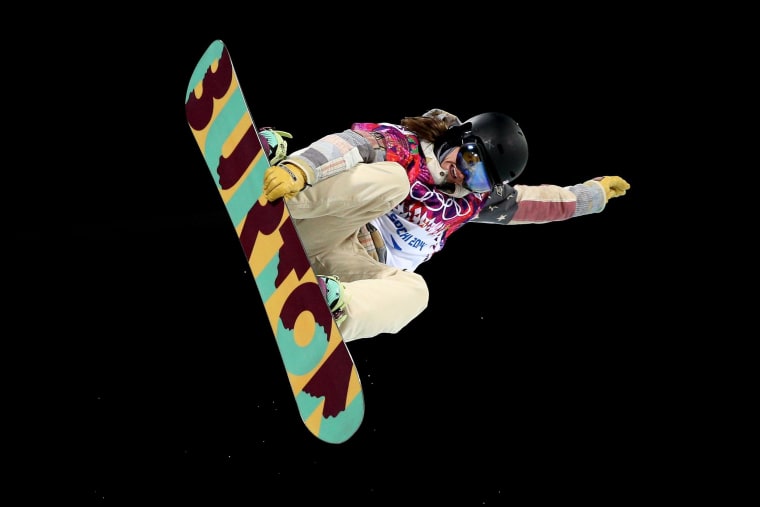 The International Olympic Committee will re-examine its restrictions on logos worn and flashed by competitors, the organization said Thursday, as the rides of most Sochi snowboarders flaunt stated limits on the allowable size of manufacturer names.
When it comes to ads on athletes, Rule 50 of the Olympic Charter states: "Any manufacturer's identification that is greater than 10 percent of the surface area of the equipment that is exposed during competition shall be deemed to be marked conspicuously."
As NBC News reported Tuesday, the snowboard bottoms of many Sochi competitors – including half-pipe bronze medalist Kelly Clark - are fully bathed in vibrant logos, emblazoned with corporate names. That's, "inspired" placement yet also a violation of the Olympic rules, said branding expert Dean Crutchfield.
At the 2014 Winter Games, those massive, spinning logos captured on camera are "not an issue for the IOC" because the official "identification of the manufacturer may be carried as generally used on products sold through the retail trade during the period of 12 months prior to the Games," said Sandrine Tonge, media relations manager for the IOC.
But won't apparel and equipment makers manipulate that stance, dousing clothing and gear with monstrous logos the year before an Olympics, thus casting millions of global eyeballs on their brands when athletes go for gold?
Perhaps not, the IOC official indicated.
"As for any Games, we will review the Rule 50 Guidelines for the next edition," Tonge said in an email.
For the remainder of the Sochi action, however, prepare to gaze a bit longer at the stealth marketing blasted across snowboard bottoms by manufacturers like Burton, Salomon and StepChild - pure advertising brilliance, Crutchfield suggests.