All work and no play makes Jack a dull boy, so Jack, now a young millennial, has turned the tables, filling his schedule with more play and less work.
And what's his play of choice? Video games.
"Leisure Luxuries and the Labor Supply of Young Men," a new study by the National Bureau of Economic Research, reveals that between 2000 and 2015, hours spent on the job for men ages 21 to 30 dropped by 203 hours per year — a 12 percent decline. Meanwhile, leisure time use among this demographic spiked by 2.3 hours per week from 2004 to 2015. While a couple of extra hours a week may not sound like a lot, from the viewpoint of big picture economics, it's massive.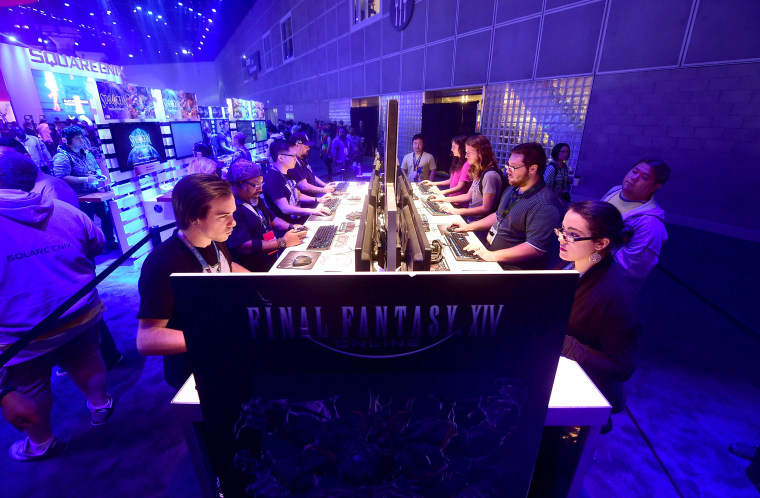 "A two hour per week shift in a given time-use category over eight years is very big by historical standards," said Erik Hurst, a macroeconomist at the University of Chicago's Booth School of Business, and a co-author of the 65-page study.
Increasingly, the go-to leisure activities for young men are video games and other computer recreational activities. This hobby segment picked up substantially between 2012-2015, with younger men increasing their recreational computer use and video gaming by nearly 50 percent — another tremendous spike, and one that Hurst didn't see coming.
"Their leisure time from 2004 to 2014 went up by four percent, so computer time should have gone up by eight percent. But the data shows that computer time went up by 50 percent," said Hurst. "These men are playing more video games than I would have predicted."
World of Warcraft Versus Earning a Living?
Are young men renouncing work to couch down with their consoles? Are they choosing video games over jobs? That could be the case in some scenarios, but more likely it's that as video games have just gotten more sophisticated and more accessible (you can browse through thousands of free ones on your smartphone), people are making more time to play them.
Another possibility: Young men may be playing video games instead of working because they're having trouble finding a job, especially one that offers good wages and upward mobility. The lower the wage, the less incentivizing it is to keep at it if you have the option of say, living with mom and dad for a while.
Related: One-Third of Millennials Now Live with Their Parents
"That ratio between leisure and wages is important. If people have high market wages, it has no effect on how much they work; but if people have low wages, outside options get more attractive," said Hurst.
As the study notes, a continued decline in the demand for manufacturing has contributed to an overall decline in wages, as well as a drop in employment rates for less educated workers.
"The job search is really hard," said Michael Madowitz, an economist at Center for American Progress. "When you're unemployed and just sending out résumés and maybe going on a couple interviews but constantly facing some form of rejection, you need to find some other outlet to help stay sane. If video games are helping people do that over this recession — which is the crux of what this paper is building on — that may be a really good thing."
Gaming Can Give You What Real Life Can't
If you're in between jobs, or doing something part time, or just feeling uninspired about the job you do have, immersing yourself in the world of video games is tempting.
Collin Slattery, a 28-year-old entrepreneur based in New York, told NBC News that he used to be "a hardcore gamer" — logging more than 50 hours a week — before starting his business. He does look back on it as an "addiction," but at first, it made sense: It was cheap, fun, and it gave him an enviable status he felt he didn't have in the real world.
Related: Millennials Are Changing the Workplace for the Better
"Fifteen dollars a month is what a World of Warcraft subscription costs, and it can provide you with 200-plus hours of entertainment a month," said Slattery. "It gives you a sense of camaraderie, [and] a sense of accomplishment. You may not be successful in real life, but if you're a hardcore raider on your World of Warcraft server, with hundreds and thousands of people looking up to you and your in-game success, you feel important and have the respect and admiration of tons of people."
Slattery didn't aspire to be a "basement dweller" as he calls it, but until he started focusing on developing his own digital marketing agency, it was hard to see a way out of gaming all day. He didn't go to college, and found that the job market was "really, really bleak" for people such as himself.
Getting a Job: The Hardest Level
Not even the most optimistic career coach would disagree with the notion that if you don't have a college degree you're at a disadvantage — but certainly it doesn't mean it's game over for your opportunities beyond the virtual realm.
Vicki Salemi, a career expert at Monster, recommends that job seekers who don't have a college degree seek out some other form of certification such as a coding boot camp — anything to "show they have hands on-work experience and something substantial on their résumé," said Salemi.
Related: Millennials Are Finding It Hard to Adult
While some games promote online human interaction, there's really no replacement for real-life communication, so even if you have your video game hobby in check (as in, it's not an addiction), make sure you're socializing IRL.
"You need to spend time in reality, even if it's just volunteering at a soup kitchen," said Salemi. "The most important things to a hiring manager: Are you likable? Can you be part of the team?"
And you have to just keep applying to jobs — every single day. It may take a while, and it may feel like a level you just can't beat. But something will pan out. It has to, because ultimately everybody has to get a job at some point, right? Well, maybe, maybe not.
"I don't know what will happen in 10 years to the people who are 25 now and unemployed," said Hurst. "I would conjecture that if labor market conditions stay where they are, 25 year-olds tomorrow will look a lot like 25 year-olds today. I just don't know how that will play out."
Mom and Dad may be rolling out that sofa bed in the basement for a lot more years to come.