Wall Street is having its worst week since the financial crisis — but it's not just major companies such as Apple and Boeing who are reporting gigantic losses and feeling the effects of the coronavirus epidemic.
Nick and Arin Oliver of Oregon, Illinois fulfilled a lifelong dream of starting their own business with the launch of their online clothing store, Harbor Factory, in January.
"We'd been working on the idea for a couple years before we jumped into it," Nick Oliver told NBC News. "We were on track to do 1,000 sales in the first week."
But the timing couldn't have been worse.
Harbor Factory officially launched on Jan. 17, with the majority of its suppliers based in Wuhan, China — the epicenter of what the World Health Organization has called a public health emergency after almost 2,800 people have died from the coronavirus.
What should have been a successful first week quickly soured when Harbor Factory's orders weren't able to ship. As a direct-to-consumer business, Harbor Factory's success relied on the China-based suppliers being able to ship product orders directly to customers.
Oliver said they received notices that their products weren't able to ship, blaming the delay on the Chinese New Year holiday when many businesses and factories in China close.
When delays continued, that supplier finally admitted the order delays were a direct result of the coronavirus outbreak.
"It turned our business launch into a nightmare," Oliver said. "Everything has had to be refunded. Nobody wants to have a launch like this."
Oliver said that his supplier's inability to fulfill orders had a huge effect on his business. He estimates that his profits were down 95 percent those first few weeks.
Wanting to create a positive experience for customers and live without the stress of a unreliable supply chain, Oliver decided the company's best move was to switch to a U.S.-based supplier.
This month, they officially made the switch to a supplier based out of California.
Customers are now receiving orders within three or four days, Oliver said. But the higher cost of doing business in the U.S. has had a direct effect on Harbor Factory's profit margins, which he estimates are down 25 percent overall.
"It makes it a little harder to make it," Oliver told NBC News. "This virus has been an eye opener when it comes to our business."
Another small business owner, Shea Standefer, told NBC News she is also feeling the effects of the coronavirus outbreak on her fan art store, which she opened in June 2018 via Etsy.
The San Diego-based freelance video game artist originally opened her online store as a way to supplement her income. What started as a side business has quickly turned into her main source of income.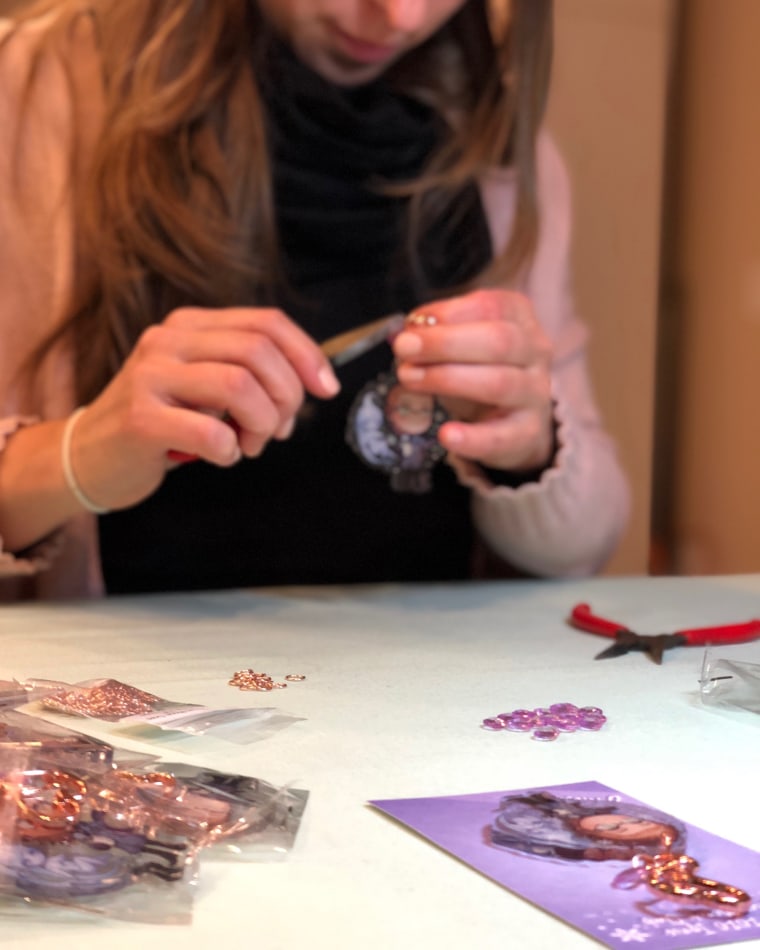 Standefer's store sells a variety of products, including bags, charms, key chains and other animé-related merchandise, which are all sourced out of China. The most profitable part of her business, however, is her monthly merchandise club, which is a new design on her products that she releases the first day of every month.
The initiative, which she launched in January 2020, sold out in both January and February. However, her March merchandise club is not likely to echo this success because she hasn't been able to restock her products for the month. Her China-based manufacturer said there are significant delays because of the coronavirus outbreak.
"March is this weekend and I don't even have my key chains yet," Standefer told NBC News.
Standefer said she is hoping to have her merchandise club orders fulfilled by the end of March, but isn't sure if that will be possible.
"There's a huge backlog," she explained. "What used to take a couple of weeks to get...might take six weeks now."
She said she has considered switching suppliers to one based in the U.S., but simply cannot afford it. Her charms cost $2 to produce in China, but would cost $4 to produce in the U.S., she explained.
Now, her $500-a-month business appears in serious jeopardy because of the disruption in the supply chain.
"I hope it will sort itself out in the next few months," she said. "Five hundred dollars isn't a lot of money for some people, but it's a heck of a lot of money for me."