The number 314 is getting a bit less mystical and a lot more promotional. On National Pi Day (3/14), everyone from pizza parlors and bakeries to clothiers and electronic stores is seizing the opportunity to lure consumers, and take the number "314" to new discount heights — or lows, if you want to get mathematical about it.
"A lot of retailers, especially in the food category, love to jump on National Pi Day by offering punny promotions," said Sara Skirboll, shopping and trends expert for RetailMeNot. "[Many retailers] are celebrating Pi Day with deals on the cheesiest type of pie: pizza. To score an even bigger saving at Papa John's, make sure to purchase a discounted gift card. Right now you can buy a $25 gift card for $21.88 at RetailMeNot.com. Combine that with the Pi Day deal to stack the savings on your order."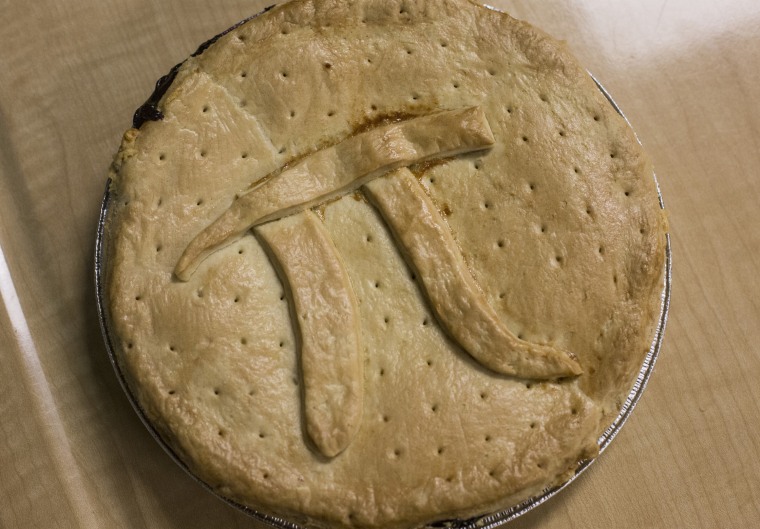 Other restaurants that have announced their participation include Blaze Pizza, which is hosting a pop-up pizza party with $3.14 build-your-own pizzas with unlimited toppings all day at many of it 240 locations. BJ's Restaurants, with 195 locations, is offering a mini one-topping pizza for $3.14 (the cost is normally $11.50 before tax, a spokesperson for the brand confirmed).
Pi Pizzeria, based in St. Louis and D.C., is living up to its name by offering all-day happy hour at its full service locations for $3.14, a BOGO special (buy one large pizza and get a second for $3.14), as well as a free large pizza for all "Pi babies," aka, people who are born on March 14. You can also get a free 4 Hands Pi pint glass with any full-price draft beer purchase, and enter a contest for a $100 Pi gift card at limited locales.
Your Pie is selling pizzas, pints of craft beer, and combos — each for $3.14. The company is also hosting Free Pizza For A Year prizes and other swag to fans who participate in the brand's social media #YourPieDay campaign, plus giving $500 to the store that gets the most #YourPieDay participation.
Meanwhile, Papa Murphy's Take N' Bake Pizza is touting a large thin one-topping pizza for $3.14 for online orders, and if you sign up for a coupon at Villa Italian Kitchen, you can get a Whole Cheese Neapolitan pie for $3.14. Over at Godfather's Pizza, get $4 off a jumbo pie, $3 off a large, $2 off a medium and $1 off a small, while Hungry Howie's is selling medium one-topping pizzas for $3.14 with the purchase of its Howie Bread. At Urban Bricks Pizza dine-in pizzas are priced at — you guessed it — $3.14.
The most extravagant and unique offering in this category comes from &pizza, which, as reported by the Baltimore Sun will host a number of weddings at its Baltimore, D.C., New York, and Philadelphia locations on Pi Day.
All in all, this is quite a lot of action for pizza shops, which is impressive because as Tom La Vecchia, founder of the digital marketing firm X Factor Media, points out, National Pizza Day was just last month, and most of these retailers were whipping up piping hot deals for that "holiday," too. It goes to show that the day is worth savoring, marketing-wise.
"These fun freebie days and deals continue to pick up steam with retailers, and it's likely that they will continue since it's a fun way for retailers to get customers into their businesses," said Courtney Jespersen, consumer savings expert at NerdWallet. "And with social media, consumers love tagging their deals, too."
Dessert pies count (to 314), too
Bakeries are also plugging the pi(e) factor this Wednesday. At Whole Foods, snag $3.14 off large bakery pie, and at Marie Callender's, download a coupon to nab a free slice of pie with your adult entree. At Bojangles', buy three sweet potato pies for $3.14. The company is also inviting patrons to check its Twitter for Pi-themed math questions created by teachers. If you answer a question correctly, you'll be entered into a drawing to win Bojangles' gift cards and other merch.
If you're craving a more savory treat that happens to be round and baked, consider downloading Boston Market's BOGO coupon that will get you a free Rotisserie Chicken Pot Pie with the purchase of another pot pie and a beverage.
Quirky brands are brainstorming fun specials
"There's a natural link between pies and Pi Day, and that's always been the biggest promotional opportunity," Dr. Beth Vallen, associate professor at Villanova School of Business, told NBC News. "But the more interesting [opportunity] is for the businesses centered around brainy endeavors. They can use the day to run promotion that is really on brand."
ThinkGeek is back with its national Pi Day offering. Spend $50 at you'll get a free Sir Cumference Pi Day t-shirt by using the code "Roundtable" at checkout. The tee normally retails for $19.99. The online site also has tons of items on sale for the brainy holiday. Newegg is also making an on-brand statement with the holiday, hosting the Newegg Pi Day sale that features discounts on processors, bundles, expansion boards, etcetera. Meanwhile, Wolfram is inviting buyers to save as much as 20 percent on mathematical programs and other educational materials.
Even brands that have never associated themselves with the holiday may also taking action this year, as is men's consignment shop app Swaggle.
"On Pi Day, we plan to roll out a Swaggle Pi Day campaign," said Eric Niu, cofounder and CEO of Swaggle. "Customers will get a 31.4 percent discount when they buy $31.41 worth or more items on Swaggle. Our average cart size is $80, so that [would be] a $25 saving special. This is our first time launching the Pi Day campaign and we are super excited. We plan to launch the campaign via social media influencers and our email subscription lists."
Expect last minute deals around lunchtime
Experts expect retailers to roll out last minute deals on Pi Day. NerdWallet's Jespersen recommends scrolling through social media and checking your email inbox and, "if you're really hungry for a deal, do a Google search for 'Pi Day deals,' and you'll be certain to find plenty in your area and from national retailers. In some cases, be ready to grab a coupon to bring along with you."
Vallen of Villanova adds that some quick-serve establishments may not even start advertising Pi Day deals until as late as midday on Wednesday. "I have a hunch that we'll see more [campaigns] from fast food chains around lunch time because people may not know where they'll go. I can see this being effective in helping them make a decision."