Ivanka Trump is shuttering her clothing line in order to focus on her role as senior adviser in her father's White House, the company announced Tuesday.
"When we first started this brand, no one could have predicted the success that we would achieve," said Ms. Trump in a statement to NBC News. "After 17 months in Washington, I do not know when or if I will ever return to the business, but I do know that my focus for the foreseeable future will be the work I am doing here in Washington, so making this decision now is the only fair outcome for my team and partners."
The closure of Ms. Trump's business, which was first reported by the The Wall Street Journal, will reduce its entanglements in President Donald Trump's "America First" agenda and protectionist trade practices. According to a report, workers at one of the Chinese factories of Ivanka Trump's clothing line were paid $62 a week. Her business employs 18 people.
Last week, Ms. Trump heavily promoted a new White House push to get American businesses to hire American workers. When asked in an interview with Gray Television whether she would ask the Trump Organization to sign the same pledge, Trump said it was "a great idea" but wanted to "recuse" herself from "calling them."
Earlier this month, Canadian retail giant Hudson's Bay, which also owns Saks Fifth Avenue and Lord & Taylor, said it would begin phasing out Ivanka Trump's goods, citing weak sales. That move comes amid a growing trade war between America and its trading partners, which stems from Trump's decision to impose punitive tariffs on all imported aluminum and steel, including Canadian imports. The Ivanka Trump company said it had been notified of the pullback in the fall of 2017.
Ms. Trump started the brand in 2014 and sales soared during the 2016 presidential campaign, in part thanks to her glamorous, high-profile appearances on the campaign trail.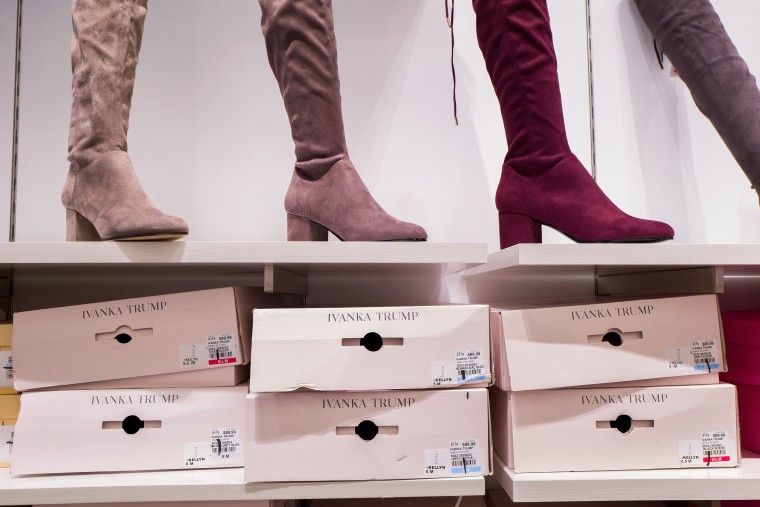 But in 2016 a grassroots anti-Trump social media campaign named #GrabYourWallet hit the Ivanka brands with calls for boycotts, crowdsourcing a database of businesses for activists to contact and demand they end ties.
"This is a resounding success," Shannon Coulter, the campaign's founder, told NBC News in an online message.
"We've seen increased momentum in the wake of the immigration crisis caused by the Trump administration and Hudson's Bay subsequent dropping of the Trump brand," said Coulter, a digital marketing strategist in San Francisco, California. "I believe Ivanka is closing her company in order to avoid the further embarrassment of major retailers dropping her line."
But in 2017 as anti-Trump backlash began to grow over connection to her father's divisive and controversial policies, retailers began distancing themselves from the Trump line.
They took down in-store promotional signage and relegated Ivanka's lines to their back racks, or continued to sell in store while removing the products from their website.
Citing poor sales, upscale retailer Nordstom declined to fully renew its spring order for the Ivanka Trump line. That prompted her father to lash out at the company on Twitter.
Ms. Trump's business later launched a direct-to-consumer website that would bypass reluctant retailers.
Though Ms. Trump made note of "strong sales" and a "rapidly growing" e-commerce business in her statement on Tuesday, the challenging optics had continued to mount.
Critics uncovered records of Chinese trademark approvals for Ivanka Trump products that showed the applications were approved after President Trump conceded to Chinese demands to lift a ban on the ZTE electronics manufacturing company that had been put in place following allegations it was involved in stealing American trade secrets.
Ms. Trump had put her company, IT Collection LLC, in a trust to help alleviate conflict-of-interest concerns. But because she is a public figure, those concerns were unavoidable. She wore items from her company's collection during appearances in her White House role, granting free advertising to her personal company from her public role, potentially running afoul of rules that bar government employees from using their public office for private gain or endorsements.
The challenges started almost right away. Ivanka Trump wore a $10,000 bracelet from her collection during an interview with CBS's "60 Minutes" and one of her vice presidents of sales sent a "style alert" to journalists encouraging them to share it.
Ms. Trump shared the news with her staff at Trump Tower and visited with members of her team, who were "most likely surprised," as the company had previously committed to staying in business for the foreseeable future, according to a source close to Ms. Trump. The staff would be receiving settlements in line with industry standards, the source said.