Days before the election, Trump Inc. subsidiary brand Ivanka Trump is facing new headwinds.
In the latest twist, retailer Nordstrom was forced to defend carrying Ivanka Trump's clothing line after a Twitter backlash called for the store and other chains to pull her wares.
Brand experts say that while Ivanka Trump may get dinged, she will endure, no matter who wins the election. A recent Morning Consult poll found that more than half of women overall would not consider buying Ivanka Trump brands.
But the line's target demographic is millennial women. And 51 percent of them said they were "extremely" or "very likely" to purchase Ivanka Trump-branded items, according to a survey by research firm Brand Keys.
Their credit card swipes won't come pain-free, though.
In an open letter that had over 825 retweets and 1,100 likes, a self-described lifelong Nordstrom customer said that selling Ivanka's clothes helped promote her father's "hate speech." The writer further criticized the clothing line for its treatment of women and laborers.
Nordstrom didn't respond to a request for comment, but they did reply on Twitter to the poster of the open letter. "We hope that offering a vendor's products isn't misunderstood as us taking a political position; we're not," the brand's Twitter account wrote. "We recognize our customers can make choices about what they purchase based on personal views & we'll continue to give them options."
These days in terms of market perception "there's absolutely no separation between brand and politics," said Ashley McCown, president of the Boston-based Solomon McCown & Company PR and crisis management firm. "To be promoting being an independent, successful woman and her father has made comments on the contrary, that's a hard place to be in."
The analysts said that Ivanka and Nordstrom became a surrogate target to attack in the runup to the election.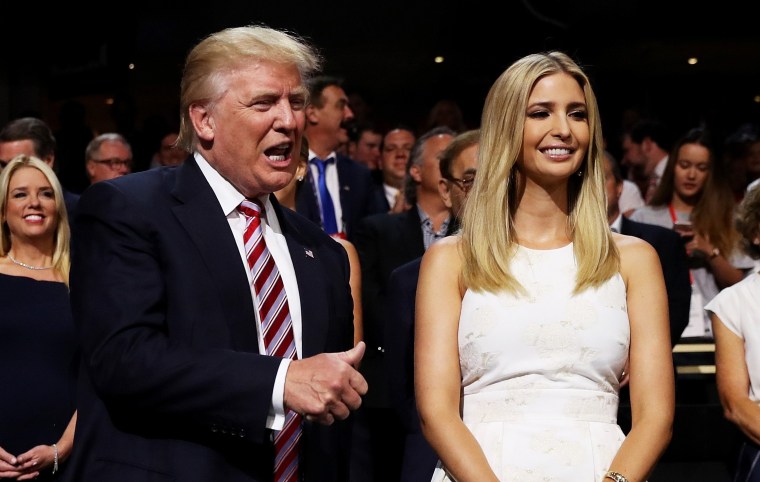 "There are a whole lot of women out there that are furious with Donald Trump. This is a way of venting and of striking out," said Robert Passikoff, president and founder of Brand Keys. "I don't think its going to last."
That's because Ivanka has been a "smart brand steward," said Ronald Goodstein, an associate professor of marketing at Georgetown University, who has largely managed to maintain an aura of grace and style during this contentious election cycle.
"Her line of clothing becomes intertwined with her father's and his image," he said. "If her dad is touting hate, it doesn't mean shes a hater."
Pasikoff questioned how much the social media outcry will play out into decreased sales.
"The things that go on in terms of 'hey did you see that,' the 'likes' and the 'tweets' and these online conversations... they're more indicative of emotion than they are of actual brand engagements," he said.
While her dad may win or lose the election, Ivanka Trump will still get on with business.
"There's three ways to vote. You can vote with your ballot, vote with your wallet, and vote with your feet. I think feet and wallet people will come back to her brand," said McCown. "She'll survive this."