Thousands of job-seekers across America lined up outside Amazon's gigantic warehouses Wednesday hoping to get hired as part of the retail giant's first national "Jobs Day."
The jobs fair, which aims to hire 50,000 workers within a four-hour time frame at 12 fulfillment center locations ranging from Washington State to Tennessee, is part of Amazon's pledge to hire 130,000 workers by 2018.
In Robbinsville, New Jersey, Morgan Devries, 21, told NBC News she used to work in retail but is now applying for work at Amazon because the industry doesn't pay well enough.
"I work at the airport and they are paying people $12 and under [per hour]," Clarence Williams told NBC News. "People cannot live on that type of wage! If you look at the long line, no one here is making good money."
Though Amazon and other retailers traditionally make a summer hiring push in order to ramp up for the busy holiday shopping season, the scale of the hiring is in stark contrast to the brick-and-mortar retail Armageddon — thousands of store closings that the over-built retail industry has blamed on Amazon's ability to get shoppers to buy from home online.
"Amazon just continues to grow, and it's hard to predict what that means for the future of retail," Business Insider Your Money editor Lauren Lyons Cole told NBC News.
"As it is right now, small businesses — even large businesses — are having a very hard time competing and keeping up with Amazon."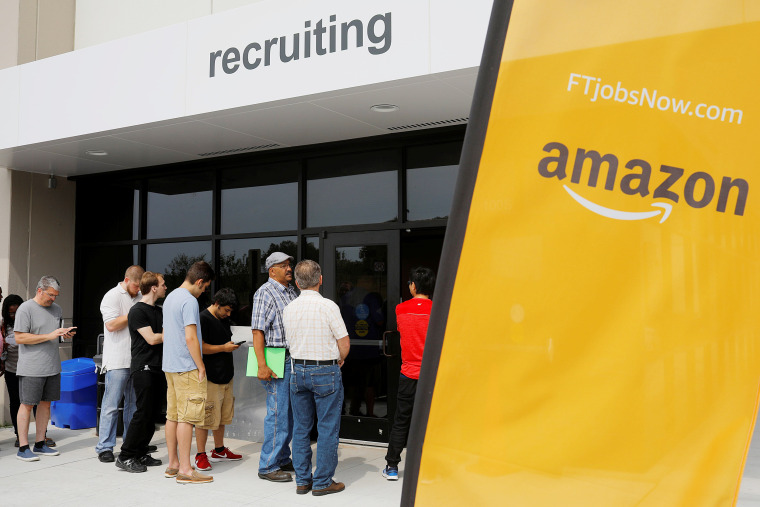 The company says it offers competitive pay and benefits for full-time workers as well as part-time workers after they've been employed 90 days. Wages for the advertised positions range from $11.50 an hour in Tennessee to $13.75 an hour near Amazon's Seattle headquarters.
Growth in online warehouse jobs have transformed some sleepy local economies into "fulfillment towns," boosting population, raising wages, and increasing sales tax revenue.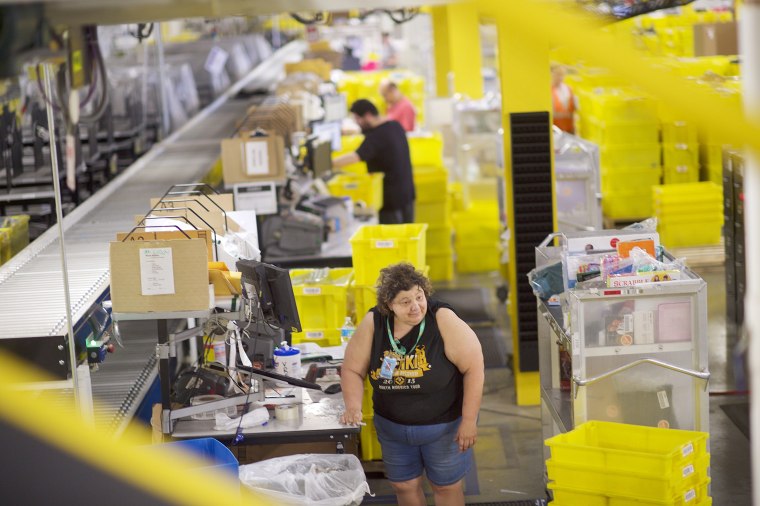 Amazon asks prospective employees to bring photo ID and refrain from wearing dangly clothing, keep hair and beards tidy, and to wear close-toe shoes.
If you can't make it to one of the fairs, don't worry. You don't have to visit a "brick-and-mortar" hiring location in order to help kill brick-and-mortar retail. Amazon also lets you apply online.