There are plenty of ways hotels can make your stay a pleasure — and an equally long list of ways other people can ruin it.
The worst offenders? "Inattentive parents," and "Hallway Hellraisers," according to a new study from Expedia that asked more than 1000 Americans to share details on the guest behaviors (of others…) they find most aggravating.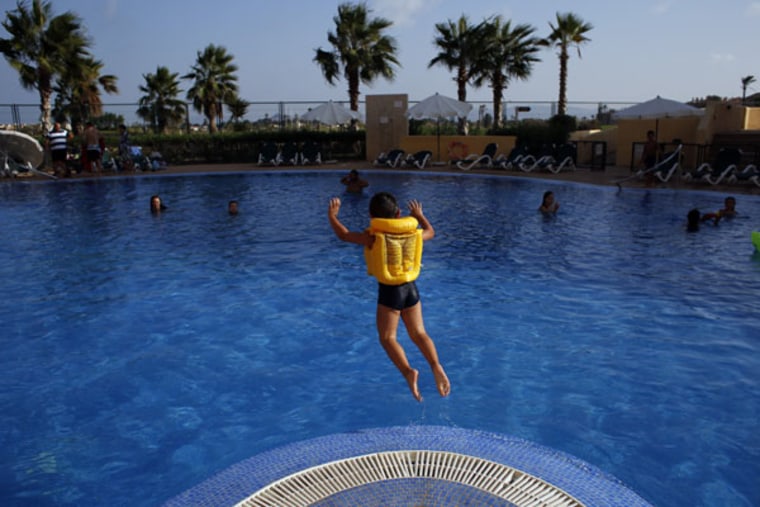 The study also asked about the features and amenities most important to travelers when booking a hotel.
According to the survey, 72 percent of Americans were most irritated when parents were lazy and didn't keep their children in line when staying at a hotel, while 69 were irked when other guests made noise in the hallways. In-room revelers, hot tub canoodlers and "loudly amorous" guests also made the list of the 10 least popular fellow hotel guests.
(List Courtesy Expedia)
Inattentive Parents, 72 percent
Hallway Hellraisers, 69 percent
In-Room Revelers, 59 percent
Complainers, 53 percent
Bickerers, 35 percent
The Loudly Amorous, 29 percent
Poolside Partiers, 28 percent
Hot Tub Canoodlers, 22 percent
Business Bar Boozers, 17 percent
Elevator Chatterbox, 9 percent
The study found that travelers don't just get irritated by the behavior of other travelers, they do something about it: 18 percent of respondents have asked to switch hotel rooms because their neighbors were too noisy.
"The hotel experience is one that many people love," said John Morrey, vice president and general manager of Expedia.com, in a statement. But "it's vital to remember that you're not staying there by yourself, you are surrounded by hundreds of people who have paid to share that space."
Survey respondents also fessed up about their own behavior in hotels.
According to the survey results, 30 percent of Americans don't tip anyone during a hotel stay and, among those who tip, the most-tipped hotel employee is the housekeeper (46 percent), followed by the room service attendant (40 percent). Only 10 percent tip the concierge.
Read More: Bed and Break-in: Hotel Industry Tries to Show Hackers the Door
Almost a quarter (24 percent) of those surveyed admitted to "hoarding" toiletries to take home with them, while 11 percent have let multiple people sleep in their room without notifying the hotel. 10 percent have taken items from their hotel room without permission.
And, when asked about "more illicit" activities, 4 percent of Americans said they've smoked in a non-smoking room, and 31 percent say they've booked a hotel room for the express purpose of being intimate with someone.
When it comes to "very important" amenities for choosing hotels, it was no surprise that price was the top consideration (73 percent), followed by complimentary Wi-Fi ( 63 percent), location (61 percent), reviews (43 percent) and parking options offered (38 percent).