Several retailers have taken an early stand against Thanksgiving Day openings, with GameStop, Lowe's, TJX and Staples already saying they will keep their doors closed until Black Friday.
But don't read too much into the headlines.
Although the trend at first glance appears encouraging for those who complain that shoppers and employees should be able to spend the holiday with their families, it's unlikely to stick, analysts say.
For one, Staples is the only aforementioned retailer to have changed course this year, after opening at 6 p.m. on Thanksgiving last year. TJX, Lowe's and Gamestop locations were also closed in 2014.
What's more, three of these four companies don't rely on early hours to gain a competitive edge, meaning they have less incentive to operate on Thanksgiving. That's because off-price stores like TJX's T.J. Maxx, Marshalls and Home Goods offer bargains year-round, whereas office supply and home improvement stores aren't thought of as traditional holiday shopping destinations.
Fake Sick to Go Shopping? You're Not Alone
As value-oriented retailers start to announce their holiday hours, however, it's likely that the Targets and Wal-Marts of the world, which thrive on door-buster deals, will once again kick off their sales on Thursday. Dollar General, for one, said on Monday that it will once again open at 7 a.m. on Thanksgiving Day, though it will close two hours earlier than its standard hours, at 8 p.m.
That's despite the fact that PwC's holiday survey found only 41 percent of shoppers plan to shop on Thanksgiving Day — with the majority planning to do so online.
But as shoppers who earn less than $50,000 a year plan to cut back this year, PwC's Steve Barr said it will be even more important for those retailers who compete on price to make themselves available wherever and wherever their consumers want them to be.
Another Troubling Sign for the Holidays
"For the retailers that are capturing the value shopper there are fewer dollars for them to capture," Barr said.
That doesn't mean these choices will be without controversy. When several major retailers opened earlier on Thanksgiving Day last year, it resulted in numerous online petitions. Among the stores that were open last year, J.C. Penney, Best Buy and Toys R Us opened their doors at 5 p.m., while Wal-Mart, Target, Macy's and Kohl's kicked off their events an hour later.
Despite the outcry, shoppers showed up. Wal-Mart said that more than 22 million shoppers came to its stores on Thanksgiving, in line with 2013. And Macy's CEO Terry Lundgren said the crowd at its flagship New York City store outnumbered the 15,000 who were there the previous year.
A report from in-store analytics firm ShopperTrak found that Thanksgiving Day store visits increased 27.3 percent over the prior year. That growth pulled some shoppers away from Black Friday, allowing Super Saturday — the last Saturday before Christmas — to dethrone it as the biggest sales day of the year.
Those $7 Skinny Jeans Are a Holiday Spoiler
"We've seen an increase in Thanksgiving shopping over the past few years at the expense of Black Friday," ShopperTrak founder Bill Martin said at the time.
Still, questions remain as to how beneficial Thanksgiving Day openings are to retailers' bottom lines. Data from the National Retail Federation last year found that 32 percent of consumers who shopped over Black Friday weekend did so on Thanksgiving Day. That was flat with the prior year, despite the fact that retailers extended their hours.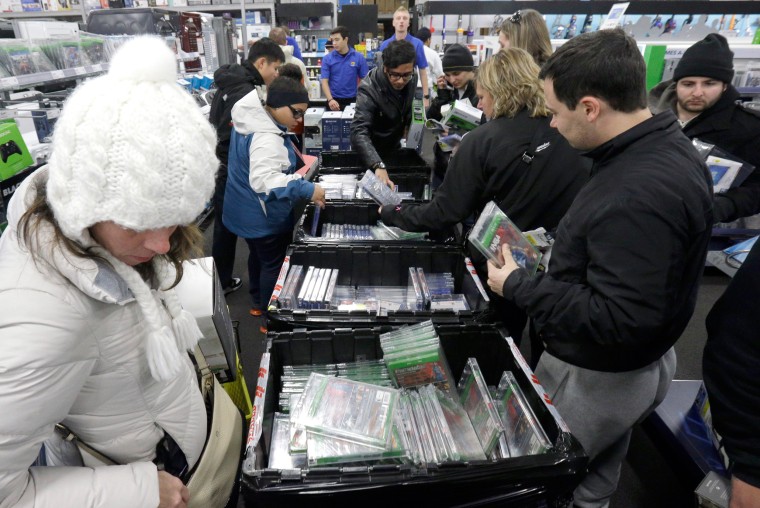 For Barr, the need of retailers' to stay open boils down to what type of products they sell and the nature of their relationship to their shoppers. In other words, do consumers expect them to offer robust promotions?
Regardless, he admits that Black Friday weekend in general is becoming less crucial to retailers and consumers alike, as shoppers can find steep discounts year-round.
According to PwC's study, only 26 percent of shoppers plan to complete the majority of their holiday spending during Black Friday week. That compares with 29 percent who will do most of their shopping the previous week, and 45 percent afterward.
"Thanksgiving Day is really just a smaller piece of the broader conversation around deals and promotions," Barr said.