McDonald's is introducing America to some of its biggest international hits, including a Grand McExtreme Bacon Burger from Spain and a Stroopwafel McFlurry from the Netherlands.
The new "Worldwide Favorites" menu will be available at participating restaurants as of June 5 and adds best-sellers from other countries to the fast-food giant's current U.S. options.
Featured on the menu are the Stroopwafel McFlurry, a soft-serve vanilla ice cream dessert mixed with caramel waffle cookies; the Grand McExtreme Bacon Burger, a quarter-pound beef patty with a special bacon sauce and bacon strips on a sesame bun; a Tomato Mozzarella Chicken Sandwich from Canada; and Cheesy Bacon Fries from Australia.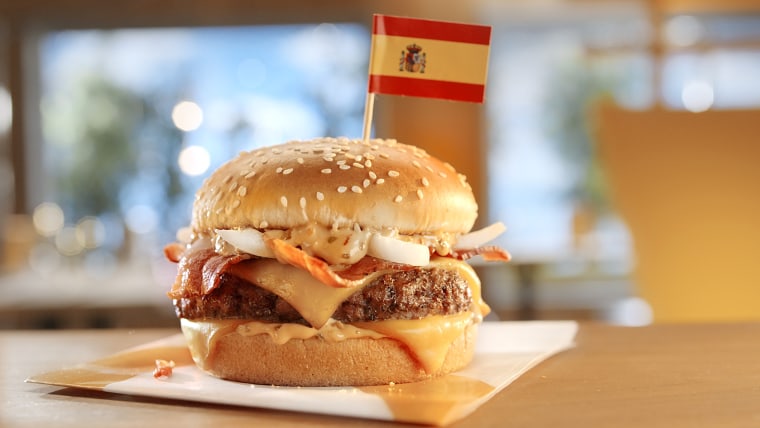 Some of the menu items were first tested in South Florida last year as part of a promotion to celebrate the presence of McDonald's around the world and to "highlight the unique flavors from each region," the company said at the time.
The new, Instagram-ready menu items are part of a set of changes made over the last few years as McDonald's faces growing competition from "fast casual" premium burger chains such as Smashburger and Five Guys.
In March 2018, McDonald's stopped using frozen meat patties in its quarter-pound burgers, focusing instead on fresh beef. In December, the chain announced it would reduce the amount of antibiotics used in its ingredients.
While it does not yet offer a veggie burger or any vegan sandwiches in the U.S., McDonald's restaurants in Germany started selling a meatless burger, the Big Vegan TS, in April.
The changes haven't all met with success. McDonald's announced this month that it would be dropping its Signature Crafted Recipes, a line of artisanal options such as a Pico Guacamole burger and a Maple Bacon Dijon chicken sandwich, which were intended to appeal to millennials, who tend to be more health-conscious and food curious.