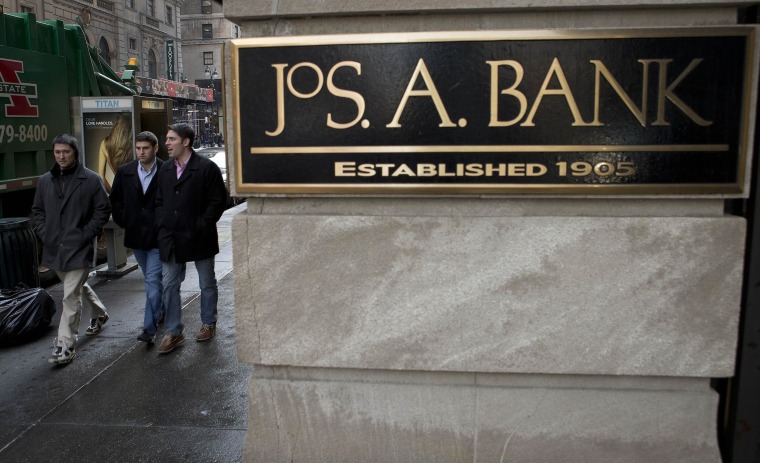 Men's Wearhouse has raised its offer for Jos. A. Bank by over 10 percent, nearly two weeks after its smaller rival looked to fend off the unsolicited bid by agreeing to acquire Eddie Bauer.
Men's Wearhouse said on Monday it increased its cash tender offer to Jos. A. Bank shareholders to $63.50 per share, from $57.50, and added it could increase the offer to $65.00 if it was able to conduct limited due diligence.
Men's Wearhouse said the amended offer is conditional on termination of Jos. A. Bank's agreement to acquire outdoor clothing retailer Eddie Bauer. Men's Wearhouse also said it had filed a lawsuit alleging Jos. A. Bank breached its fiduciary duties to shareholders by adopting measures to "thwart" Men's Wearhouse's tender offer.
Under the lawsuit, Men's Wearhouse seeks to prevent Jos. A. Bank from proceeding with the Eddie Bauer acquisition and wants Jos. A. Bank's board to revoke its poison pill -- a shareholder rights plan that prevents bidders from negotiating directly with shareholders.
There wa no immediate comment from Jos. A. Bank.
Jos. A. Bank and Men's Wearhouse - both of whom are known for renting and selling tuxedos - have made and spurned offers for each other over the past few months. Earlier this month, Jos. A Bank rejected a $1.6 billion offer from Men's Wearhouse.