Bad news for anyone hoping to copy the radiant ensemble that first lady Michelle Obama wore at her husband's final State of the Union address on Tuesday: The $2,095 Narciso Rodriguez-designed dress sold out at neimanmarcus.com before the president had had even finished speaking.
The fall 2015 wool crepe dress, which was originally available online at the marked down price of $628, had fashionistas fawning. InStyle described how "Michelle Obama stood out like a beacon of light in the sea of black and navy suits," while Vogue opined, "The first lady practically radiated… her exuberant Narciso Rodriguez midi-length wool crepe dress matching her husband's optimistic outlook on the nation's future."
Twitter was also aflutter, with frenzied FLOTUS fans debating the actual color of the fabric and asking where they could find the dress.
First of all: Was it yellow? Orange? Tangerine? Saffron? Was the first lady channeling J. Lo's mustard-yellow stunner at the Golden Globes? The answer was settled on the Neiman Marcus website, which said it is "marigold."
Play-By-Play: Highlights from Obama's Final SITU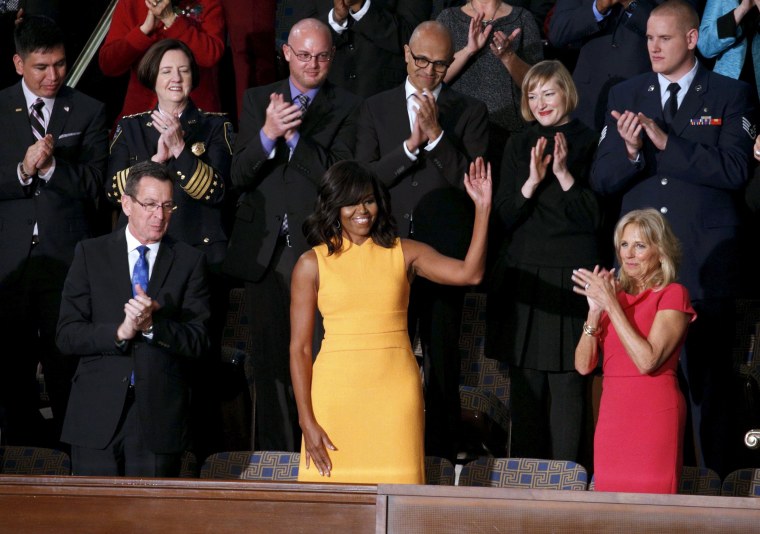 As to the availability: "We will not be reordering the dress," Neiman Marcus spokesperson Mackay Boynton advised NBC News. Barneys New York told NBC via phone that it never ordered the dress when the collection was released last season, and has no plans to stock it. Macy's and Bloomingdale's did not immediately respond to queries about their inventories of the golden gown.
However, all is not lost: Wily women will surely be able to track down "gently worn" versions on high-end consignment sites such as Snobswap or Tradesy. And knockoffs are presumably already being frantically stitched.