Paper jammed in the printer? Fax machine flashing some obscure error code? Don't ask the youngest person in your office for help — they're actually more likely than your other co-workers to just be pretending to know how to use the equipment.
As the first "native digital" generation, millennials have a reputation to uphold as being technologically proficient, but in the workplace, they're often stumped by electronics or equipment.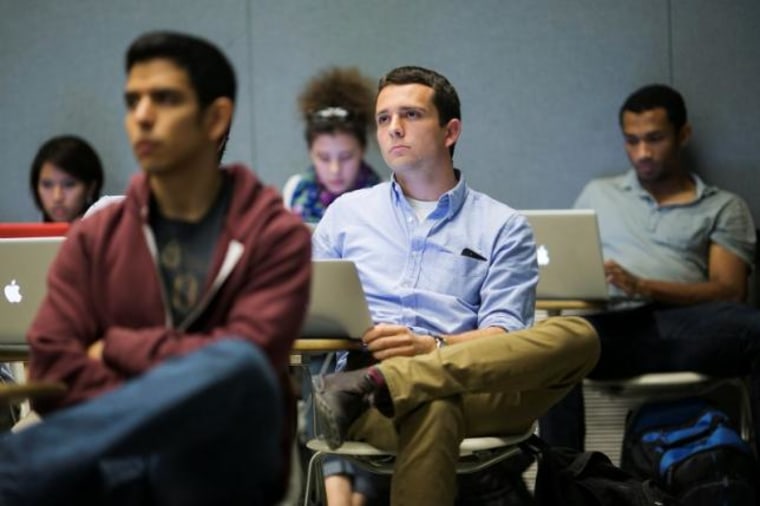 "What we discovered a few years ago is that millennials aren't actually tech-savvy, but what they are is tech-dependent," said Jason Dorsey, millennials expert and co-founder of the Center for Generational Kinetics. "They don't know how technology works, they just know they can't live without it."
According to a survey of small businesses commissioned by office technology equipment manufacturer Brother, just over half of employees in all age brackets admit that they've bluffed their way through operating a piece of equipment like a scanner or fax machine at least once, and nearly 40 percent are repeat offenders.
Perhaps surprisingly, baby boomers (defined as workers between the ages of 51 and 69) are the least likely to exaggerate their technological knowledge, with just over a third saying they'd done so at least once. Millennials (defined as those under 35), on the other hand, are another story:
Almost two-thirds have pretended to know more about office electronics than they actually do, and roughly half say they've done so more than once — also nearly double the rate of habitual fakers among boomers — even though Brother found millennials are more likely than older workers to have a printer, scanner, copier or fax machine either on their desk or within reach.
"A lot of people just assume that millennials are digital-savvy [but] a lot of times they're inexperienced when it applies to work processes," said John Wandishin, Brother's vice president of marketing.
It can be easy for business owners and technology buyers to get excited about the bells and whistles of office electronics without thinking through how easy they are for people to use, Wandishin said.
"The power is there in the unit… but the real key is matching up that power with what they're trying to accomplish," he said. Equipment with more graphical interfaces and features like mobile access and user customization can help, he said, but it can be challenging for new workers if they're left to figure things out on their own because other employees just assume they know what they're doing.
"People are trying to guess how things are done," Wandishin said, and the result can be productivity-stifling inefficiency in the name of saving face.
"When people assume someone understands technology, their reference point is the technology they already know what to use," Dorsey said. "Rather than look dumb, millennials may pretend," he said, but he warned that this can backfire.
"Now they're expected to know how to use this, and they don't."
Millennials aren't the only ones who struggle to maintain a facade of technological expertise: Bosses do, too. Brother found that 43 percent of small business owners surveyed admitted to pretending to know more about office technology than they really do more than once.
"They're supposed to be knowledgeable," Wandishin said. "They're the person that should know what needs to be done and how it should be done," but the reality is that they might not know any more than their smartphone-addicted assistant.