From upset consumers whose gadgets broke prematurely to stranded air travelers stuck on the tarmac, Twitter has been an effective outlet to publicly shame companies, sometimes resulting in VIP treatment.
Those days may be over.
Some recent incidents suggest tweeting is starting to resemble being stuck on hold, or worse yet — trapped in an automated telephone system pressing #1, #2, or #3.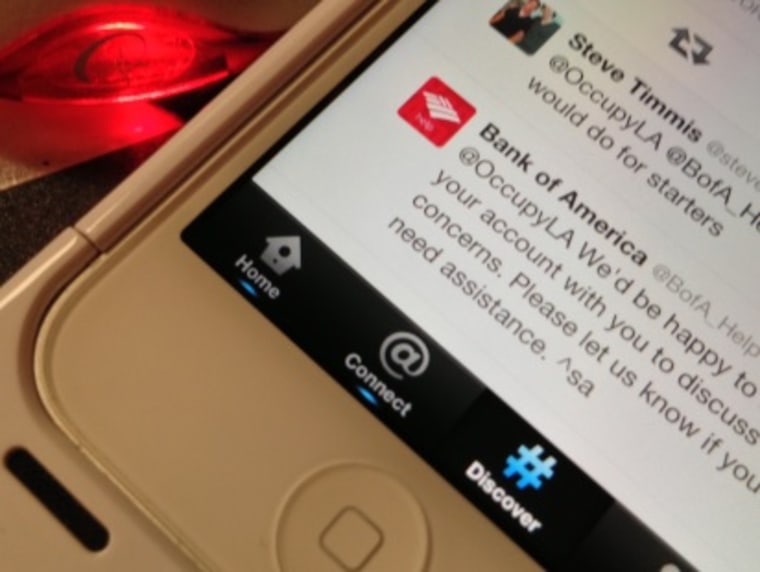 The most extreme example involved Bank of America's @BofA_Help account, which last month repeatedly responded to a vitriolic cycle of foreclosure criticism with robotic-sounding, "Please let us know if you need assistance," messages. Public embarrassment soon followed. When an account called @OccupyLA wrote, "You can help by stop stealing people's houses!!!," @BofA_Help responded, "We'd be happy to review your account." And on it went from there.
Frank Eliason, often considered the founder of Twitter-based customer service as the voice behind @ComcastCares and author of "@YourService," said the latest trend is "breaking my heart." (NBC News is part of NBC Universal, which is owned by Comcast.)
"Companies are really looking at this more as a PR play as opposed to fixing the root cause of the problem, and that makes me really sad," Eliason said. "Companies do not want to talk to you, and it shows. The fact is most do not want to tweet with you either."
Cheesy stunts
As the Twitter customer service channel has matured, companies have turned to automated "bots" and scripted responses, ruining the personal touch that had made Twitter help so valuable, Eliason said. Rather than trying to be purely helpful, and enhance customer relationships, Twitter has become the land of cheesy public relations stunts, such as Chipotle faking that its account had been hacked to gain more followers.

"They haven't devoted the staff it would take to respond in real time with real answers," said Carri Bugbee, a social media expert, discussing Twitter failures in general. "Whether it's a bot or a person with a script, it's a failure, and it's tantamount to outsourcing customer service to the lowest-level employee."
There's a pretty straightforward reason that Twitter help might be in trouble. When the channel was narrow, and the number of potential users was small, a single tweeter like Eliason could handle the volume. As success stories have proliferated, more consumers have tried, forcing firms to replace single agents with teams and processes.
In other words, the personal touch is hard to scale.
"Obviously, large companies that have a lot of relationships to manage are looking for ways to make it scale, to automate, but it really doesn't work," Bugbee said. "(Companies are) looking for cheap or easy ways to do things that aren't cheap or easy."
Making things worse?
Social media is hard work, and many companies aren't getting it right. Simply Measured, which studies Twitter response, says 32 of the Interbrand top 100 companies have a dedicated customers service Twitter handle, meaning they have gone over and above the others to invite tweets.

Even among those 32 Twitter-focused firms, performance isn't great: The average response time to a tweet is 4.6 hours, and the average response rate is 45 percent, says Nate Smitha of Simply Measured.
"We have seen those continue to improve every time we take the study," Smitha said. "But the numbers do come across as low."
Of course, simply responding to a tweet doesn't equal a successful customer service exchange, as Bank of America proved. In fact it's easy to imagine that companies targeting improved response metrics by using bots or scripts actually make things worse.
"Those canned responses have to go the way of the past because (companies) will become a laughingstock ... and it will reach Wall Street," said Marsha Collier, author of several books on social media customer service.

Turn down the temperature
Failures come when company cultures won't allow Twitter agents to do the right thing, limiting their responses to scripts and legalese.

"These are large corporations who [are] bogged down in silos, who do not give their social media team the latitude to decide on the fly how to handle things," Collier said.
Collier says good Twitter responses also require deft hiring. Twitter agents must have a good sense of humor, be willing to take a punch, and be artful in written responses, she said — a skill set over and above what companies are used to hiring in call centers.
Studies show most consumers who take to Twitter are already angry — they've probably tried and failed using traditional channels — so being able to deftly turn down the temperature of a conflict is a must.

"You have to know customer service, but you also have to understand marketing, understand corporate communication, human resources — you have to understand all these components," she said.
'One of the crowd'
But Collier disagrees that Twitter help is dying out. The mistakes, she says, are a bump in the road.

"I argue that it isn't a death knell. We are observing an education," she said. "We are in our infancy ... We will always have examples of companies that don't do it right, but the tools are getting better and better." Tools like HootSuite help firms do a better job of not missing angry tweets and managing responses, she said.
Still, Eliason is worried because he thinks there's only one way for Twitter help to work — when consumers know they are working with a real human being who genuinely cares about their problem. And it also helps it the person behind the accounts is, as Eliason puts it, "humanized." When he tweeted for Comcast, he would also tweet personal pictures and thoughts, and just generally act like any other Twitter user.
"I was one of the crowd," he said. "There's an aspect to that that is actually important if you want to be a trust agent ... it's about being one with the community, not being the center of it. "