Heather Bresch, CEO of embattled drug maker Mylan, testified before a House panel last week that one of the main reasons the company had to hike up the prices on its signature EpiPens from $100 to $600 is the "more than one billion dollars" it has invested in the past decade "to enhance the product and make it more available."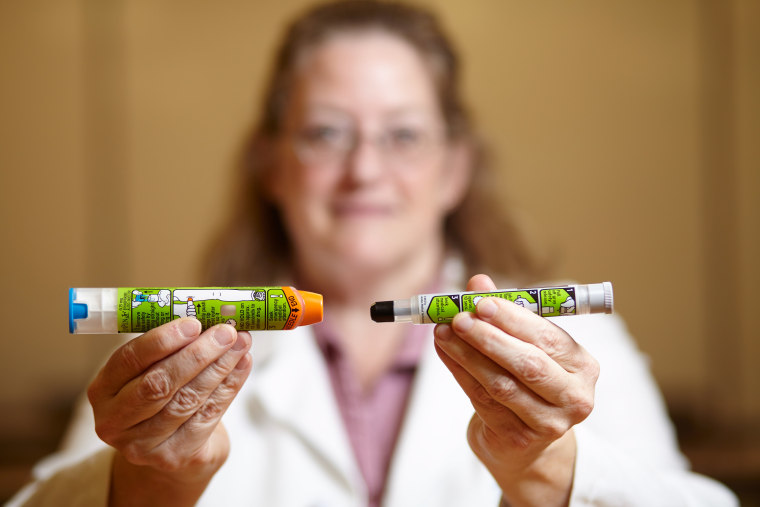 So, as Congress has been trying to figure out the company's business model, a medical technologies expert and a doctor have been physically taking apart Mylan's famed auto-injectors to find out exactly how — and where — that money was spent.
After a Seattle doctor cut open EpiPens from before and after Mylan's upgrades, NBC News sent versions of the epinephrine auto-injectors to a medical technology consulting firm. Despite seeing safety and graphics upgrades, both found the devices shared a similar "core."
Mylan says it invested over $1 billion in the EpiPen. But experts peg the redesign and manufacturing equipment costs to be only in the millions.
Usually, a pharmaceutical company charges a premium price for its brand name drugs in order to recoup the around $2.6 billion it takes to develop a drug, get it through FDA approval, and develop market awareness — all of which takes an average of 20 years.
But Mylan didn't invent the EpiPen, it acquired it in 2007, getting a drug that had been approved since 1987 and had 90 percent market dominance. Nor does it manufacture the EpiPen itself. Mylan buys it from a wholly owned Pfizer subsidiary for $34.50 per pen.
Then in 2009, Mylan launched an upgraded version of the EpiPen.
Dr. Julie C. Brown is a University of Washington School of Medicine pediatric emergency physician who has been sawing apart the new and old EpiPens, in part to see what the differences are.
Related: EpiPen Prices Rocket Along with Drugmaker Executive's Pay
Though she doesn't have training as an engineer, she does have an opinion on what she found inside.
"You can see that the essence of the device, the core of both devices, is essentially the same," she told NBC News. "In the redesigned EpiPen, there is some really intelligent engineering that has gone into the design of the needle cover. Does that justify the cost?"
NBC News sent new and old versions of the EpiPen to PA Consulting Group, a UK-based technology consulting firm. One of their lines of business is designing new auto-injectors for pharmaceutical companies, including Pfizer. They tore down the EpiPens to their base components and laid out the parts.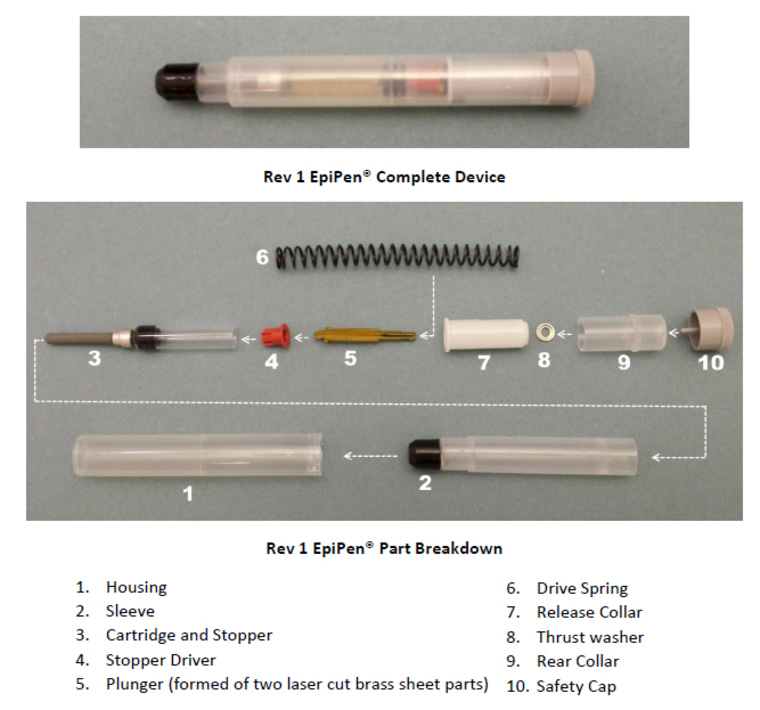 Inside the EpiPen with a February 2009 expiration date there was a housing, sleeve, needle cartridge and stopper, stopper driver, brass plunger, drive spring, release collar, thrust washer, rear collar, and a safety cap.
Meanwhile, inside the new version with a June 2015 expiration date there was a housing, needle cartridge and stopper, plastic plunger, drive spring, release collar, and safety cap, as well as a needle shroud, control spring, carrier, control clips, and a rear case.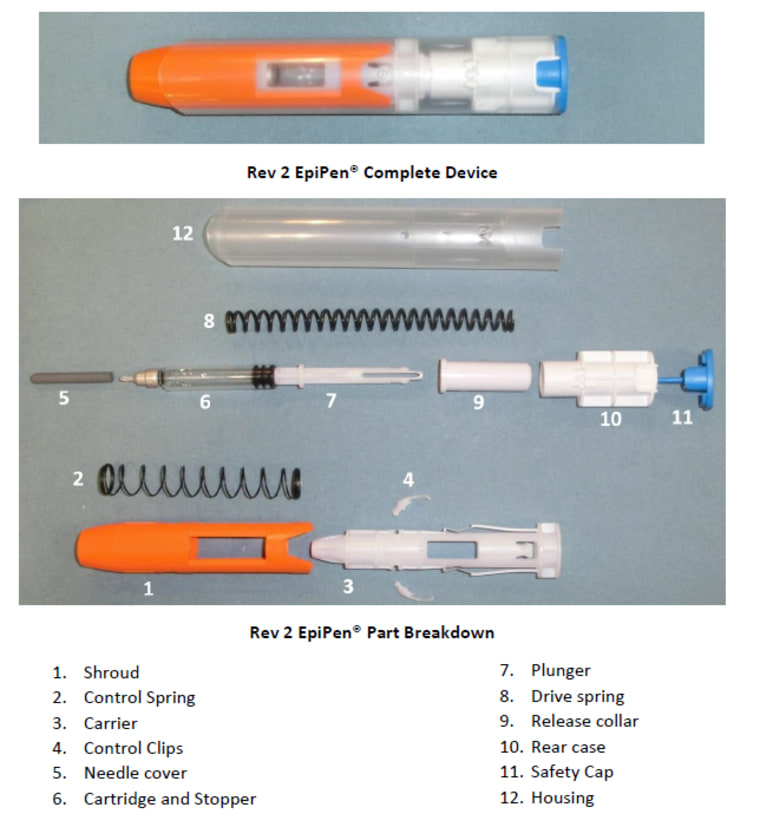 "It's the same core device that's been in use for some time," Kevin Deane, head of medical technologies for PA Consulting Group, told NBC News.
He noted that the drive spring in the new device was more "robust" than with other similar devices, and "held a lot of energy."
While Mylan did do a few things "making it a bit more normal for commercial use," Deane said "the key things driving fluid through have remained unchanged," and noted that "the plastic components look similar to a standard commercial-use auto-injector."
Deane estimated the redesign may have cost several million dollars to commission. The capital costs for the automated manufacturing could run into the double-digit millions, he said.
After NBC News sent the PA Group's results to Mylan, the drugmaker said it was "not familiar with the research referenced in your email."
"As anyone who has used the product knows, the epinephrine auto-injector we have in the market today is substantially different than the one we acquired," said Mylan spokeswoman Lauren Kashtan in statements emailed to NBC News.
Kashtan gave a bullet-point list of the changes Mylan had made working with its manufacturing partners to improve the medical device portion of the product. The main addition was a locking plastic shroud to protect patients from the needle, she said, which "required mechanical changes to the needle delivery, including new safety components."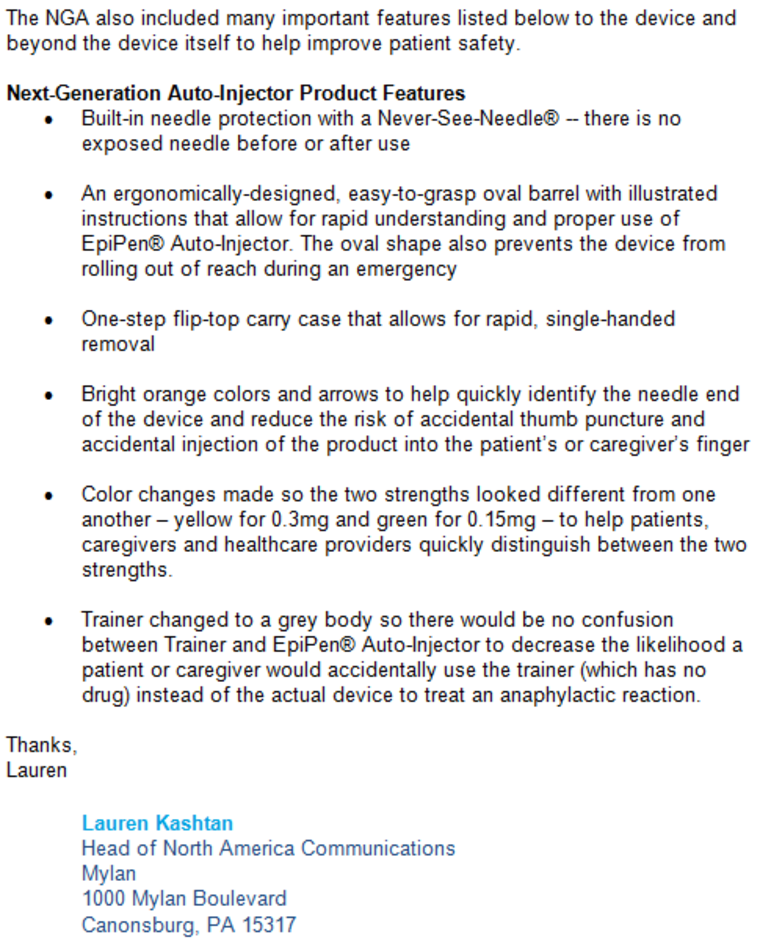 The company also added "an ergonomically designed, easy-to-grasp oval barrel" that helps keep the device from rolling, and a single-handed flip-top carry case to replace the earlier device's stoppered tube, said Kashtan.
The device's instructional graphics were upgraded as well, said Kashtan, adding "bright orange colors and arrows to help quickly identify the needle end of the device and reduce the risk of accidental thumb puncture." Mylan also color-coded the adult version yellow and the junior version green, she noted.
But it didn't make the product last longer. "Both the legacy EpiPen and the NGA [next-generation auto-injector] introduced in 2009 use the same formulation solution in a glass cartridge," she said. The company said in the hearing it was now working to extend the shelf-life from 18 to 24 months.
Mylan hasn't disclosed the specific amount it has spent on research and development for EpiPens, which brought in over $1 billion in sales for the company in 2015.
According to its earnings reports, the company spent a total of $671 million on R&D across its entire portfolio of 1,400 products in 2015, up from the $147 million it spent in 2007.
In her sworn testimony before the House Committee on Oversight and Government Reform last week, Mylan's CEO said most of the money the company had spent on EpiPens went towards marketing and lobbying.
"The overwhelming majority of what we've spent has been on access and awareness programs," said Bresch.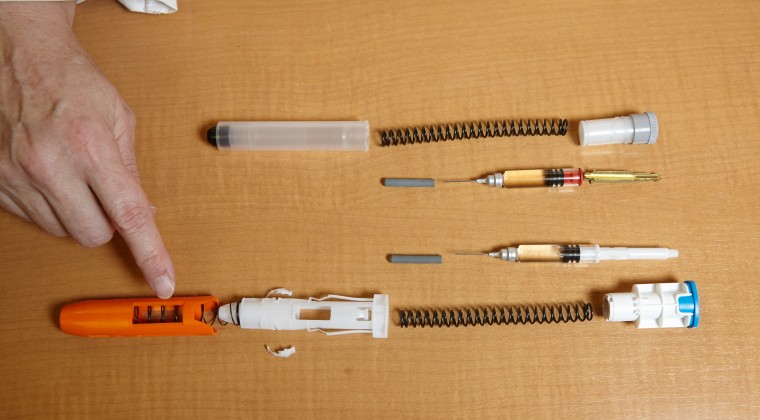 Reached for comment, Senator Amy Klobuchar, a Minnesota Democrat who has called for the Department of Justice to investigate Mylan, told NBC News in an emailed statement: "Drug companies like to cite research and development costs to defend high prices. However, the lack of transparency makes it nearly impossible to understand how much goes into the cost of a prescription drug or how much the company needs to recoup on each drug.
"It's hard to imagine that the changes Mylan made to its product features would come close to justifying nearly 500 percent price increases. Mylan should disclose how much of its research and development costs were spent on the EpiPen," Klobuchar said.
Senator Chuck Grassley, an Iowa Republican, sent a letter in August to Bresch requesting more information about how changes to the EpiPen had caused Mylan to increase the price. Her reply left him unsatisfied.
In response to a request for comment on this story, Grassley said in an emailed statement to NBC News: "The company cited product improvements as reason for justifying the cost increases. I pressed for details on the costs of the redesign and research and development. The company hasn't given much information in response. Especially because the company made the connection between redesign costs and price, it's reasonable for consumers to expect answers to these questions. That includes the taxpayers who fund the public health programs that pay for the product."