Ronaldo v Messi - the world's top two soccer players are the faces of a marketing battle being fought around this year's World Cup in Brazil.
Nike is banking on its sponsorship of more of the world's best-known soccer stars than Adidas in its battle to overtake the German firm as the sport's top-selling brand. Nike has signed six of the 10 most marketable players in the world, to just three for Adidas and one for smaller German brand Puma, according to a ranking by sports marketing research group Repucom published on Wednesday.
Portugal's Cristiano Ronaldo, sponsored by Nike, tops the ranking, with almost 84 percent of people around the world saying they recognize the striker, helping to sell over one million shirts with his name last year.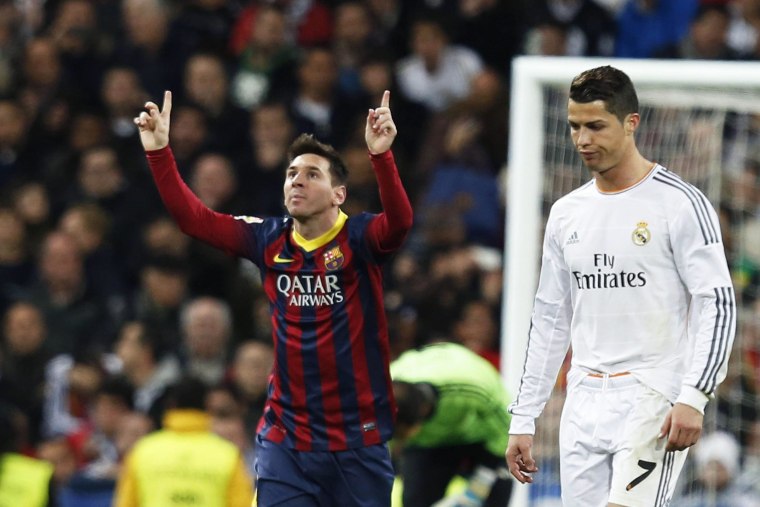 In second place is Lionel Messi of Argentina, front man for the Adidas campaign who scores 76 percent global awareness according to Repucom. Ironically, both players wear the other company's shirts during Spanish league play since Nike sponsors Messi's Barcelona and Adidas supplies Ronaldo's Real Madrid.
The appeal of Ronaldo, who took the crown as the world's best player from Messi in January, is helped by his use of Twitter, where he has 26 million followers to just two million for the more retiring Argentine.
Ronaldo, who helped Real win the European Champions League title last weekend, probably helps sell shirts even when he isn't wearing one - he poses nude on the cover of the latest Spanish Vogue with his model girlfriend Irina Shayk.
Nike is also behind an ad featuring Ronaldo in which boys playing in a park end up in a huge stadium against their heroes, including others from the Repucom top 10 such as England's Wayne Rooney and Brazil's Neymar.
Adidas retaliated with a new ad showing Messi dreaming about rivals such as Bastian Schweinsteiger of Germany, Luis Suarez of Uruguay and Dani Alves of Brazil. The Nike ad has already attracted over 67 million views on YouTube in a month, while the Adidas spot has been viewed 29 million times in just three days.
Adidas, which has long dominated the market for soccer shoes, shirts and balls, is facing a fierce challenge from U.S. manufacturer Nike, the world's biggest sportswear company. Adidas expects to make a record $2.7 billion from soccer this year, exceeding Nike's $2 billion.
- Reuters