There's a subscription box service for just about every type of person out there: winos, foodies, cat owners, make-up devotees... and now, single ladies.
Boasting the hashtag #LoveYourself, SinglesSwag features a variety of products for the solo gal. It costs $40 a month, and subscribers can expect anything from snacks and socks to beauty supplies, books, booze accessories — and lots of inspirational quotes.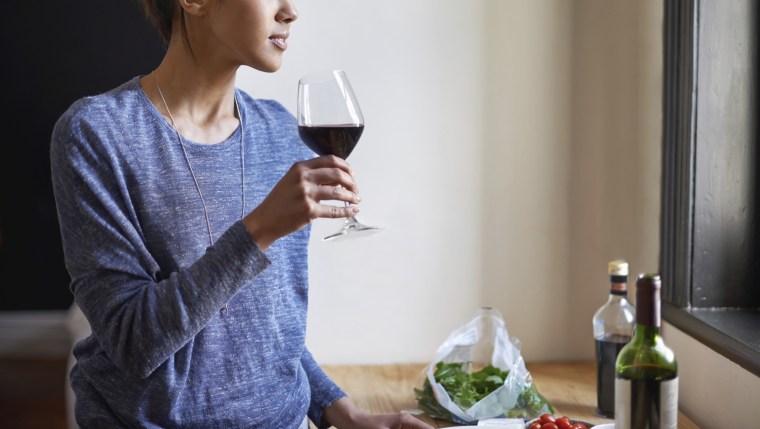 The box is problematic for a few reasons. Firstly, it's more expensive than some of the other subscription boxes popular with women (Birchbox, for example, costs $10 a month). It's also not as transparent about its value. For example, GlossyBox, which costs $30 a month, lays out the total worth of the products, asserting on its website that "the 7 products included [in its March box] were valued at over $94." That tells consumers that they're not only getting curated picks, they're also getting fat savings. SinglesSwag's site doesn't spell out the cost-value of its offerings.
SinglesSwag also doesn't seem to be clear on its messaging. For instance, in the "About Us" section on its website, it states, "We believe a woman's happiness is determined by her outlook and attitude, not by her relationship status." Yet the service itself is predicated on providing items based on a relationship status. What's more, the service's predilection for fist-pumping quotes such as "Never settle" and "You deserve it" can easily be construed as patronizing.
"The idea that single women would need a monthly consolation gift box (full of pink stuff, no less) is so condescending," said Rachel Thomas, a managing editor at Harvard Review. "The only thing I needed when I was single was someone to split dessert with me sometimes or an extra hand carrying groceries up the stairs."
Single Women Are a Diverse Demographic
But perhaps the bigger problem with SinglesSwag lies in its ambitiously broad targeting. Unlike other subscription box services, which look to cater to a niche interest or lifestyle, the company markets to people — specifically women — based solely on the fact that they aren't married or in a relationship. That's pretty diverse territory.
"Single women can't be lumped together because we all have very different relationships with our singleness," Sa'iyda Shabazz, a writer and single woman, told NBC News. "That's why there are so many different types of dating websites. Being single is not 'one size fits all,' and stuff like this panders to the rom-com stereotype that all single woman are alike."
Anar Virji, a single woman who works in news production, doesn't see how or why unmarried women would be treated as though they're bonded by "a niche like dog owners, where there are obvious product needs."
What a Woman Wants — Or What a Man Thinks a Woman Wants?
Patricia Santos, a cellist who is now married, said she wouldn't have considered this subscription box were she single, as she finds the product selection to be offensive.
"The 'Wake Up and Make Up' eye mask seems particularly insulting," Santos told NBC News. "These all seem like things a clueless man might believe a woman wants."
Debi Kohos, a personal assistant who also happens to be a single woman, points out that most items in the box could just as easily appeal to a married woman. "What exactly does a single woman want that a woman in a relationship doesn't?"
According to Jonathan Beskin, SinglesSwag founder and CEO, the answer is: quite a few.
"We have over 10,000 subscribers in less than a year, [and] almost 120,000 followers on Instagram," Beskin, a single dad in his early 30s, told NBC News. "We've received way more positive feedback than negative."
The fact that the creator of SinglesSwag is a dude has some women rolling their eyes.
"Men always know what single women want," said Virji, with more than a touch of sarcasm.
So, for those single women who don't appreciate the contents of this subscription box — what would they recommend? There are far too many single women to answer that question. But there are some suggestions. Virji says she'd prefer flowers, Shabazz votes for boxes of cookies. Emily Flake Pastore, a cartoonist for the New Yorker, told NBC News that unless the box includes "Xanax and a vibrator," she's not interested.
It's Not for Everyone — But It Is for Some
Criticisms aside, the positivity Beskin cites appears to be true, at least according to social media feedback.
Jennifer Purdie, a single woman and writer, plans to sign up.
"I think it's clever and fun," said Purdie. "It's like the bridal shower I'll never have, even though I have to pay for it myself."
That SinglesSwag was founded by a man doesn't bother her.
"I don't care that it's engineered by a dude," Purdie said. "Women will dictate sales and say what they want."
Beskin said that at present there are two single women who work for SinglesSwag: "One manages finance and accounting, and the other helps identify products."
A Box for Single Men Is a Possibility
When Beskin first hatched the idea for SinglesSwag, he saw it as a service for both men and women, but ultimately decided to steer it toward single women only.
"I realized focusing on single women would be best, as they are more likely to purchase subscription boxes," said Beskin, adding that his mother, a single parent, was a main inspiration.
"This [is] something she would have loved," he said, adding that he has not ruled out creating a box for single men in the future.
Or maybe a single mom can launch that one.