Desperate patients are swapping pricey pharmaceutical drugs on Facebook. Doctors say it's dangerous. But when you need a drug every day to survive, you're going to find a way to get it.
It shouldn't be that surprising. You can buy, sell or trade almost anything on Facebook, from designer sneakers to unwanted fishing boats to antique medical cots. Now, even life-saving insulin.
Financially struggling patients know they're taking a risk when they inject something sent by a Facebook "friend" into their body. But they say without affordable alternatives they're forced to rely on this online honor system.
"I Would be Dead"
Here's how it works. Patient with diabetes, for instance, might post a request for help to their regular Facebook newsfeed. It's like tossing an SOS in a bottle into cyberspace.
Then there are the dedicated Facebook groups set up to arrange trades.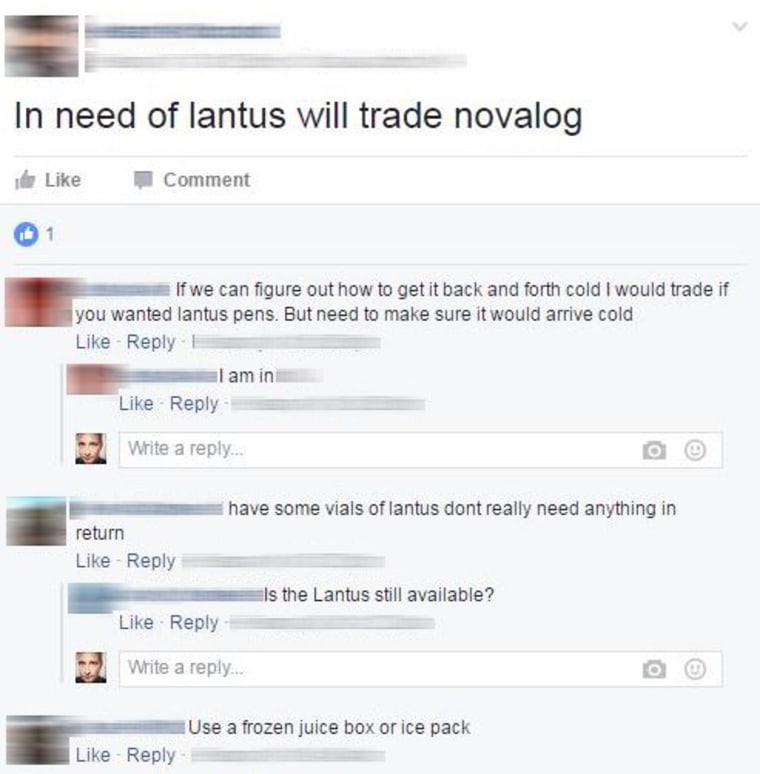 "In need of Lantus will trade Novolog," read a post in one of the forums. "I have Lantus pen and I'll trade you as I need Novolog! PM [private message] me," said one of the replies. Another reply suggested the shipper use "a frozen juice box or ice pack" to keep the biopharmaceutical refrigerated.
"ISO [in search of] a Novopen Echo. I have Humalog and Apidra pens and Apidra vials and Ominpods to trade," read another post. A match was made when another forum member replied, "I have one with some unexpired Novolog refills. I am in need of Apidra pens!"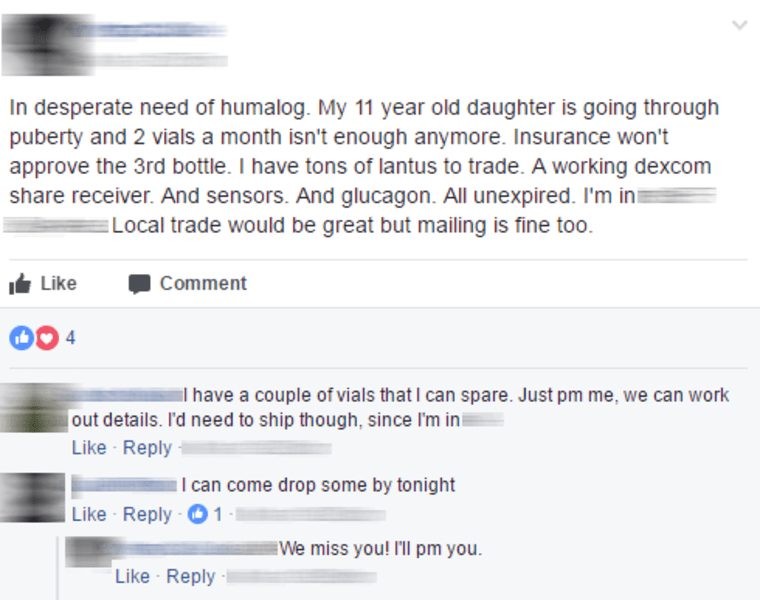 Membership in the mostly private groups may require moderator approval. NBC News reporters requested to join and were admitted to some of the groups. Their member numbers can range from a few dozen to a couple thousand.
The posts take various forms. Sometimes a patient asks for help when they've run out of supplies, insurance coverage and/or money.
Another person who has extra to spare might arrange to send theirs to them, only asking they pay shipping and handling in return.
Others will offer to exchange their supplies for something else they need. For instance, someone whose insurance only affordably covers Humalog but they feel Novolog works best for their body will post a trade. Then someone in the opposite position, whose insurance covers Novolog but they would rather have Humalog might respond -- and they'll swap, mailing each other their drugs.
"You don't know if something has been contaminated"
Patients will sometimes even arrange to meet in person.
It's not just insulin either. NBC News searched Facebook and found postings to trade EpiPens, asthma inhalers, and other prescription medications.
Not every exchange goes seamlessly. Judging by moderator comments and FAQ's, it's not uncommon for deals to fall through or shipments to be delayed.
RELATED: Desperate Families Driven to Black Market Insulin
But participants say the dangers, which doctors and regulators say include tampering, infection, privacy issues, and scams, are worth the alternative — a visit to the emergency room, or worse.
"If it weren't for the online diabetes community I would be dead," said Amy Leyendecker, a 43-year-old medical transcription student from Kentucky living with Type-1 diabetes who requires daily doses of insulin to stay alive.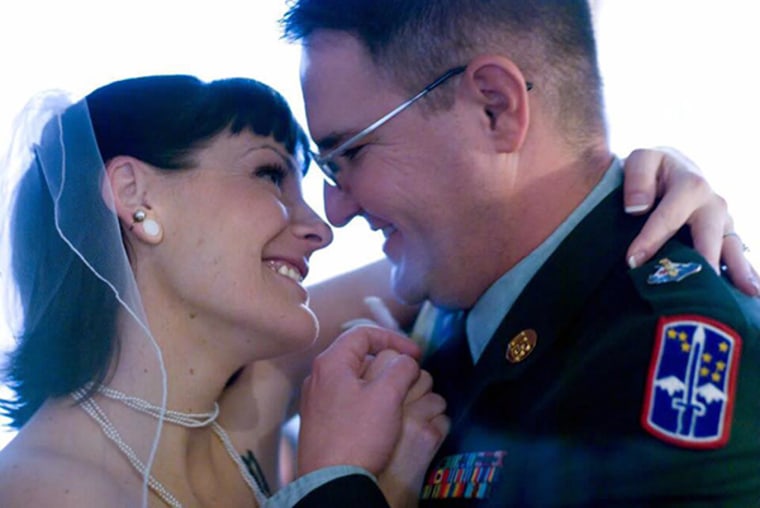 When her husband switched jobs and insurance plans, she panicked when the new plan wouldn't cover her brand of insulin, Humalog, made by Eli Lilly. Her costs shot up from under $25 a month to over $900 according to receipts from her pharmacy — unaffordable for the blue-collar single-income family living paycheck to paycheck. In a panic, she reached out online and a woman she met through a diabetes support group on the internet mailed her some of her own insulin, Novo Nordisk's Novolog.
Her primary care provider, Brandon Wampler, a physician assistant with Heartland Primary Care, in Elizabethtown, Kentucky, told NBC News that he "cautioned her to be leery," to make sure she trusted who was sending it to her and to check the tamper seals on the vials.
"You don't know if something has been contaminated or poisoned," he warned.
But she was undaunted. "She wasn't asking for my permission or opinion, she had already figured it out," said Wampler. "These are certain risks that desperate people are trying to take."
In case an "axe murderer" showed up after she shared her address online, she took the precaution of telling several friends about the deal. When the shipment of insulin arrived, she checked to make sure the vials were sealed. She only took a small dose at first to try it out. But the shipper had lived up to her word.
Leyendecker was covered for the next six months, injecting someone else's insulin prescription into her body.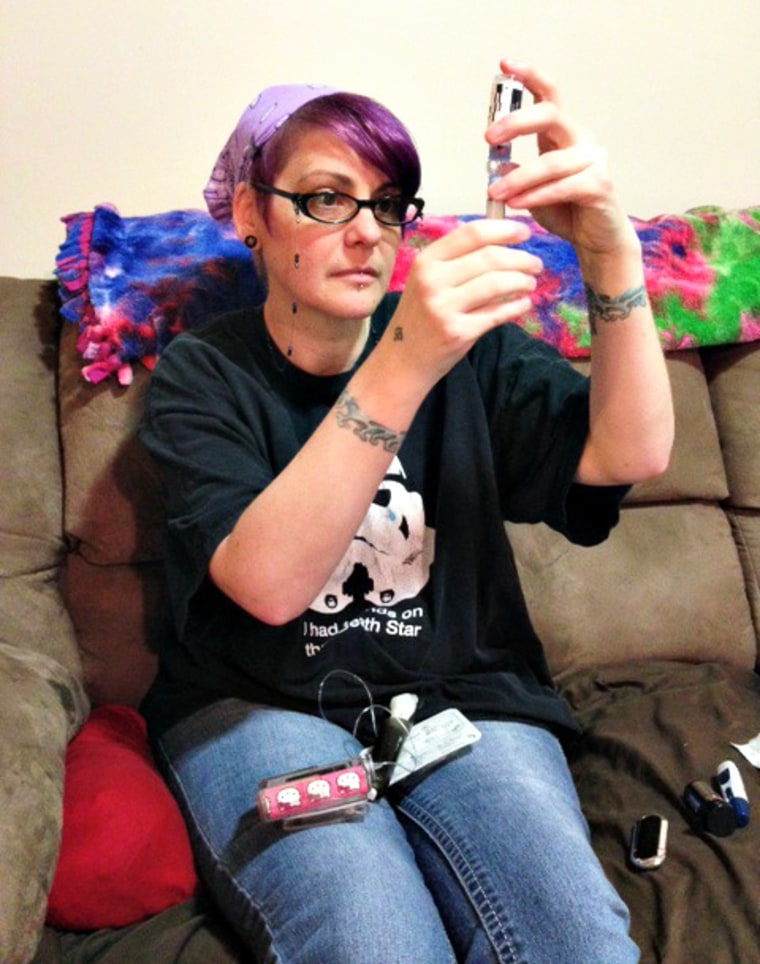 "All the supplies in my house have been donated to me," she said. "I feel like I'm living on borrowed time. My life is for profit."
Since then she's been able to go the doctor and get a new prescription under her new insurance plan. But with a new move and new job coming up and insurance coverage always in question, she could find herself back on Facebook.
Doctors say patients like Leyendecker take a big gamble.
"Patients can put themselves in grave danger by using insulin 'traded' online," said Dr. Joshua Miller, medical director of diabetes care at Stony Brook Medicine, running the risk of infection, or fluctuating blood sugar levels if the insulin was expired or stored incorrectly. He said several of his patients have gone to the hospital after using expired insulin.
Authorities Disapprove
Drugmakers and insurers are not in favor of patients giving their own prescriptions to other patients.
"We strongly advise all consumers to consult a physician before taking any medication and, for their own safety, only take medications that have been prescribed for them," said Donaldson.
"Ensuring patients have access to the medicines they need is a top priority," but exchanging medications outside regulated pharmacies "raises safety concerns," said PhrRMA spokesman Andrew Powaleny.
No federal agency contacted by NBC News said trading insulin is illegal, as it's not a violation of the Controlled Substances Act. The FDA did raise safety concerns, saying that prescription drugs "are not safe for use except under the supervision of a licensed practitioner."
Pain Points
Drugmakers have argued that cases like Leyendeckers are the exception, with few patients exposed to these high "list prices" because of discounts.
"Robust negotiations between biopharmaceutical companies and insurers result in significant rebates and discounts," said Holly Campbell, a spokeswoman for the Pharmaceutical Research and Manufacturers of America (PhRMA), the leading drug industry trade organization.
Over 50% of insulin patients risk paying full list price
But as many as 3.4 of the estimated 6 million patients taking insulin each year are at risk of being exposed to paying full "list price" at the pharmacy without benefiting from those discounts, according to a presentation by the National Diabetes Volunteer Leadership Council, drawing from industry data.
And those prices are soaring. Just last week, the Humalog that Leyendecker was taking, along with other diabetic medicines made by Eli Lilly, saw list prices go up nearly 8 percent.
"The net price increase that Lilly recognizes is significantly less," after factoring in those rebates, spokesman Mark Taylor told CNBC.
"Today's health care system works well for many people, but those enrolled in high-deductible insurance plans and managing chronic conditions face challenges in gaining reasonable access to the treatments they need," spokeswoman Kelly Murphy told NBC News. She noted that its new programs like Inside RX and the Blink Health platform with 40 percent discounts for most of its insulins are available to help patients who pay full retail price at the pharmacy.
As insurers have shifted costs to patients, more are paying these full, undiscounted prices at the checkout when they go to pick up their medicine.
That means a drug that some were used to paying around $30 a month now cost hundreds of dollars a vial, breaking family budgets.
Insurers put the blame back on drug manufacturers.
"Health plans negotiate in good faith with pharmaceutical companies to achieve better pricing for their members. Those savings are passed on to members in the forms of lower premiums or co-pays," said Cathryn Donaldson, a spokeswoman for America's Health Insurance Plans, an industry trade group.
She said the real issue is that, "drug pricing continues to skyrocket, with no clear explanation on how those prices are set."
Running Risks
Leyendecker knows she's taking chances with her and her family's safety.
"I'm going to do what I have to do," she said.