America's preference for where to eat when dining out is undergoing some dramatic changes. Satisfaction with full-service restaurants is now at its lowest point in more than 10 years, according to a new report from the American Customer Satisfaction Index (ACSI) released on Tuesday. And for the first time, fast food restaurants rated higher than full-service establishments for customer satisfaction.
The ACSI score for full-service restaurants dropped 3.7 percent in the past year – from 81 to 78 out of 100 points, while customer satisfaction with limited-service restaurants (what we call fast food) remained steady at 79.
Just a year ago, full-service restaurants were among the top four industries tracked by the ACSI. Now they rate only slightly better than gas stations, hotels and airlines.
"Lower customer satisfaction is a major threat to the restaurant business," said Claes Fornell, ACSI founder and chairman, in a statement. "If a lower-price competitor has higher customer satisfaction than a rival that competes on quality, the latter is obviously in serious trouble."
Same-store restaurant sales are down and foot traffic is shrinking at a rate not seen since 2009, the report noted. Lower grocery prices may be encouraging more Americans to eat at home and younger people want quicker service, convenience and healthier choices.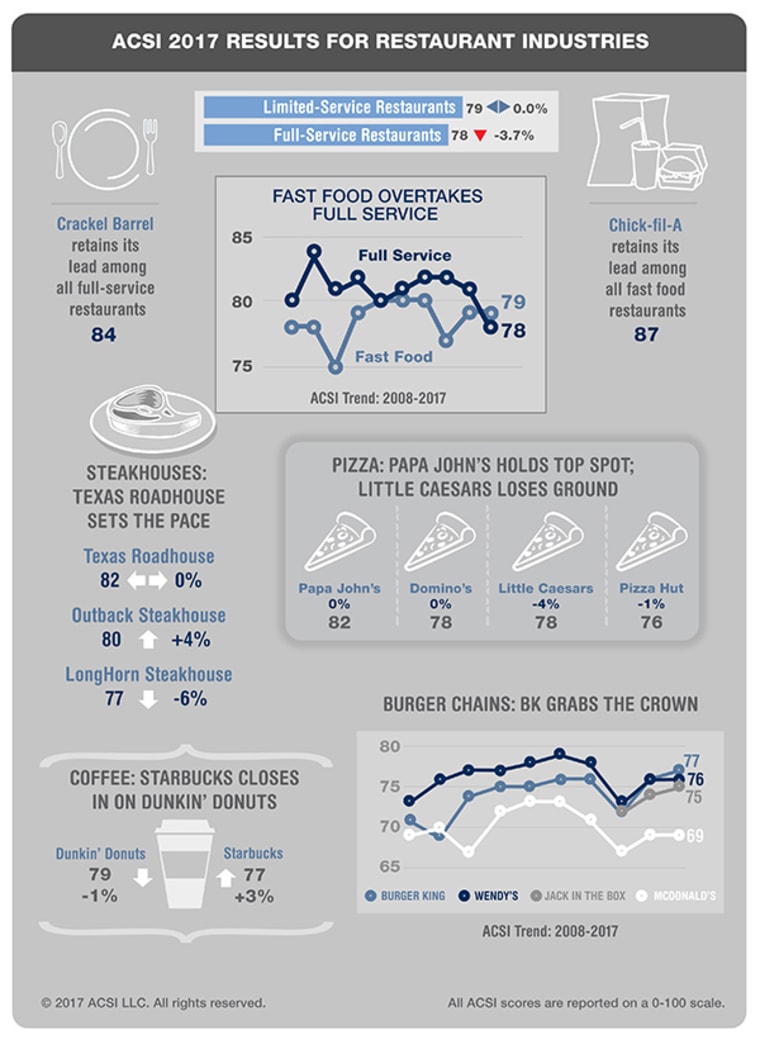 Why do we find full-service restaurants less satisfying?
Higher menu prices and increasing competition are mostly to blame, ACSI's managing director David VanAmburg, told NBC News.
"Prices are rising, but people aren't finding the quality of the experience to be any better," VanAmburg said. "They're paying more, but not really getting more for it."
According to the 5,500 customers surveyed for this report, the variety of food options is not as good as last year, the beverage quality has deteriorated and the service was a bit slower.
At the same time, fast-casual chains, like Panera Bread and Chipotle Mexican Grill, are serving what many customers want.
"The fast food category is not just about traditional burger chains anymore," VanAmburg said. "It's now about a number of newer, more dynamic, more diverse types of fast casual choices that really stress innovation and the quality of the food they're serving. And the pricing is very competitive compared to full-service restaurants."
Full-Service Restaurant Ratings
Cracker Barrel, the family dining chain that's part restaurant and part gift shop – wins the top spot for the second year in a row with an ACSI score of 84. Customers find the menu, which offers traditional American food, very appealing.
Texas Roadhouse came in second place with a score of 82, making it the highest-rated steak house in the survey. Same-store sales grew 3.1 percent for the first quarter, outpacing many of its competitors, the report noted. Outback Steakhouse (80), gained four percent, but LongHorn Steakhouse (77) dropped six percent. Last year, LongHorn tied Texas Roadhouse for top-rated steakhouse.
Once again this year, Olive Garden (81) takes third place. And while its score was unchanged, it moved from average to above-average in the rankings. A strong increase in to-go orders has helped boost sales growth, the report noted.
The rest of the major chains: Applebee's (79) and Ruby Tuesday (78). Chili's (77) scored a three percent gain to overtake TGI Fridays (76) which slipped three percent. Denny's improved three percent to tie TGI Fridays at 76.
Red Robin landed at the bottom of this category, as its score dropped nine percent from 80 to 73. Casual restaurants, like Red Robin, have been hit with the declining foot traffic at shopping malls. It reported same-store sales down 1.2 percent in the first quarter. Red Robin is now testing some delivery options and some catering options to fight this changing landscape.
The challenge for full service restaurants is to get prices down and come up with a hook, VanAmburg told NBC News. What are they going to do to get people to eat there rather than choose the fast food alternative?
Many full-service chains are actively looking for ways to redefine themselves. About a year ago, Applebee's introduced wood-fired grills at all of its restaurants. TGI Fridays plans to redesign its restaurants, putting an emphasis on the bar, and focus on the urban market. In March, Ruby Tuesday announced that it was putting itself up for sale.
Limited-Service Restaurants
In the ACSI survey, fast food restaurants scored points for quality ingredients, speedy service and lower prices. This category includes traditional burger and pizza chains, as well as fast casual places like Chipotle and Panera.
Once again this year, Chick-fil-A was the clear winner with an astoundingly high score of 87. That's unchanged from last year, but it remains the top-rated restaurant chain in this survey – nine points higher than the industry average (78).
"Chick-fil-A has a rather limited menu compared to other fast food competitors – it's chicken, chicken, chicken and they do it extremely well," VanAmburg said. "They keep that very narrow focus and as a result, they keep the quality high."
Panera Bread and Papa John's tied at 82 for second place. Papa John's score was head-and-shoulders above the other pizza chains: Little Caesars saw the biggest drop in satisfaction, four percent, to tie Domino's at 78. Pizza Hut (76) slipped one percent.
Subway (81) took third place, followed by Arby's (80), Chipotle Mexican Grill and Dunkin' Donuts (tied at 79), and KFC (78). Starbucks (77) was up three percent and closed the satisfaction gap with Dunkin' Donuts a bit, but it still rated below average. Taco Bell (76) gained one percent, but once again comes in below the industry average.
All of the major hamburger chains scored well below the industry average. This year, Burger King – which had trailed Wendy's for more than two decades – grabbed the crown with an ACSI score of 77. Wendy's (76) and Jack in the Box (75) were close behind. McDonald's (69) took last place again this year.
"I think people continue to be a little tired of the traditional hamburger chains," VanAmburg told NBC News. "We've seen burger chains languishing near the bottom of the ratings for a number of years now, but the gap is becoming greater between them and places like Panera Bread and even an alternative in the fast food category, like KFC."
Herb Weisbaum is The ConsumerMan. Follow him on Facebook and Twitter or visit The ConsumerMan website.