Hot sauce lovers rejoice! 
A Southern California town failed Thursday in its bid to shut down production of the popular Sriracha chili sauce because of the odor the factory gives off.
Los Angeles Superior Court Judge Robert O'Brien rejected the city of Irwindale's initial bid to cease operations at the Huy Fong Foods plant until the company can reduce the pungent odor of peppers and garlic.
"You're asking for a very radical order on 24-hour notice," O'Brien told attorney June Ailin, representing the city.
A Nov. 22 hearing was scheduled on a preliminary injunction.
The fumes from the plant are sent through a carbon-based filtration system that dissipates them before they leave the building, but not nearly enough, said residents of the city 20 miles east of Los Angeles.
They complained the odor gives them headaches, burns their throat and makes their eyes water. City officials said they met twice with company executives and cited the firm for violating public nuisance ordinances.
The sprawling 650,000-square-foot factory processes some 100 million pounds of peppers a year into Sriracha and two other popular Asian food sauces. Sriracha's little plastic squeeze bottles with their distinctive green caps and rooster logo are ubiquitous in restaurants and homes around the world.

The peppers get washed, mixed with garlic and a few other ingredients and roasted during this time of the year, when jalapeno peppers are harvested in central California and trucked to the 2-year-old plant.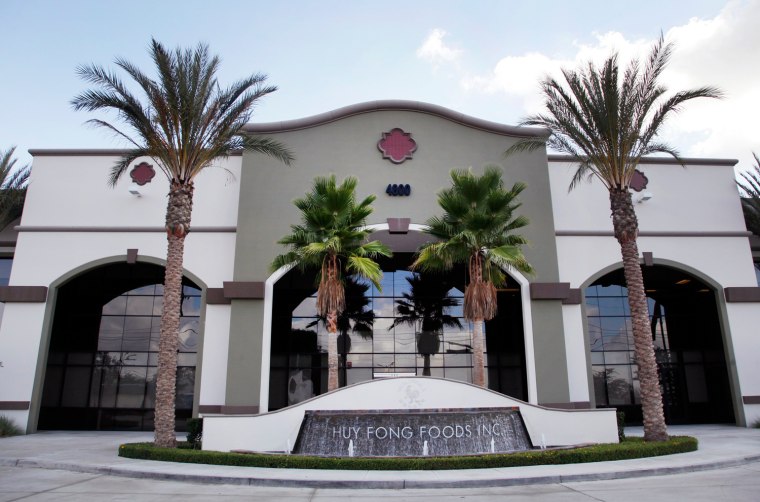 Huy Fong executives said they were cooperating with the city to reduce the smell, but balked at the city's suggestion of putting in a new, $600,000 filtration system that may not be necessary.

Company founder David Tran said his privately held business took in about $85 million last year.

Tran told local public radio station KPCC this week that he has installed filters on rooftop vents at the factory that he says absorb about 90 percent of the chili and garlic odors from the processing exhaust.
"To filter 100 percent, I haven't found any engineer (that) can do it," Tran said. 
Tran, an ethnic Chinese immigrant from Vietnam, founded his company in Los Angeles in 1980 and opened a plant in the neighboring town of Rosemead a few years later. He recently opened the Irwindale facility to expand his capacity.

According to the Los Angeles Times, the company produces up to 200,000 bottles of hot sauce a day.
(Reuters contributed to this report)