Airbnb is just a cool internet place where regular people rent out their extra rooms to make some cash on the side, right?
Well, a new report by an activist claims that lodging platform Airbnb manipulated the numbers it released about its New York City hosts to hide how the site is being exploited by commercial landlords acting as "illegal hosts."
The report by Inside Airbnb alleges that the sharing-economy poster child purged problematic listings ahead of its public release of New York City listing data on November 17 of last year.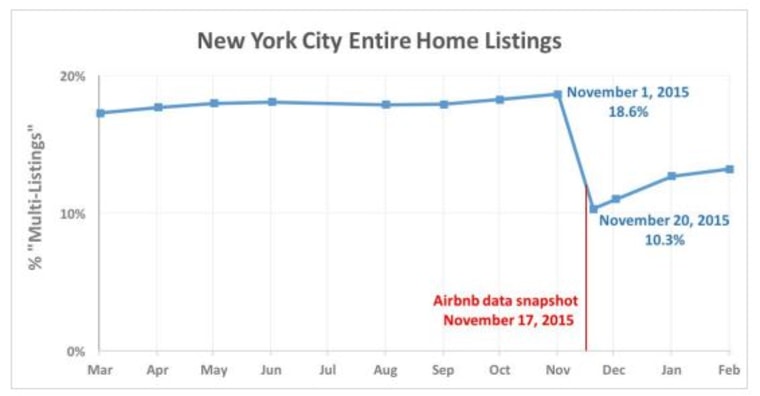 Co-authors Murray Cox and Tom Slee wrote that before November 1, property hosts with multiple listings made up about 19 percent of the market, but that number fell to 10 percent in the few weeks immediately before Airbnb publicized its data.
The drop was a result, they said, of a targeted deleting designed to refute complaints made by the hospitality industry and affordable-housing advocates that Airbnb was being exploited by commercial property owners to run an essentially unregulated, untaxed hotel business.
"The purge was limited to the exact data set that Airbnb presented to the public," the report said.
Last month, a report from the Penn State School of Hospitality Management also alleged that Airbnb has a large number of professional landlords who operate multiple and full-time listings on the site.
Airbnb disputed the characterization of its business.
"The vast majority of our hosts are everyday people who have just one listing and share their space a few nights a month," spokesman Nick Papas said in an emailed statement. "We routinely review our listings to ensure guests are having the quality, local experience they expect and deserve," he said.
The shared-lodging site said that 95 percent of the nearly 17,000 New York City hosts on its site on the November date the report focused on had only a single listing, and that 94 percent of the roughly 18,000 hosts it had as of this week had only a single listing.