There is a new type of automated call sneaking up on American consumers: ringless voicemails, the quieter cousin of what some people call the "annoying robocall." The messages go straight to voicemail, without ringing your phone.
"I've received at least a hundred of these voicemails," said Sue Merritt, president of Lenox Fit in Lenox, Massachusetts. And they often come from area codes where she has important contacts.
"I'm a cancer survivor, I still get calls from my hospital in Boston, so for example when a 617 area code comes up I feel very compelled to deal with that right away," Merritt told NBC News.
She says robocalls and ringless voicemails are interrupting day-to-day operations at her business, and have an impact on her staff's productivity.
As ringless voicemails are deployed by more business and political groups, the Federal Communications Commission is considering a petition to officially allow them, exempting them from 'Do Not Call' rules.
Stratics Networks, a Toronto-based technology company with offices in the United States, claims to be the inventor of the ringless voicemail technology. Stratics says that this technology has been successfully used by a doctor's office to remind a patient of an upcoming appointment, or a school reminding a parent of a school event.
"Ringless voicemail drops are a non-nuisance form of messaging and are an alternative to robocalls. It really does put the power in that consumer's hand where they can essentially listen to the message or not listen to the message," Josh Justice, CEO of Stratics, told NBC News.
On Wednesday, 11 senators sent a letter to FCC Chairman Ajit Pai calling ringless voicemails "unwanted, invasive, and abusive," and urged Pai to protect consumers from ringless voicemails.
And attorneys general in three states — Massachusetts, New York, and Kentucky — along with consumer advocacy groups, are pushing back.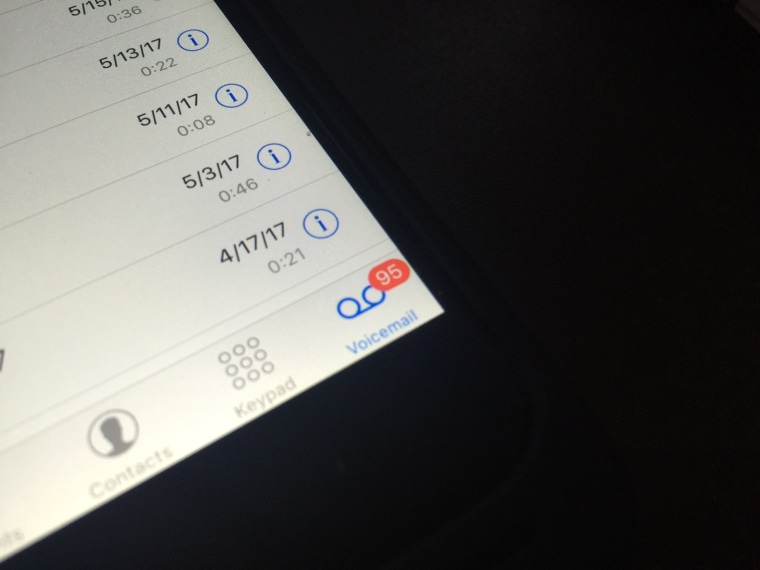 "These businesses are completely hijacking consumers' voicemail boxes. It's a critical way that most people communicate these days for their jobs, for safety reasons, with their family," said Margot Saunders of the National Consumer Law Center.
Privacy experts advise consumers to never return the voicemails, and consumers who want to complain should contact the FCC or file a complaint.
For Merritt, the messages are also hurting her ability to run her small business.
"You can't get that time back," she said.