The next time you order takeout for dinner, the "deliveryperson" who comes to your door may not actually be a human being at all.
On Thursday, Starship Technologies went to Washington, D.C., for the latest launch of its robot delivery service, where automatons pick up orders from restaurants and deliver them to hungry customers.
"Our robot delivers take-away food, groceries, and parcels within a two-mile radius," said Henry Harris-Burland, head of marketing communications for Starship Technologies. "It can carry up to 20 pounds, and goes for four miles an hour on sidewalks."
The robots are operated remotely, but human handlers accompany them on deliveries — for now. The ultimate goal is to have the robots guide themselves to the restaurant where an order is placed and then to the customer.
"We envision sort of a 99 percent autonomous model wherein we can retain a sense of human control and oversight," explained Justin Hoffman, the head of operations at Starship Technologies.
For those worried about Luddite thieves stealing their food, the robots are equipped with an alarm that will go off if anyone tries to pick it up, and the lid can only be unlocked by the customer (through an app).
And as for the concern that this technology could steal jobs, DoorDash, a restaurant delivery service that has started using the robots, said the goal is to have them complement its workforce.
"I think robots are designed really well for the short distance or small orders that typical human dasher might not want to take on," said Stanley Tang, co-founder and chief product officer at DoorDash. "This really allows for us to free up on our human dashers to take on more complex longer-distance deliveries."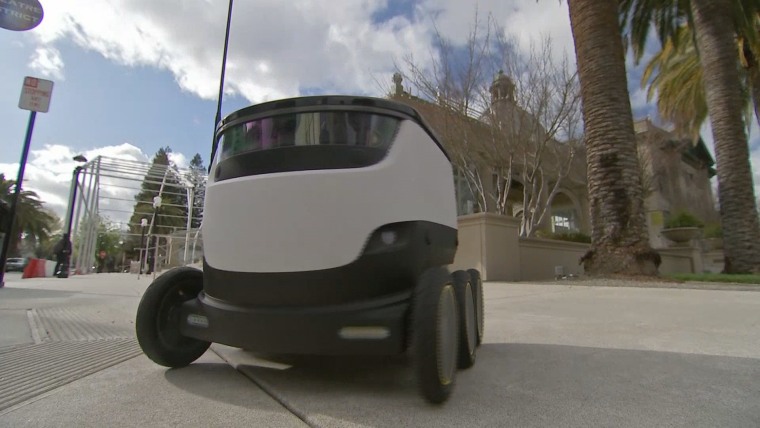 The robots are already at-work in two other U.S. cities — Fayetteville, Arkansas and Redwood City, California — as well as four European cities.
"This is going to be an on-demand robotic delivery service for every neighborhood nation-wide," said Hoffman. "You can envision, you know, dozens or hundreds of robots in each city. That's what we're looking to build."