Most of us couldn't imagine living without our personal computing devices, but we're no longer wowed by this powerful technology.
For the third year in a row, customer satisfaction with personal computers – desktops, laptops and tablets – continued to decline, according to a report by the American Customer Satisfaction Index (ACSI) released on Tuesday. All types of PCs rated a score of 77 out of 100, down 1.3 percent from last year.
Desktop computers – with an ACSI score of 81 – had the highest overall satisfaction rating, while tablets and laptops lagged behind at 77. A poor showing for tablets, down 6 percent from last year, dragged down the entire industry. Tablets had a four-point edge over laptops in the 2014 survey. Now they are tied.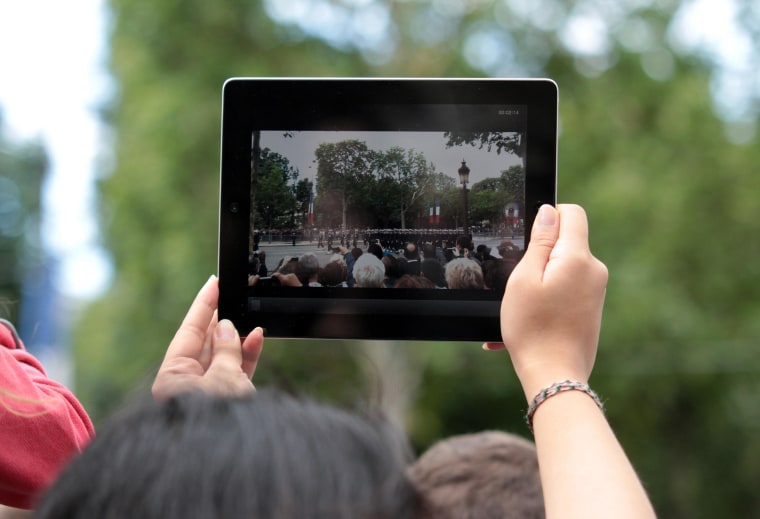 Desktops rated significantly better for processor speed, ability to limit crashes, features (such as apps and data storage) and availability of accessories. They even matched tablets for design.
Clearly, the honeymoon with tablets is over.
The "weakened satisfaction and slowing sales growth suggest early enthusiasm for tablets may have worn off," the report noted.
Tech Rewound: When Computers That Could Print Documents Wowed Us
"There's really nothing all that new or trendy or sexy about the latest tablets compared to a couple of years ago," David VanAmburg, ACIS's managing director, told NBC News. "The market is saturated and pretty much everyone who wants a tablet has their hands on one by now."
Not only has the novelty of mobile computing worn off, but the latest generation of large-screen smartphones now provides a viable alternative to a tablet, VanAmburg said. People who buy technology products have such high expectations for these gadgets that they are easily disappointed, he said.
Most people use their tablets to read email, play games or watch video. And despite the vast assortment of inexpensive apps for tablets, the survey found that desktops remain more "gratifying" to use.
Apple continues to shine
When it comes to customer satisfaction, no other manufacturer comes close to Apple. It's held the top spot in the ACSI survey for more than a decade and this year's score of 84, while unchanged, is seven points above the industry average and far ahead of the competition.
""A lot of it is innovation; a lot of it is brand recognition and perception," VanAmburg said. "Apple by no means dominates the PC business, but those who are loyal to it are fiercely loyal. That's a big part of what sets it apart from the rest."
Amazon, Dell and Samsung all tied at 78 for second place. Here's how the rest scored: ASUS (77), Lenovo (74), Hewlett-Packard and Toshiba (tied at 73) and Acer (70).
Customer satisfaction lacking across the board
Based on this survey, PC manufacturers have a lot of work to do to improve customer satisfaction. Users of desktops, laptops and tablets rated nearly every aspect of their experience – from purchase to performance – lower than last year.
While the availability of software, apps and accessories continues to rate high, customer perception of system crashes and processor speed dropped 4 percent. Again, the report noted, this is probably due to higher expectations for what these devices should do. Satisfaction with call centers dropped to a new low of 70.
New Software Lets Computers Describe and Search Images Like Humans
Faced with stiff competition and a decline in sales, some manufacturers have focused on price to boost business. VanAmburg called that a "seductive path" that is not sustainable in the long run.
"What customers really want most is quality and innovation," he said. "They're willing to pay the price, in so far as they can afford it. At the end of the day, they would like to have a better product that they've got to pay a little more for."
Herb Weisbaum is The ConsumerMan. Follow him on Facebook and Twitter or visit The ConsumerMan website.