The list of retailers dumping some Trump products continues to grow.
Sears and Kmart announced over the weekend that they're removing 31 items in the "Trump Homes" brand from their websites, though many remain.
"We constantly monitor products for productivity, adding products that are in demand and removing products with lesser demand," said Chris Brathwaite, Vice President, Corporate Communications at Sears Holdings Corporation (SHC), in a statement. SHC owns Kmart and the Shop Your Way website.
Trump Homes consists of furniture, lighting, bedding and chandeliers, some of which are made by manufacturers who supply Trump Hotels. The lines were not sold in physical Sears and Kmart stores.
A search of the Sears website Monday turned up four items currently for sale, including a $248 "pendant in weathered umber" that incorporates "rustic Tuscan charm in the intricate leaf details and metalwork;" and a six-inch Slovenian-made crystal bowl that promises "Donald Trump's signature attention to detail and high quality" for $171. Both items are currently discounted for about $20 off. Each indicated they were sold on the website via third-party online retailers and not directly by Sears or Kmart.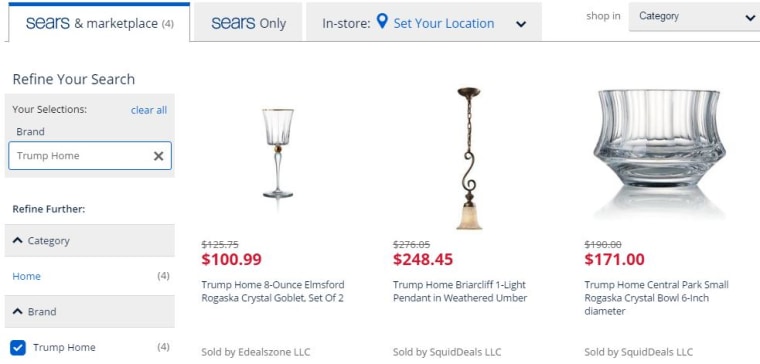 The company stressed that its product pruning "included a very small number of Trump products" and that it was not getting out of the Trump business but still sold "hundreds of products" from "Trump" and "Ivanka Trump" brands online.
In other words, they're selling lamps and shoes, not a point of view.
"We prefer to remain focused on serving our members and our marketplace sellers and leave the politics to others," Brathwaite said.
His company has been in streamline mode lately as Sears tries to stave off bankruptcy, shutting 150 stores and selling its popular in-house Craftsman tool line to Black & Decker.
It's not the only company to make headlines recently for putting daylight between themselves and Trump brand lines over poor performance.
Ivanka Trump sales reportedly dropped 32 percent at Nordstrom prior to its decision to stop carrying her line for the next season, the WSJ said, citing internal Nordstrom figures provided by a third party.
A Nordstrom spokesperson told NBC News, "We haven't and won't be sharing specific sales results for this brand or any other. We don't know where these numbers came from and we did not share them."
A comment wasn't available from an Ivanka Trump spokesperson.
After the news broke publicly, President Trump slammed Nordstrom on Twitter for treating his daughter "unfairly."
The luxury retailer's stock took a momentary ding before soaring 7 percent.
Other companies who have recently removed some Trump-branded products from their websites or stores include Belk, Burlington, Marshall's, Neiman Marcus, and T.J. Maxx, with some citing poor performance.