Kids, they grow so fast! And that can make Back-to-School shopping every year particularly painful on your wallet. Fortunately, parents can use apps not only to buy pre-owned or discounted children's apparel, but also to sell their own. What better reason to clean out those closets?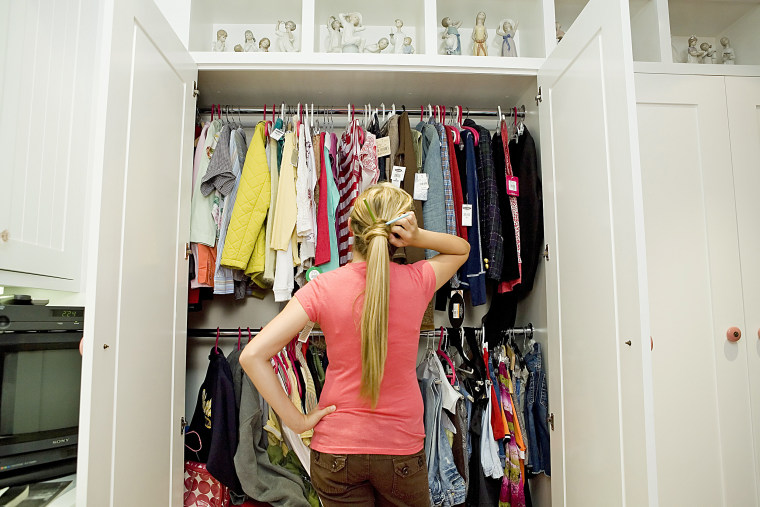 We've rounded up a list of the best apps to list your kids' discarded garbs and hopefully make a few bucks to get some new ones.
Kidizen
Specializing in kids' clothing, Kidizen recommends that sellers with a lot to offload arrange their items in batches, rather than listing one item at a time. Posters are also encouraged to wash and iron garments prior to photographing them (you should do this anyway), and to include a picture of the tag to verify the brand. Check off filters regarding the size, age, and gender pertaining to the items you are listing to help viewers find exactly what they're looking for. Kidizen features a "friends" section, which allows you to invite friends from Twitter and Facebook to check out your shop. Your followers will be notified whenever you post something new. While you can post for free, Kidizen will take 18 percent of the list price if sold. Sellers can opt for a prepaid shipping label, which is included in that fee.
Totspot
On Totspot, you're encouraged to share your items to social media, or via text and email (which you can do through the app). Considering that items shared to Facebook and Instagram sell three times as fast as those that aren't shared, according to Totspot, you should definitely take advantage of that feature. Totspot also hosts Runway Shoes every week designed around special occasions like Back to School. You can opt for a push notification to be alerted when these start and can share any of your for-sale items that fit the theme. Once you've finalized a transaction, Totspot emails you a pre-addressed and prepaid shipping label to you once you've made a sale, and keeps 20 percent from the list price.
ThredUp
An online consignment store, ThredUp will send you a Clean Out Kit, which you can pack full of unwanted apparel—so long as its in great condition. The kit is free to order and comes with a pre-paid, pre-addressed shipping label. Within a couple weeks of returning the box, your items will be sorted through and evaluated. Once the processing is finished, ThredUp will send you an email with your earnings, which will depend on various factors you can learn more about here. The money is good for 14 days to use as an exchange for other goods on ThredUp, and after that you can cash out using PayPal. Users can buy Return Assurance for $9.99 to have unaccepted goods returned to them, otherwise clothing is donated or sold to offset the price of shipping out free Clean Out Kits. While consignment stores often only want seasonal stuff, ThredUp is currently accepting baby, kids, and women clothes for all seasons.
OfferUp
If Craigslist and eBay merged, the resulting offspring might look like OfferUp, an online marketplace for local sellers and buyers. Making resale a neighborhood affair, OfferUp asks users to enter their location so as to connect with local buyers and sellers. OfferUp has a huge following on Instagram, so you should take extra care in posting attractive pictures. Like eBay, each member has a personal profile showing their user ratings, and all communication between sellers and vendors is done through in-app messaging.
Tradesy
Best for parents who've got designer goods to sell, Tradesy puts the spotlight on brand name items. So, if your kid has outgrown her UGG boots, or been gifted a pair of Gucci sneakers he'll never wear, get thee to Tradesy and set up an account. If you're not sure of the value of an item, Tradesy will give you an estimate, and once you've made a sale, they will provide you with a prepaid and pre-addressed shipping kit. Tradesy deducts 9 percent commission from your sale.
Before you start using these services, be prepared, as sales can happen very fast. Stock up on poly mailer bags, which are both lightweight and durable. Also consider picking up a home scale so you can know exactly how much to charge for shipping (remember to factor in the weight of the packaging), if needed. Presentation can go a long way, too, so you may want to pick up some ribbon and tissue paper to add a thoughtful touch. Last but not least, be sure you have an up-to-date PayPal account.