Freshly squeezed? You're going to pay more for that glass of breakfast OJ.
Orange juice prices have hit two-year highs because the crop in Florida has been hit hard, not only by an unusually cold winter, but also a fruit disease that has stunted orange growth and reduced the amount of juice the Sunshine State squeezes from its signature fruit.
This year's crop is approaching the fruit's lowest harvest in 24 years. On Wednesday, the U.S. Department of Agriculture forecast the 2013-2014 orange harvest at 110.0 million boxes, which is 18 percent less than last season's.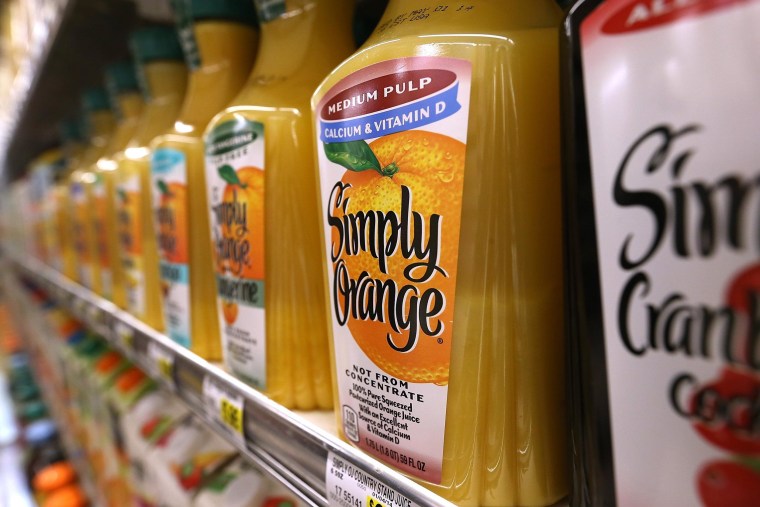 The reduced production is linked mostly with an outbreak of citrus greening, a bacterial disease that has spread to every orange-growing county in Florida, stunting growth and causing fruit to fall from trees prematurely.
Orange harvesting ends in June, and if the crop does not decline further, it will barely exceed the 1989-90 harvest following the worst freeze in Florida citrus history. Citrus is big business in Florida, which has 66 percent of the total U.S. market share. About 95 percent of the state's orange crop is used for juice.
Price hikes at the grocery store are inevitable after frozen concentrated orange juice futures rose 3 percent, or 4.8 cents, on Wednesday, to $1.6030 a pound, At one point during trading, the contract shot up to $1.6180, its highest since April 2012.
Producers are also faced with lower consumption of OJ which was once a breakfast-table staple. Retail sales fell 5.3 percent from a year ago in the four weeks ended March 15, according to the Florida Department of Citrus.
(Reuters and The Associated Press contributed to this report)