The bass thumps and the disco lights spin. The dance floor is filled with sweaty grooving bodies in eccentric getups and wearing glow-stick necklaces. But instead of Red Bull vodkas or Lemon Drop shots, these patrons are chugging raw juice and sipping on chilled espresso. Later, the diva on the mic doesn't belt out house anthems, but yoga moves and inspirational messages, at 6 a.m. on a Wednesday morning.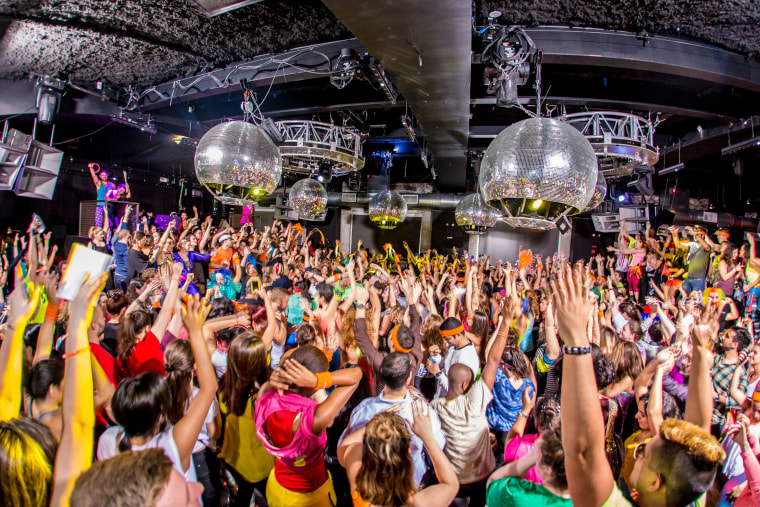 Welcome to Daybreaker, a sold-out event and one that belongs to the "sober clubbing" trend, a growing movement of adults seeking a healthier kind of hedonism.
As someone who doesn't drink, I'm used to being in nightlife environments where I'm the only sober person, nursing my seltzer with bitters and a dash of cranberry juice while observing friends and strangers unraveling in drunkenness around me. Sometimes I'm completely confident and unbothered, even entertained, but often, being the sober one out, I'm feeling awkward, bored, and ready to leave.
But not only is everyone here also sober, they're uninhibited, and their energy is infectious. Some people climb up on the stage and surround the DJ. Others form loose groups, laughing and grooving with one another, cheering each other's dance moves on. Strangers introduce themselves and wave in new friends, while others prefer to dance solo and bust wild moves.
Everyone seems to be manifesting the kind of carefree joy that boozy nights out advertise but often don't fully deliver because there's so much negativity that can accompany them.
Created by Williamsburg entrepreneurs Matthew Brimer and Radha Agrawal, Daybreaker launched in NYC two years ago. Interest in the pre-dawn parties has grown and they're now held in other major including LA, San Francisco, London, DC, Chicago, Toronto and most recently, Paris.
"We want to take out all the bad stuff associated with clubbing: the drinking and self-destructive behavior and mean bouncers, and just bring people together," said Brimer. "There's no guilt whatsoever here. You can tell your grandmother about Daybreaker."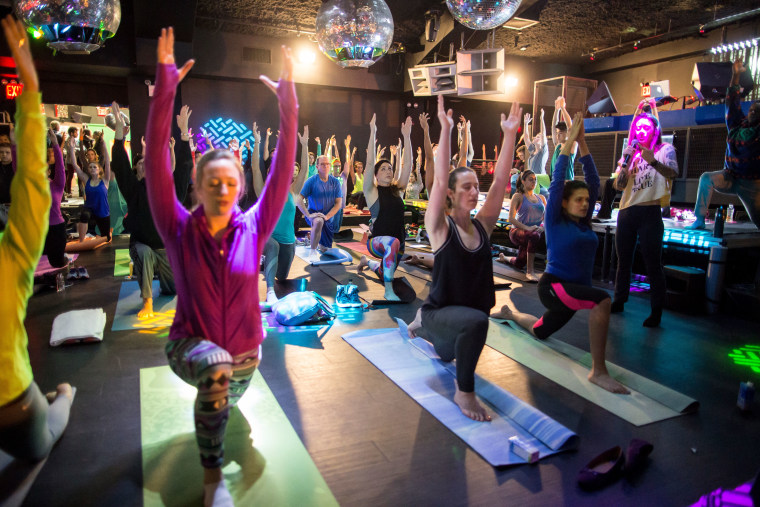 On average, Daybreaker parties welcome 400 to 500 attendees and usually sell out in advance, buoyed by social media pre-hype. Wednesday's $42.50 ticket included an hour of warm-up yoga, a two-hour dance party with a DJ, unlimited organic energy drinks, and breakfast energy bars. Or you can opt for just the dance party for $26.75, and still get the snacks, themselves mindfully selected.
You won't find any Monster Energy drinks or even Vitamin Water here. But you will find a full bar of other non-alcoholic options like Califia cold brew coffee and Happy Tree maple water.
"We've had big energy drinks offer to sponsor our events," Brimer said. "That would be great for short-term gain, but ultimately it would go against what we stand for."
Most Daybreaker patrons are in their mid-20s through late 30s, but I noticed plenty of people — mostly women — who looked to be closer to middle-aged. And these aren't people who, like many week-night clubbers, can sleep the day away.
In the coat check line, I noticed people handing over backpacks, briefcases, and laptop bags. It's a $5 check fee per item, but nobody seems to hesitate, perhaps because they know they won't be spending any money at the bar. Most of the women check in their purses. Why not? They won't need to take out their wallets for anything, and since none of us have make-up on at this hour, there's no need to reapply.
"The vast majority of the people here are going to work after this," said Brimer, adding that many attendees leave about half an hour before the 9 a.m. ending time so that they can hit the gym for a shower before work.
Antonia Predovan, a 29-year-old Brooklyn resident likes to hit up Daybreaker parties before she heads to work in brand management because they put her in a great mood for the rest of the day.
"I love that everyone's sober, so no one is spilling drinks on me, pushing people around, or hitting on anyone" Predovan said. "It's just dancing and having a great time."
While people traditionally turn to alcohol to break the ice in social situations, these folks bust a move instead. And friendships are often formed — ones people actually remember making.
Catherine Manzanares, a 27-year-old Los Angeles based digital marketer said she's met many people at the roughly dozen Daybreaker parties she's gone to. "It's so easy to just compliment someone, chat with them, or vibe with the music together. I either go with friends or go solo and see people who I've met there," she said.
Daybreaker, with its rave-like setting is one of the more high-octane of the various sober get-togethers, but others, especially in NYC and LA, emphasize spirituality and mindfulness.
The Den, located in the heart of LA, is a trendy new meditation center that brings an element of socializing to the ancient practice.
"It's been amazing watching people take a class and then relax and socialize afterwards," said Den founder Tal Rabinowitz. "Our 'sound baths' on Saturday and Thursday evenings have been sold out — and those are two very popular going out nights. If you don't want to scream over someone and get pushed around in a bar, you can come here, actually relax, feel better about yourself and still have connect in a deep conversation."
Rabinowitz pointed out that wine is made available at these events, but that many people are "sipping on lemon water or mugs of tea — and they are all connecting, growing, laughing, enjoying…the 'new sober' is stopping by the mediation studio instead of running to the bar."
But alcohol-free bars are popping up too, like the Redemption Bar in London serving beet-o-tinis and coco-ritas. Mixology bars like Pepper Smash in Dallas are drawing a sober following thanks to their craft mocktails. Even some traditional club experiences have gone completely dry too, even during prime nightlife hours. At the "Sober" club in Stockholm, partiers have to blow a 0.0 on a breathalyzer test before being allowed entry.
And in New York City alone, there's such consumer demand for sober nightlife activities, that social mapmaker CityMaps has assembled a map of "NYC Hot Spots For Sober Partying."
But the trend is more than just a lifestyle option for health fad followers. It's also a social lifeline for those in recovery from alcohol addiction or are keen on staying sober.
Back at the Daybreaker party, Katie Campisano, a 27-year-old PR exec in NYC has three years sobriety. "Parties like Daybreaker really show – as lame as it seems – how much fun you can have sober," she said.