The dramatic rise in student loan defaults has created a space for scammers to flourish, according to the Consumer Financial Protection Bureau.
"This bears an eerie resemblance to the foreclosure rescue scams that emerged in the wake of the mortgage meltdown," said the CFPB's Student Loan Ombudsman Seth Frotman.
Student loans can be a financial burden for decades after going to college. For someone who's struggling to make their monthly payments, a company that promises lower payments or total loan forgiveness, seems like a godsend.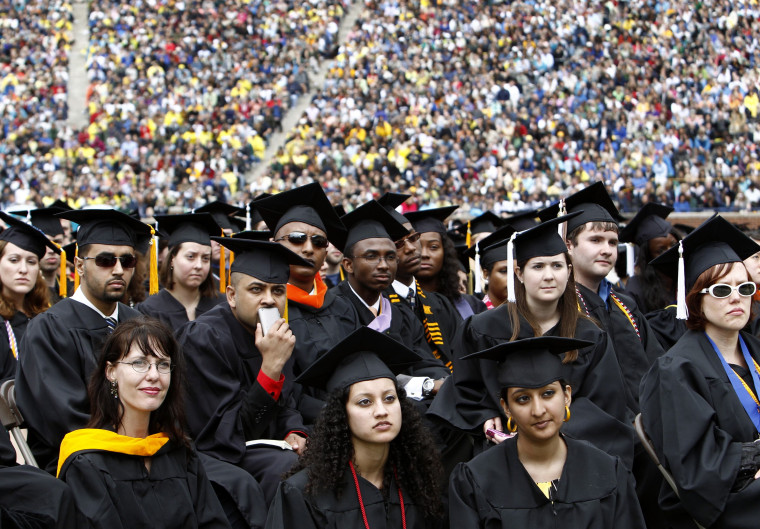 Here's the rub: The ads never mention that there's an upfront fee, typically $600 to $1,200. And despite the claims of "guaranteed results" and "customized programs," these companies don't do anything special.
The Consumer Financial Protection Bureau told NBC News it's seen an increase in the number of companies that charge large upfront fees to get borrowers into government debt relief plans they could sign up for on their own – for free.
Consumer advocates say the postcards, texts, emails and online ads for these debt relief companies are typically high pressure and often highly misleading:
Most are designed to make it look like the company has a special relationship with the federal government. They do not.
Many use the Department of Education logo without permission.
Some reference the "Obama New Student Loan Forgiveness Program" and make it sound like they are the only ones that can access these federal benefits. Fact: There is no such Obama program.
"You do not have to use these companies. That's untrue," said Persis Yu, a staff attorney with the non-profit National Consumer Law Center. "Borrowers can go to their loan servicers to access these programs on their own and they don't need to pay any money."
Most so-called debt relief companies operate the same way, Yu told NBC News. They consolidate the borrower's loans and get them into an income-driven repayment plan. After that, the borrower sends their monthly payments to the company. That payment often includes a hidden monthly fee.
And worse yet: Sometimes these scam debt relief companies don't pay the lender at all.
"In many cases, they take the money and then split town," said Bruce McClary, vice president of communications at the National Foundation for Credit Counseling. "Victims are left deeper in debt, without their problem solved, and not knowing where to turn next. No one can 'guarantee' that they can erase your student loan debt or make that debt go away."
Bobbi Hill, a school teacher in Bastrop, La., learned that lesson the hard way. She was contacted through Facebook by a company that said they could get her student loans "forgiven" for a one-time advance fee. When you owe nearly a quarter of a million dollars, $750 seems like a small price to pay for relief. Hill paid the fee and has nothing to show for it.
"I wasted all this money because they represented themselves as being an advocate for me and they did absolute nothing," Hill told NBC News. "I feel like I've been taken advantage of. They lied to me. They took my money and ran."
What's the industry position on all this?
NBC News contacted the Association for Student Loan Relief (AFSLR). It calls itself "the leading association of professionals associated with the sole purpose of assisting Americans burdened with student loan debt." The AFSLR website says its founding principles include: To promote and enforce industry best practices.
Despite numerous attempts by phone and email to talk to someone from the association, no one responded.
Ads for these services are everywhere
Student debt relief companies are aggressively marketing their services, according to a recent report by the personal finance website NerdWallet and Student Debt Crisis, a nonprofit advocacy group.
More than 6,300 student loan borrowers on the Student Debt Crisis mailing list responded to the survey. The key findings:
Sixty percent had seen ads for debt relief companies
Forty-four percent said the companies contacted them directly – 58 percent were called weekly or monthly
Sixty-five percent who used the service did not see their financial situation improve
"Not all of these companies are frauds or scams, some are just unscrupulous," said Natalia Abrams, executive director of Student Debt Relief. "They do a hard sell. They use scare tactics. They tell people they can't do this by themselves, but they do what they say they're going to do. Other companies lie to you and say they're with the Department of Education, when they're not. And some are just straight-out scams. They take your money, don't do anything and six months later you find out that you're in default."
Abrams says she gets calls every day from debt relief companies. She sent NBC News a recent voice mail message from one of them:
"This is the final attempt to reach you in regards to your student loan prequalification. You have prequalified for a lower monthly payment on your student loan, but due to numerous attempts to reach you with no success, your eligibility will be revoked within the next 48 hours and you will no longer be offered this program for the remainder of your loan term. It's extremely urgent that you contact one of our counselors at…"
The National Consumer Law Center warns that some debt relief companies are now using even more aggressive marketing tactics. They're buying information from data brokers to identify a borrower's actual loans and balances. Knowing your lenders and how much you owe them, makes these companies seem legitimate.
Some of these pitches tell borrowers not to contact the company that services their federal loan for help. "DON'T DO IT," one email advises. "The programs they can offer you are not nearly as beneficial to you as what the government has established for you, that's what [company name] will get you an approval for." Again, this is a lie.
What's being done to crack down on the bad actors?
State and federal prosecutors are trying to clean up the marketplace. For several years now, they've targeted debt relief companies that break the law.
In March, the Consumer Financial Protection Bureau shut down a company called Student Aid Institute, based in San Diego. The government's lawsuit claimed the company "illegally tricked borrowers into paying fees for federal loan benefits and misrepresented to consumers that it was affiliated with the Department of Education."
The CFPB noted that Student Aid Institute often charged consumers hundreds of dollars and required all or most of its fees to be paid up front. A news release announcing the settlement noted that: "Federal law requires at least one debt to be renegotiated, settled, or reduced before a fee can be collected for debt relief services."
Warning signs of a scam or questionable offer
It's perfectly legal to charge a fee to help someone apply for student loan debt relief – as long as the company is honest about who they are and what they do. But it can be difficult to know if a company is offering a legitimate service or not.
The National Foundation for Credit Counseling has this advice:
Looks can be deceiving: Just because an email or website looks legitimate doesn't mean it is. Remember, the government doesn't send out emails or use advertising to encourage borrowers to consolidate debt or seek other debt relief.
Urgency is a red flag: Whenever pressed to make a quick decision involving a "special offer," step away and take a hard look at the deal and who's presenting it. Scammers use urgency the same way magicians use colorful distractions—to focus attention away from what they don't want others to see.
There is no instant solution: While there are many programs that offer relief, borrowers need to apply for them directly. There aren't any middlemen who can negotiate special deals.
Caution: You should never give any debit relief company access to your online federal student loan account or your Social Security number, or sign a power of attorney giving them control of your student loans.
Help is available
The federal government offers various programs – consolidation, repayment plans and forgiveness programs – to help student loan borrowers. Navigating the system can be confusing. Remember, it's part of your loan servicer's job to help you understand the process.
The Department of Education has various income-based programs that can lower payments for many borrowers.
If you have questions about repaying student loans, check out the CFPB's repayment tool Repay Student Debt to find out about your options – even if you are in default.
A growing number of people who get help from non-profit consumer credit counselors are also dealing with student loan debt. That's why the National Foundation for Credit Counseling now offers student loan training for counselors at its member agencies. You can find certified student loan counselors near you at StudentLoanHelp.org.
Herb Weisbaum is The ConsumerMan. Follow him on Facebook and Twitter or visit The ConsumerMan website.