Taco Bell hired twenty-five real guys named "Ronald McDonald" to appear in its ads promoting the chain's new breakfast menu.
"To show you how much people are loving Taco Bell's all new breakfast, we asked some very special people," intones the narrator.
The ad then shows a series of men the chain hired from coast to coast whose real name is "Ronald McDonald."
What do the Ronald McDonalds think of the new early morning lineup? Apparently, they're loving it.
"Eggs sausage, a little syrup, what more can you ask for?" says Ronald McDonald of Dubuque, Iowa.
"I'm surprised how good it is," says Ronald McDonald of Chicago, Ill.
At the end of the ad, created by the agency Deutsch L.A., all twenty-five of the men say in unison, "I'm Ronald McDonald and I love Taco Bell's new breakfast."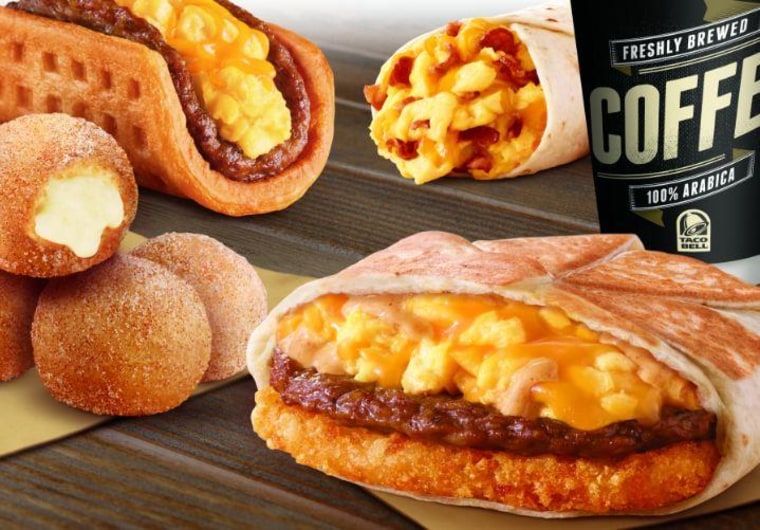 The new menu from the Mexican chain, consisting of items like a breakfast burrito, bacon and hash browns wrapped in a tortilla, and a waffle folded around sausage to form a taco, is "reinventing the traditional tastes of breakfast," said Taco Bell Corp., president Brian Niccol.
Likewise, its marketing campaign, he said, "challenges the status quo."
The Goliath in fast food breakfast is McDonald's, with 31 percent market share. Currently, breakfast accounts for 4 percent of Taco Bell sales.
The Associated Press contributed to this report.