/ Source: Associated Press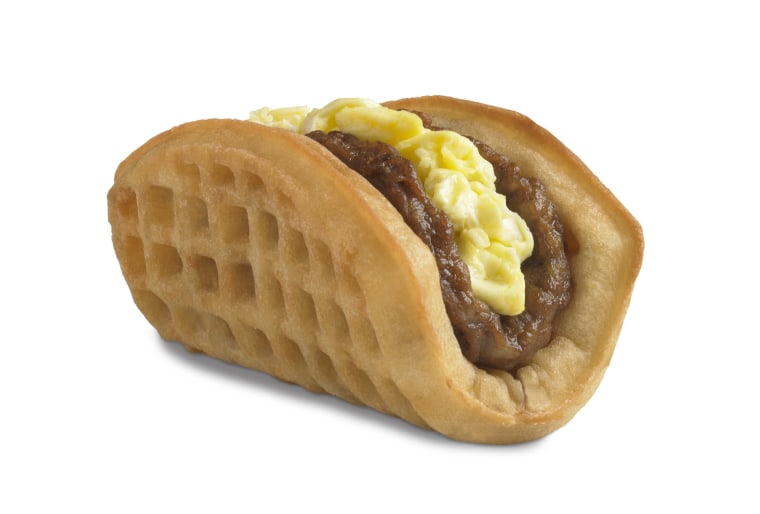 Look out Egg McMuffin... here comes the Waffle Taco.
On the same day McDonald's said it was considering extending its breakfast menu beyond 10:30 a.m., Taco Bell rolled out the heavy artillery for its entry into the fast-food breakfast wars on March 27.
The Waffle Taco, which is a waffle wrapped around a sausage patty or bacon, with scrambled eggs and cheese and a side of syrup, is joined by the A.M. Crunchwrap -- scrambled eggs, hash browns, cheese and bacon, sausage or steak in a flour tortilla and the Bacon and Egg Burrito.
Taco Bell says breakfast will be available until 11 a.m. -- a half hour longer than McDonald's offers its Egg McMuffins.
"We can turn the breakfast conversation into a two-horse race," Taco Bell President Brian Niccol told The Associated Press, noting that Taco Bell intends to be a "strong No. 2" after McDonald's.
McDonald's has long been the fast-food leader in the mornings, with its popular Sausage Biscuits, Hotcakes and other items pulling in roughly 20 percent of the company's U.S. sales. But the chain has been facing stiffer competition in recent years, with competitors such as Starbucks and Subway rolling out breakfast sandwiches as well.
Kevin Newell, U.S. brand and strategy officer for McDonald's, seemed unfazed by Taco Bell's foray into the breakfast market. It is a major undertaking that requires training existing workers, hiring more staff to cover morning shifts and buying new equipment, he said. Taco Bell is bringing in new equipment to its nearly 6,000 U.S. locations to start serving coffee for the first time.