Vladimir won't be "Putin" a hand on a Mighty Taco any time soon. The Buffalo-based Mexican fast-food chain announced it has banned Russian President Vladimir Putin from all of its 23 locations in western New York.
"You may be ordering around the Crimea, Mr. Putin but you won't be ordering a Super Mighty® around here anytime soon," the company, known for its ads tinged with satirical humor, announced in a Facebook post this week. "No one likes a bully."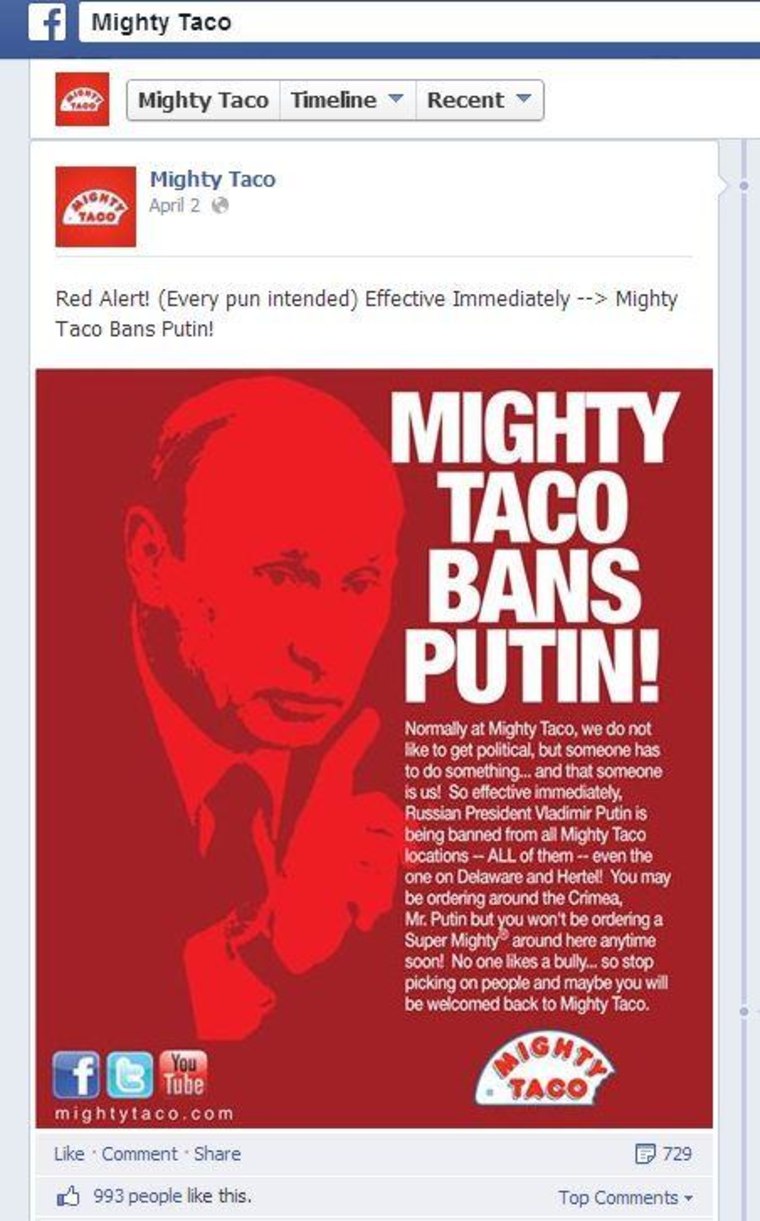 The post, in text overlaid on a red monochrome photo of Putin with one finger raised, said that if Putin stops picking on people "maybe you will be welcomed back to Mighty Taco."
After being posted on Wednesday April 2nd, the story started spreading online and was picked up Friday by national news media.
Mighty Taco's Chief Operating Officer Russell Jasulevich said he was "amazed" at the response the "tongue-in-cheek" ad had gotten.
"I think Putin is really considering his actions in the Ukraine and might be withdrawing so he can get a Super Mighty," said Jasulevich.
Jasulevich admitted that if the Russian President ever actually set foot inside one of Mighty Taco's stores, the chain would serve him. There's no way it could turn down the publicity.
"It's all good humor. We're just hoping our computer system won't get hacked," said Jasulevich.
Despite the ad's basis as a piece of topical humor, Jasulevich noted it seemed to having more effect than other efforts to pressure the Russian leader.
"People are talking about this ban. People aren't talking about the U.S. sanctions," he said.