Police line streets in downtown Tampa as the March on the RNC protest turns a corner on Monday. Though conditions were less rainy than initially forecast, the turnout was fairly low, with protesters numbering fewer than one thousand people. (John Brecher / NBC News)
By Bob Sullivan
You might not hear the phrase "First Amendment Zone" during the next two weeks, but protesters at the Democratic and Republican national conventions will be put in their respective places. High-tech gadgets, ATVs, temporary city ordinances and even a tank will be used to control dissenters, part of a $100 million effort to keep the peace in both Tampa and Charlotte.
Messy, sometimes violent protests -- and local efforts to stop them -- are hardly new to nominating conventions.  The cat-and-mouse game between protesters and local authorities is renewed every four years, with so-called "free speech zones" or "First Amendment zones" playing a starring role at four recent  conventions.  Police corral protesters into small areas, often at a safe distance from the conventions -- and more critically, at a safe distance from most TV cameras.  In Boston in 2004, protesters in First Amendment Zones were surrounded by concrete walls; in New York, police circled protesters with police tape, creating "ad hoc free speech zones."
Legal challenges and a general distaste for the phrase "First Amendment zone" -- isn't all of America a First Amendment zone? -- have led to a softening of these strategies. Instead, officials in Tampa, Fla., and Charlotte, N.C., have replaced them with "parade routes," which give protesters a chance to march near the convention facilities, but not as close as some would like, according to the American Civil Liberties Union.
"Some protest groups have concerns. ... People want to be right in front of the arena," said Baylor Johnson, advocacy coordinator for the ACLU of Florida. "That may be an area where we see some tension."
Tension has already ratcheted up as the Republican convention begins this week (the Democratic Party's convention is next week). Many protesters have gained practice and experience through Occupy events around the nation and are harder to control with standard police methods.  And many Occupy leaders are involved in convention protests. There's also concern that anarchists inspired by the Anonymous hacker movement might be planning violence.  Just days ago, there were reports that a pile of bricks and pipes was found on a rooftop near a fresh graffiti drawing of Guy Fawkes, the Anonymous symbol.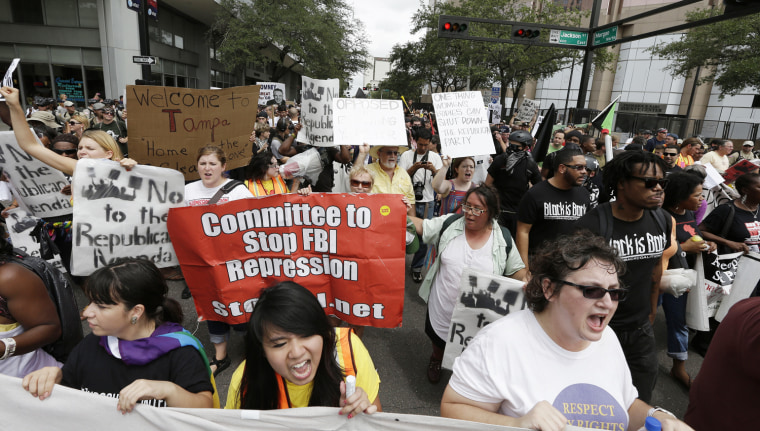 Balancing the demands of free speech against a city's safety – and the potential damaging publicity that violence can bring -- is a high wire act. Congress gave Tampa and Charlotte $50 million each to plan for the violence. In Tampa, the city purchased an armored vehicle, police bicycles, all-terrain vehicles and put up nearly 100 high-tech surveillance cameras.  (An anti-camera group has posted details about the cameras here).
"The city is a police state, buildings are lined with fences and barricades, windows boarded up," said Jarid Hamil, spokesman for a group called March on the RNC, which is organizing Tampa protests.  "Helicopters constantly swarm the sky.  Meanwhile, the police parade their tank from time to time."
Johnson, of the ACLU, was not quite as pessimistic about the GOP convention in Tampa.  He said his organization has held regular meetings with local officials in the months leading up to the event and feels they have heard members' pleas to avoid unnecessary crackdowns on free speech.
"We have been preparing for over a year to make sure everyone knows their rights and that those rights are protected during the conventions," Johnson said. "We've had a relationship of mutual respect. We don't agree with everything they are doing, but we believe they have heard us. ... At this point, it's more an issue of how the rules are applied."
Johnson's big concern, he said, is that in the heat of protest, rules which seem neutral end up being applied in draconian ways "and things get out of control."
Parade routes are central to crowd control this time around, and seem a vast improvement on Free Speech Zones.  In Charlotte, there's a 1.2 mile route that allows protesters to march within two blocks of Time Warner Arena.  In Tampa, protesters can get one block from the convention site, but their route is only 0.7 miles and avoids the downtown area, steering marchers through a largely industrial area.
Hamil said his group plans to play by the rules and has obtained a permit for its march.
Rules limiting protesters go far beyond parade routes, however. In Tampa, much of the city has been designated an "event zone" by city ordinance, says Johnson, a designation that brings with it a series of restrictions.  By his reading, the law prohibits masks, puppets and even balloons.
"Lots of things you would normally see at a political demonstration aren't allowed," he said. Tampa police spokeswoman Andrea Davis told the Tampa Tribune that puppets, long a feature of political protest, have been used to conceal weapons.
Ironically, city ordinances cannot trump Florida state handgun laws, so those with the proper permits will be allowed to carry concealed handguns into the event zone.
Within the event zone is a more tightly secure Secret Service zone, there to protect the safety of key Republican officials. It also keeps protesters from getting anywhere near GOP nominee Mitt Romney.
In Charlotte, the city has passed an "extraordinary event ordinance," according to local ACLU director Christopher Brook. The city manager can declare an "extraordinary event," he said, and new police powers immediately kick in.
"(The declaration) makes it illegal for someone to carry pepper spray with intent to disturb the peace, makes it illegal to wear a scarf to disguise their identity. ... It places a lot of focus on police officers being able to divine what someone's intent is," Brook said. "That's an awful lot of power for the city manager to have."
Brook also praised local officials for meeting with the ACLU and other civil liberty groups, and said he was generally hopeful that things would go smoothly in Charlotte.
"The parade route they OK'd is actually pretty good. It gets close to a lot of the key areas," he said. Charlotte officials have also said that, in addition to the parade route, protesters will be welcome on city sidewalks.  "We don't see eye to eye on everything, but there has been an open door both ways."
Both Johnson and Brook say their greatest concern is that civil liberty restrictions could remain even after the conventions are over. Brook wonders when the next "extraordinary event" will be declared; Johnson worries about the surveillance cameras.
"It is for us very troubling to the see massive expansion of surveillance technology, especially around a political event," Johnson said. "Because these technologies historically are put in place for one purpose, but there ends up being mission creep."
Already, the Tampa ACLU has begun distributing 15,000 "First Amendment Toolkit" pamphlets, and has set up a mobile resource center within the event zone, along the parade route. Volunteers will provide assistance to protesters with First Amendment questions, and will provide resources for legal aid. 
Despite all the preparation, he does expect some clashes as protesters try to spoil the perfect pictures that politicians try to stage for TV cameras.
"We've seen in past conventions that there have mass arrests, people having their permits to demonstrate revoked, people feeling that they weren't made aware of their rights, or cameras taken away from them," he said. "What we're going to be doing in Tampa is making sure people are aware of their rights."
Brooks expects tension, too, but says viewers around the country should try to keep any angry images in perspective.
"I know these things can look rough and tumble on television," he said. "Perhaps some individuals have different ideas, and are considering violence. Nobody endorses that. But it's the most outlandish behavior that gets focused on. The vast majority of folks are going to (protest) so because they are passionate (and) politically engaged and are going to do so in a nonviolent fashion. The ability to do that is central to our American democracy."
* Follow Bob Sullivan on Facebook.
* Follow Bob Sullivan on Twitter.