You may not need an EpiPen, but you're still paying for it. In fact, you're their biggest customer.
"The majority of Mylan's EpiPen revenue growth came from Medicare and Medicaid," Senator Chuck Grassley told NBC News in a statement after the Iowa Republican's office published an analysis of newly released data on rebates paid by the drugmaker to the government.
The two programs, which help cover healthcare costs for the poor and elderly, are funded by taxpayer dollars.
From 2011 to 2015, government spending rose from being 23 percent of Mylan's EpiPen revenue to 53 percent, according to Grassley's analysis of Centers for Medicare and Medicaid Services (CMS) figures disclosed this week.
At the same time, the price the government paid for the emergency allergic reaction treatment rose by 463 percent.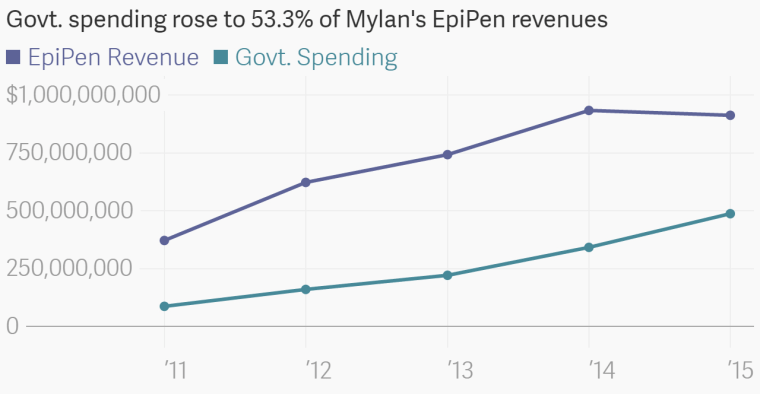 In the aftermath of the general furor over hiking up the price of EpiPens from $100 to $600, Mylan has also drawn intense scrutiny from how a misclassification of the EpiPen as a "generic" instead of a "branded drug" could have caused it to underpay Medicaid and Medicare.
But this goes beyond that over-charging issue, said Senator Chuck Grassley, whose office compared the newly unveiled Medicaid and Medicare costs with Mylan's SEC filings.
RELATED: Mylan's Upgraded EpiPen Torn Apart By Experts
"For whatever reason, Mylan's results indicate it found more success selling EpiPens through government programs than through the private insurance market," he said.
In 2015, Mylan reported $912 million in revenue from EpiPen sales. Of that, the government programs accounted for $486 million.
Total Medicaid spending, which covers the low-income and needy, increased five-and-a-half times from 2011 to 2015, rising from $66 million to $365 million, according to the CMS data.
Meanwhile, Medicare Part D, which chiefly covers those over 65, increased six times, going from from $20 million to $121 million.
In total, government health plans spent over $1 billion on EpiPens over the five-year period.
Mylan spokeswoman Nina Devlin declined to comment on Grassley's findings, but noted that the company's net revenue on EpiPens from Medicaid in 2015 represented about 20 percent of its total, and that the figures given to CMS don't include the rebates Mylan pays to states or for wholesaler and other fees that reduce its net revenues.
CMS Acting Administrator Andrew Slavitt said in his letter to Grassley releasing the Medicaid and Medicare Part D data that he shared the concern that "unchecked price increases of pharmaceuticals that Americans depend on — such as the EpiPen — directly impact the health and financial status of our beneficiaries, our states, and the Federal budget."