Brown has raised the white flag in its battle with a local union, with UPS unfiring 250 workers who had walked off the job in New York to protest a fellow co-worker's termination.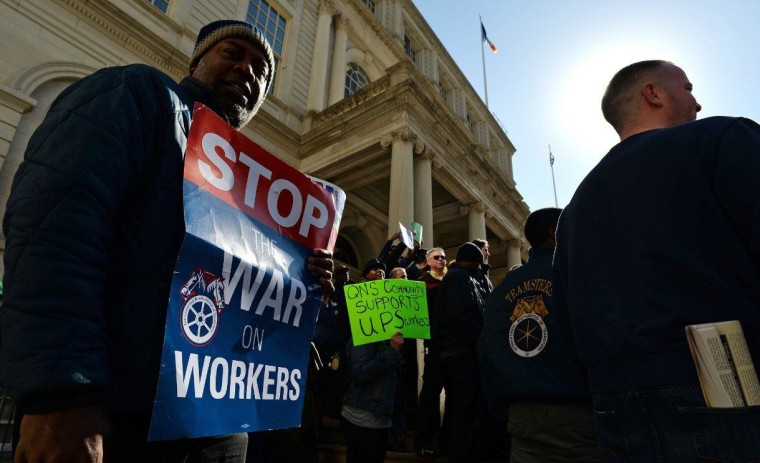 The two sides settled late Wednesday night. The 250 employees involved in the walkout had their terminations reduced to 10 days suspension without pay, the union and UPS said.
In addition, the driver whose firing sparked the labor action, Jairo Reyes, will be reinstated. Reyes was terminated for continually clocking in early. Reyes said he had permission from his supervisors to punch his time card early while the company said it had repeatedly warned the driver against doing so.
On February 26, fellow workers at a distribution and sorting facility in the Queens borough of New York walked off the job for 90-minutes to protest Reyes' treatment.
Initially the package delivery company stuck by its decision to fire those workers. But a growing protest, including letters from politicians, rallies, petition signatures, and customer comments ratcheted up the pressure on the company to reconsider.
"UPS has chosen to settle the matter in order to return to normal operations at the site," said UPS spokesman Steve Gaut.
The union also said it looked to putting the issue behind it and getting back to business.
"We're looking forward to turning the corner and getting on a new road with UPS," said Local 804 President Tim Sylvester. "The drivers delivered their message to UPS about unfair treatment. Now every one them will be back delivering packages."
The union agreed to pay UPS an unspecified sum to compensate for damages from the walkout and subsequent fallout.
But the two sides haven't exactly made friends.
In a statement, UPS said the union had agreed the strike was "illegal" and "unauthorized." Meanwhile, the union maintains that while how the walkout was conducted broke its own internal procedures for authorizing a strike, it didn't violate its contract with UPS, which allows for work stoppages when the company doesn't follow proper procedures for resolving disputes.