Vine Stars say they're going to outlive the death of the platform that made them famous.
"We were essentially the most popular entertainment of all time," former Vine superstar Cody Johns told NBC News by phone. At one time, he and his brother were drawing millions of views a month for their short comedy videos. "It was like we were on a very popular TV show...that was on for a couple of seasons," he said.
At its peak, creators on the online video site were able to turn 6-second looping online videos into six-figure salaries. Big brands like Coke, GE and Kenneth Cole rushed to get popular Viners to include their products in their videos with the hopes of getting exposure to their millions of followers, a growing niche of desirable and internet-fluent consumers have proven harder to reach in recent years through traditional mass marketing techniques.
Twitter acquired the fledgling video site in 2012 before it was even public and though some creators made their living through it, the microblogging site struggled to make it profitable.
On Thursday, following a disappointing earnings call and the announcement of a 9 percent reduction in its staff, Twitter announced that it would be throwing Vine in the compost. Old videos will still be archived on the site but users will not be able to upload new ones.
While Vine's death was met with snarky haters on Twitter shedding crocodile tears for all the now out of work Vine Stars, some of the most popular Viners moved to new platforms and new careers long ago.
Viners say they started to see an exodus, especially among comedians, starting in 2014 and 2015.
"The smart people played their cards right, we had a great run and we monetized our brands," said Johns, who has gone on to appear in TV shows and movies and invest in a hoverboard company. He says he hasn't made a living off Vine "in several months."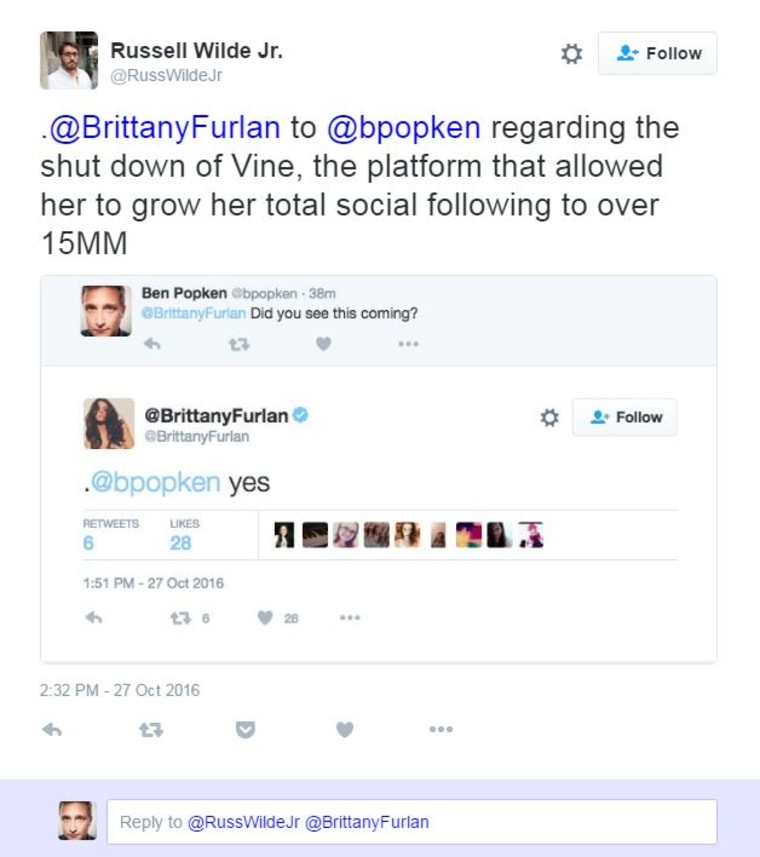 Production among some of the top Viners has slowed since and their Vine profiles now encourage their followers to watch their new videos on other social media sites.
Logan Paul—who became one of the most popular Vine stars, boasting more than 9 million Vine followers, and has won a number of awards for his six-second videos—says that Vine's failure stemmed from its inability to support those making videos.
"Vine could have placed a little more emphasis on the creators," he said via phone from Los Angeles where he lives in an apartment complex filled with some of the platform's most popular video makers. "Platforms that do that do really nicely. Also, inherently, being limited to six seconds is going to make people say, 'What can I do beyond this?'"
Paul dropped out of Ohio State University, giving up an engineering full-ride, to pursue a career as a Vine star. He said he isn't worried about his future without Vine.
The social media aficionado continues to make plenty of independent and sponsored content on Facebook, Instagram and Twitter. Comcast's new video service Watchable will also play his original series, "Logan Paul Vs."
Jessi Smiles, one of the first famous Viners, said that she enjoyed sporadic financial success on the platform with a few sponsored campaigns. But she gradually began posting less on Vine after she felt it started to become a numbers game to see who could get the most views and content quality, and community, took a backseat.
"Vine went from being a family of people dedicated to creating and watching raw, awesome content to a stale, fame-hungry machine in my opinion," Smalls wrote in an email.
"If I'm going to make content I want to make, I want it to be for people who get it....and Vine just didn't get me anymore," she said.
Twitter didn't immediately respond to a request for comment.
"It's been such a crazy wave," Meagan Cignoli told NBC News by phone. The "Queen of Vines" got her start as a freelance photographer making stop-motion art videos on Vine a few years ago before drawing the attention of sponsors and advertising agencies. She now employs over 25 people at her production company Visual Country and has worked with over 250 major brands.
Starting in 2014 she started to see more requests from advertisers to make content not just for Vine, but for Instagram, YouTube, and Snapchat. From a fleet of six smartphones they've gone to a full 5,000 square foot production studio with 4K cameras.
Still she has a lot of love for the platform that got her started and where she still sees a flourishing art community that enjoys it for its storytelling format and connection.
"It's a really sad moment, it really shows you can't base your entire career on one app because it can change within seconds," Cignoli said.
What Twitter does with its archive video is currently unclear, but the hope is that they will archive the footage. The social media giant says it will provide further announcements via the Vine app, medium and Twitter.
But Paul hopes that the company remembers how extraordinary Vine was to so many people.
"I hope they archive it," he said. "I really hope they do because so many good, epic things went down on Vine, so many people's lives were made or changed by Vine.
"It's really a magical place. It'd be a shame to see it all disappear."