In an effort to prevent misjudged police-involved killings such as the fatal shooting of Tyre King, aged 13 — who was killed September 14 in Columbus, Ohio, by officers who mistook his BB gun for a real weapon — towns and cities across America are reviewing and implementing regulation that bans residents from owning realistic, non-lethal weapons.
According to a report in the Guardian, 28 people with BB guns were shot and killed by police in 2015 alone. After 12-year-old Tamir Rice of Cleveland was shot and killed by police in 2014 when officers mistook his toy gun for a real one, several cities began proposing a ban on replica guns. Last November, Boston passed a ban on realistic-looking toy hand guns. A dozen states have already passed laws restricting fake guns, and Baltimore is currently considering a city-wide ban on replica guns.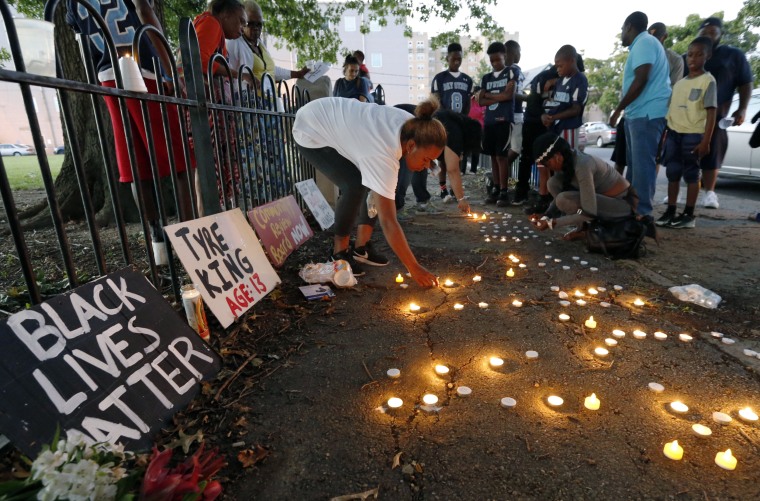 The city of Salisbury, Maryland is the latest to consider banning toy guns, BB guns, and other toys that resemble firearms.
"This all began with a simple statement [said] by Councilman Muir Boda," Mayor Jake Day told NBC News. "Councilman Boda has worked at Wal-Mart and participated in some corporate discussions as to whether they should be in the business of selling both real and [fake/toy] guns," said Day.
Boda told NBC that in his experience as a department manager at Wal-Mart, "BB guns that look like real guns are one of the hottest stolen items."
But it's not just theft that Boda wants to prevent; it's the police killings of children.
"We're bringing it to the council to see [what might be able to be done]," said Boda. "Right now, we're researching what we can do and how it may be enforceable."
What defines a toy gun?
Mayor Day is somewhat on the fence, noting that he "doesn't necessarily agree this [possible ban or restriction] is the right approach," but admits that it's "a worthy conversation that Mr. Boda has started: Could this help save a child's life in a potential police error? I'm willing to have that conversation and to engage constantly in matters that are important to the community."
If Salisbury does pass the ban, there would likely be plenty of gray areas for retailers like Wal-Mart to navigate. For one thing, there would have to be a firm decision on the definitions of a toy that resembles a firearm.
Related: Online Retailers Agree to Stop Selling Realistic Toy Guns
"I'd be interested to see what is defined as a toy gun," said Steve Reece, CEO at Kids Brand Insight, a toy business consultancy. "Logically, a ban on toy guns should cover only those toys which actually look like guns [but,] I would argue many toy projectile 'guns' are about as close to real guns as a Star Wars light saber toy."
Because there are so many gun-like toys that don't necessarily resemble real guns, Reece said that cities face a difficult time making a ban on all toy guns effective. He added that the toy industry is already going to lengths to eliminate confusion between their products and real firearms.
"Nerf as the market leader produces products which fire harmless foam darts and which do not look at all like real guns," said Reece. "Any 'replica' style toy guns tend to be cheap imports."
No magic bullet
Life-like or not, Jamila Bey, a journalist and mother to an eight-year-old son thinks that banning toy guns doesn't at all get to the heart of the issue.
"It's disingenuous to talk about banning toy guns, because toy guns aren't causing harm — real guns are," said Bey, who is based in Washington, D.C. "Banning toy guns is, at best, a feel-good gesture that has no substance behind it whatsoever."
Bey added that she doesn't think banning toy guns would get to the root of yet another issue: the American culture of gun violence.
"If you give two young boys sticks, they'll point them at each other and say 'bang bang'," said Bey. "It's the culture we live in, the movies we watch. We see guns all the time — and our boys and a lot of our girls, too, play [accordingly]."
Jody Allard, a Seattle-based writer and the mother of three sets of twins, ranging from ages 5 to 18, said that she once believed toy guns were bad, and forbade them for her kids, but realized it was pointless.
"When my oldest kids were little, only around 3 and 5, I didn't let them near anything even remotely violent, and I prided myself on modeling a peaceful approach to the world," said Allard. "One day, I walked into their preschool to pick them up, and I saw that my son had chewed his chicken nugget into the shape of a gun and he and another child were gleefully shooting at each other and yelling 'you're dead!' Of course, the staff immediately intervened, but it was a real wake-up call that there's no way to limit our kids' awareness of the world around us."
Allard said that rather than banning toy guns in the home, she now focuses on explaining why they can be problematic.
"It's easy to latch onto something like a toy gun as the reason our kids are growing up violent, but the reality is that they grow up in a violent world," said Allard. "A toy gun isn't to blame, we are. Instead of banning toys, we need to teach our kids how to regulate their emotions and grow into compassionate adults."
Training and trust
Still, these bans are designed not to make kids less violent, per se, but to prevent police officers from making fatal errors by mistaking a fake gun for a real one.
Such fatal errors haven't occurred in Salisbury, Maryland, but they could, which is why Day says the Salisbury police force receives extra training.
"Through training, a lot of things can be avoided," he told NBC News. "We accepted a donation from a federally accredited training organization that will be providing additional high level training from former special operations trained individuals [such as] Navy SEALs, working on the forced escalation process, and ensuring our officers are as capable if not more so than those in other [cities] to reduce the likelihood that such a mistake is made, and to focus on the preservation of life. You have to focus on those things as well as on building trust. That is what is most important."