One of Wal-Mart's primary selling points is its low prices, but customers at a growing number of stores are out of luck if they happen to see lower prices on a competitor's shelves. After eliminating its price-matching policy at 500 stores in June, the retail giant added another 300 locations to that list at the beginning of the month, according to Consumerist.com.
"It's possible that price-matching did little to actually alter store volumes and/or price perception in those markets," Kenneth Perkins, an equity analyst at Morningstar, suggested via email. "It's also possible that the competitive environment in those markets has decreased," he said, or that resources for the in-store program were being diverted to the retailer's online arm.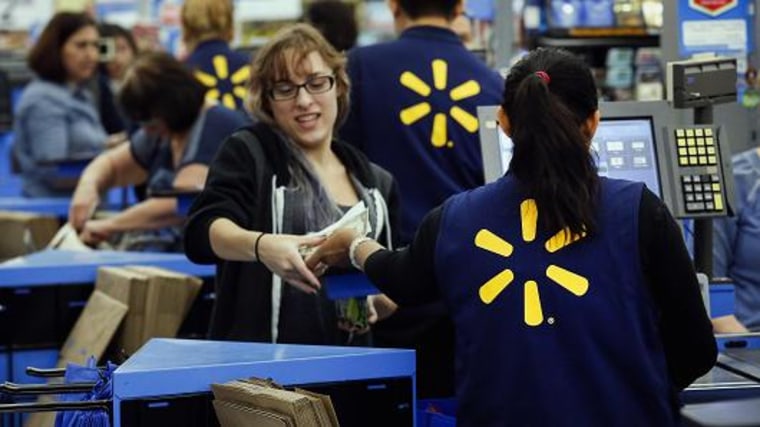 "Firms implement price-matching to cultivate customer loyalty and reinforce the perception of price competitiveness," Perkins said, but dropping it with little fanfare — and not making the list of stores that have done so widely available — has provoked confusion and complaints from customers, who have taken their grievances to social media.
"I complained about them stopping their price matching… I will just go to the other stores now to buy the items," one Facebook user said.
A Wal-Mart Facebook moderator responded, touting "even lower prices on… national and private-label brands," but the customer countered that claim.
"I have not seen any reduction in price in my area. Mostly what I have seen is raising prices," she wrote.
On a separate post, another Facebook user lamented, "I'm finding that Wal-Mart is no longer the value it used to be."
Wal-Mart, which reports its quarterly earnings next week, did not respond to multiple requests for comment, although president and CEO Doug McMillon addressed pricing practices on the company's last quarterly conference call in May, telling investors, "Better expense management in the quarter gave us increased confidence to initiate our next phase of U.S. price investment earlier than planned. Over time we intend to lower prices further in a deliberate strategic way."
Read More: After a Hiatus, Wal-Mart Welcomes Back Its Greeters
The reference to deliberate and strategic gives a hint as to the retailer's motive for pulling back its price-matching: Investors are impatient for more predictability.
"Pricing certainty will be welcomed in the investment community," said John Canally, chief economic strategist for LPL Financial. "It's a fierce environment for market share among retailers," he said, and investors today have a sensitive radar for any signs of deflation. "If you're constantly on a one-off basis making the pricing uncertain, it doesn't help," Canally said.
Goldman Sachs analyst Matthew Fassler noted in a research note following Wal-Mart's last quarterly earnings announcement that McMillon's comments were "meant to assuage concerns that price cuts mean gross margin declines," and pointed out that Walmart was less aggressive with pricing over the past holiday season.
Addressing McMillon's claim that the retailer would balance price cuts by selling more high-profit items, Fassler wrote, "This is the least certain element of management's game plan."
Read More: It's Official: Wal-Mart to Buy Jet.com For $3.3 Billion