Deciding on your college major or thinking about switching? You may want to consider Petroleum Engineering. According to new data from Bankrate's The Cashlorette, this field touts the highest median income ($134,840) and a low unemployment rate of 2.38 percent.
You may also want to think about majoring in Pharmaceutical Sciences/Administration — which ranks second on the list of most valuable college majors, with related jobs boasting a median income of $116,642.
Other top majors are Geological and Geophysical Engineering, Mining and Mineral Engineering, Naval Architecture and Marine Engineering, Metallurgical Engineering, and Nuclear Engineering. These majors can all lead to jobs with an average salary of $100,000 or more.
Are there more lucrative careers out there? Sure. But they usually require additional education.
"These are all jobs that require just a Bachelor's degree," Sarah Berger, author of The Cashlorette blog told NBC News.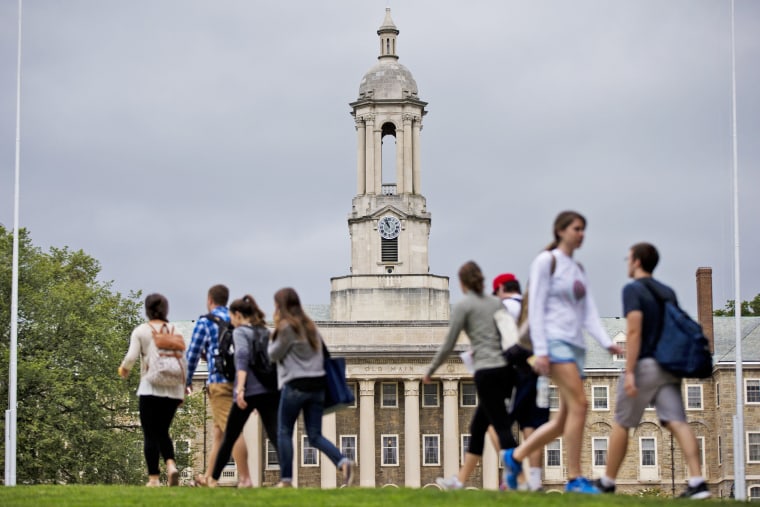 Meanwhile, at the bottom of the list of the 173 majors The Cashlorette considered were Studio Arts, Human Services and Community Organization, Composition and Rhetoric, and Miscellaneous Fine Arts. The most poorly ranked college major was Clinical Psychology, with a median income that doesn't crack $48,000; and the unemployment rate is between five and eight percent.
We Want STEM Workers, and We Want Them Now
That the top-ranked college majors are all in science, technology, engineering, and mathematics (STEM) is hardly a shocker. We've been seeing significant growth in these areas for years.
"Much of these results come to no surprise due to the onset of what we know as the Information Age," said Janet Lamwatthananon, ZipRecruiter's recruiting coordinator and career expert.
"The digital age in which we currently live has shifted our economy to an industry based on information computerization. What that means is that technology has become critical to the way we work — that's why we're seeing a rise in positions that demand knowledge of things such as mechanical equipment and programming languages."
Related: How Financial Restrictions Can Guide You to the Right College
The fact that the U.S economy is presently robust is also playing a role in the creation of these STEM jobs.
"Right now there are a lot of companies building stuff, and there is strong economic activity around infrastructure," Jonathan Stewart, professor and chair at UCLA's Civil and Environmental Engineering department told NBC News.
"Companies are desperate to find engineering folks and are beating down our doors as professors to get face time with the students."
It's not just the technical skills engineering grads possess that may be viewed as an asset to a company; it's also their scientific way of thinking, which can be useful in even non-scientific roles.
"Students in engineering are taught how to define a problem, which is not always an easy thing to do," added Stewart. "They can identify: 'What is it we're trying to do here?' Then go out and collect data to formulate and then develop a solution based on principles of science and math. That in itself is a marketable skill."
The Startling Disparity Between Degrees
This is great news for STEM students and grads, but what about everybody else? The Cashlorette's study points to a troubling reality: Undergraduate degrees all cost the same amount to obtain, but they are most certainly not created equal — at least, not when you go out and try to get a good job.
How can a degree that took just as much money and hours to receive as another, be worth so much less in the real world?
Related: There Are More Job Openings Than Ever Right Now
Vince Bertram, CEO of Project Lead The Way and author of "Dream Differently: Candid Advice for America's Students" reasons that in part, it's a simple matter of supply and demand.
"There is a strong demand for these STEM majors; as a result it drives up wages and you start to see these disparities in majors where there is a lot of supply and little demand," said Bertram.
"A lot of people are getting degrees in studio arts, for instance, but how many jobs are there actually to fill? It's tons of supply and little demand, which drives wages down."
Follow Your Dreams, But Also Know the Facts
According to recent research commissioned by finder.com and conducted by global research leader Pureprofile, two in five Americans with a college degree (nearly 61 million people) don't believe it was worth the money. Of these, 49.6 percent say this is because they aren't using their degree, while 19.6 percent say they have been unable to secure a job in their field.
The fact is that unless you're studying for an in-demand STEM-related major, you can't really bank on getting your money's worth out of a college education.
It's a harsh truth to swallow when you amassed student debt to follow your dreams only to find that your dream job pays bupkis and you may have to go back to school (and dive even deeper into debt) to make your undergrad endeavors worthwhile.
"I think telling students to follow their dreams is irrational and misguided advice," said Bertram. "There are certain dreams that people will not pay you for, and a lot of dreams require a tremendous amount of hard work and credentials, and honestly, the job market does not care about our dreams, it cares about our skills."
Related: The Freshman 15 Is a Myth
The good news for those holding a degree in one of those bottom-dwelling majors is that they can still land a great gig: they just have to do their homework and be open-minded. And they probably have to look beyond their desired field for employment.
"Do your research, be flexible in your willingness to consider relocating and to explore different industries, and look to your network for advice," suggested ZipRecruiter's Lamwatthananon.
"Write down your top skills that bring you value as an employee and then consider where you can apply those skills within industries you have never considered before. Although students tend to be comfortable in one given area, industries outside your line of comfort may be willing to pay more when they have fewer employees with your same position."
While nobody is disputing that students should pursue their passions, they should do so with eyes wide open, and this means researching your major (and college) extensively.
"As long as our students are making informed decisions, they can pick the quality of life they want," said Bertram. "What concerns me is the students who are not informed and are picking majors without knowing what that career path looks like."