The Carolina Panthers and the Denver Broncos have booked places at Super Bowl 50 on Feb. 7 in Santa Clara, California. If you're a fan and intending to join them, it's a pricey proposition.
The state of affairs is different from last year, when both flights and accommodations to Glendale, Arizona, two weeks out from the Super Bowl were relatively reasonable. Regardless of whether travelers are fans of the Broncos or the Panthers — time is of the essence when book for the game at Levi's Stadium.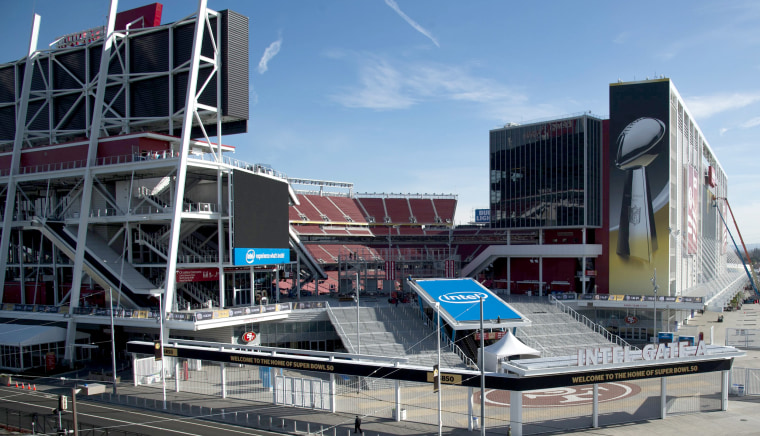 "If you're on the fence about going to the Super Bowl — now's the time to book," said David Solomito, North America Brand Director for travel search engine Kayak. "According to last year's data, flight prices increased by more than 35 percent once the two Super Bowl teams were determined. So book now to score the best deal."
Heading into this weekend, the national average airfare into the Bay Area for Super Bowl weekend was $313-$531, according to the number crunchers at Priceline. They also checked fares from cities with teams who were still in the running, including Phoenix ($236-$429), Denver ($300-$522), Charlotte ($412-$848) and Boston ($417-$759).
Priceline also noted that, of the three local airports — San Francisco International, Oakland International and Mineta San Jose International — San Jose is the least expensive flight option. The airport is just six miles from Levi's Stadium.
Related: Super Bowl Bound? You Might Want to Book Now
One cost saving tip can be summed up this way: Arrive early (or the day before), and leave late.
Orbitz.com's data shows the least expensive days to travel to and from the Big Game is Wednesday, February 3, or Saturday, February, 5, with a Monday, February 8, departure. Thursday, February 4 is the most expensive day to travel, with flights averaging $433.
There are about 35,000 hotel rooms in the San Francisco/Santa Clara/Silicon Valley area, far less than the 100,000 rooms that were available in the New York/New Jersey area when the big game took place in 2014.
Going into the weekend, Priceline found 2-star hotels offering rooms at $216 to $599 a night, 3-star hotels asking $329 to $1,199 a night, and just one 4-star hotel with a room to let — at $999 a night.
Despite Silicon Valley's sky-high rent and real estate prices, San Francisco hotel rooms are slightly more wallet-friendly. Priceline found some 2-star hotels with rooms between $65 and $746, 3-star hotels with rate $145-$899 a night and four-star hotels asking between $979 and $1,249 a night.
Airbnb is another option, but the short-term rental giant may not offer much savings. "At $247/night, San Francisco has the highest average Airbnb rate of any U.S city, and this rate will increase to $311 during Super Bowl weekend," notes Rocketrip, a startup that helps companies save money by rewarding employees for shaving travel costs.
Meanwhile, travelers should also follow the losers of the AFC and NFC championship games.
"Half the teams in the playoffs won't be making it to the Super Bowl, so expect some last minute cancellations and some inventory to open up after this weekend's games," said Expedia data analyst Ian Audette.
Getting there is one thing; actually attending (or affording) a game ticket is quite another.
According to TiqIQ, before this weekend's games the lowest Super Bowl 50 ticket price available was $3,100, although tickets prices on StubHub were starting at $3450, with passes just for parking at Levi's Stadium starting at $68.
If money is no object, you can just skip the hassle of searching for a flight, trying to find a room and asking around to see if someone knows someone who can get you a ticket to the game.
For "just" $550,000, Vivid Seats will sell you an Ultimate VIP Super Bowl package — for 20 people — that includes round-trip tickets on a chartered jet from anywhere in the continental U.S., 10 double-occupancy hotel rooms at a four-star Santa Clara resort for three nights. The trip also includes transportation and admission to the NFL Experience, industry party passes, assorted other perks and, naturally, tickets to the game.