More and more holiday travelers are choosing to rent a house or apartment from the owner, rather than book a hotel room. And in most cases, those who go this non-traditional route are happy they did, according to a new survey by Consumer Reports.
More than nine in ten (92 percent) of the respondents who'd booked with a home-sharing site like Airbnb, HomeAway, VRBO or FlipKey said they were likely or very likely to do it again. More than half (53 percent) said it was a "very good" experience; another 37 percent rated it "good."
"People really like the unique aspect of it," said Lauren Lyons Cole, the magazine's money expert. "If you go to a new place, but you stay in the same sort of hotel you've stayed at in other cities, you're not really experiencing the local culture. There's something great about going to Paris and renting an apartment and feeling like you're part of the community."
That's why Joan and Glen Griswold don't want to stay in a hotel when the family vacations in Mexico. So Joan is spending a lot of time online trying to find a home to rent.
The Griswolds, who live near Seattle, have done this before — Glen doesn't like hotels, Joan wants more space — and they've been happy with both the price and the accommodations they've booked. Last year, when the family went to Thailand, they stayed in a multi-level tree house.
"It's so different from a hotel experience and there's a huge selection of places, everything from houses for 10 to apartments for two," Joan said. "Whatever you're looking for, there's probably something for you."
Related: Want to Travel the World for Almost Nothing? Try Housesitting
When Consumer Reports asked people why they decided to rent rather than stay in a hotel, the main reason was to save money (70 percent), followed by the desire for unique accommodations (58 percent) and to have a kitchen (53 percent).
To be clear, you don't always save money this way. But if you're traveling in a group and everybody gets a bedroom and you have a kitchen, "it can be a very affordable way to vacation," Cole said.
Not for Everyone
The demand for unique accommodations and lower prices has fueled dramatic growth for home-share websites. Consumer Reports noted that travelers booked 21,000 stays through Airbnb in 2009, the year it was founded. Last year, the site handled more than 80 million bookings.
And yet, the homestay industry is only a tiny fraction of the total lodging market.
The Consumer Reports survey found that 90 percent of U.S. adults have never used a home-sharing service. A majority (53 percent) said they wouldn't even consider it because they don't know what to expect, have safety concerns or don't want to interact with the homeowners.
Leigh Gallagher, author of the book "The Airbnb Story," says home-sharing has tapped into the growing desire travelers have for something different. It's "a more authentic, social, artisanal experience" by letting people stay in neighborhoods that are "off the beaten path and outside the traditional hotel zone," she said.
"Of course, home-sharing is not for everyone," she told NBC News. "Some people prefer the standardization and security and consistency of staying in a hotel."
Related: Weekend Renters Find Corpse in Gardens of Airbnb Home
And don't forget the reward points offered by the big national hotel chains. Plus, the hotel industry is doing a good job of keeping customers happy.
Guest satisfaction with hotels rates 76 out of 100 points, in the 2017 American Customer Satisfaction Index Travel Report. Some of the top-tier chains, like Marriott (85), Hilton (81) and Hyatt (80), score even higher.
The recently released ACSI report noted that "with the rise of online hospitality brokers like Airbnb, travelers have more choices than ever before, forcing hotel operators to compete on both price and customer service."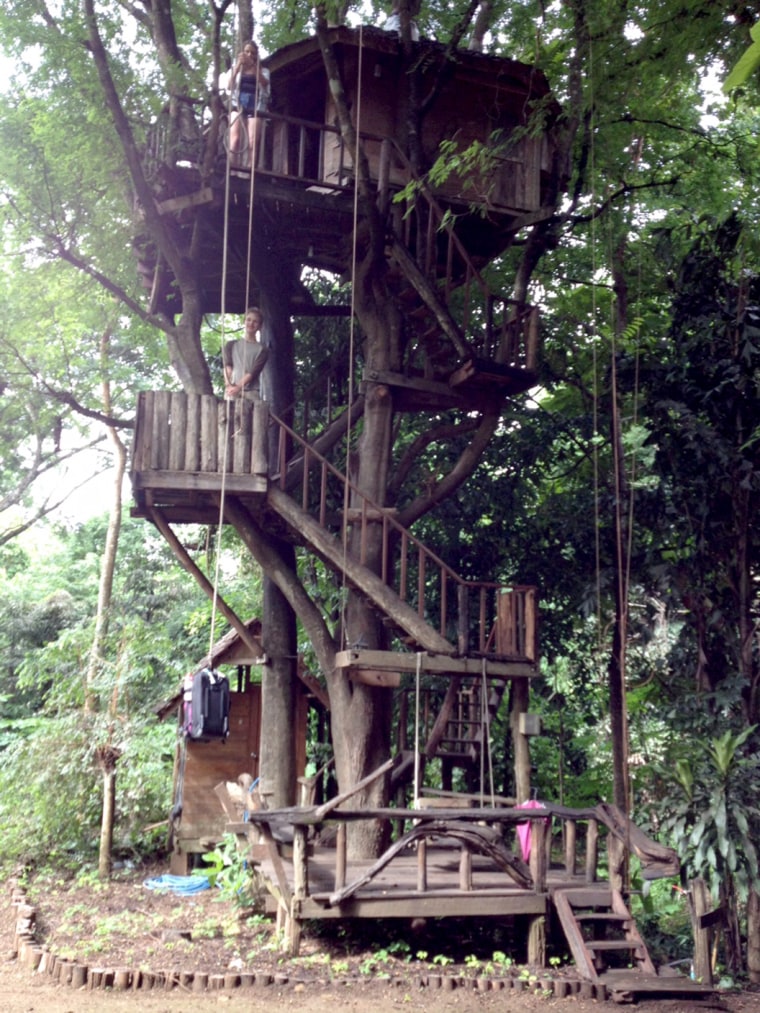 Tips for Those Who Go This Route
For its story Homes Away From Home: The Appeal — and Pitfalls — of Home-Sharing, Consumer Reports compared the largest home-sharing services: Airbnb, HomeAway, VRBO and TripAdvisor Rentals. They found that consumer protections and company policies vary, and so do the additional fees.
Airbnb, which has the largest number of properties in the U.S. and across the globe, charges between six and 12 percent in service fees. HomeAway charges five to 12 percent. TripAdvisor Rental tends to charge a higher service fee, between eight and 14.5 percent.
That's why it's so important to compare the total price per listing, so you don't get hit with a costly surprise. The per-night or per-week price you see in search results is only part of the total cost. Dig deeper in the listings for other charges — service fees and cleaning fees. They can really add up and vary greatly from place to place depending on the size of the rental and length of stay.
Is there tax? Some cities tax these rentals; others don't.
"You really need to factor that in," Cole said. "That tax could end up making it more expensive than a hotel, so you really need to look at that."
Consumer Reports offers these tips that should increase your odds of having a happy homestay experience:
Read between the lines of the reviews: Because the average Airbnb rating is 4.7 out of five stars, it's essential to read reviews with a critical eye. If something is the slightest bit negative, pay attention, as people have different ways to describe their complaints.
Choose a property that has many reviews: Airbnb's "Superhosts" have done this at least 10 times in a year and received a five-star review for at least 80 percent of stays, so listings with that status are a good bet.
Leave nothing to chance: Double-check everything from how many people can shower before the hot water runs out to whether the kitchen has a microwave and a coffee maker. Available amenities such as WiFi will be shown on the listing, but if you don't see something, ask.
If your favorite option busts your budget, you might want to ask the host if they're willing to negotiate. You'll have a better chance of scoring a discount if the rental is new or not fully booked.
The bottom line: Ask a lot of questions and don't assume anything. Remember, the website you use is only a matchmaker. Your booking is with the owner who posted the listing.
"Since you're renting from an individual, you really don't know what to expect when you get there," Cole cautioned. "You've got to look at the pictures really closely, read the reviews carefully — they can reveal so much — and clarify questions by messaging with the host ahead of time."
Herb Weisbaum is The ConsumerMan. Follow him on Facebook and Twitter or visit The ConsumerMan website.