Gone are the days when Valentine's Day was all about pleasing the ladies: Gift-buying for men is on the rise.
According to new data by iQuanti, Google searches on "what to buy him" spiked over the course of 2016, while online searches for "what to buy her" slightly dipped. The former search category grew by 11.54 percent, while gift-searching for women dipped by 0.58 percent.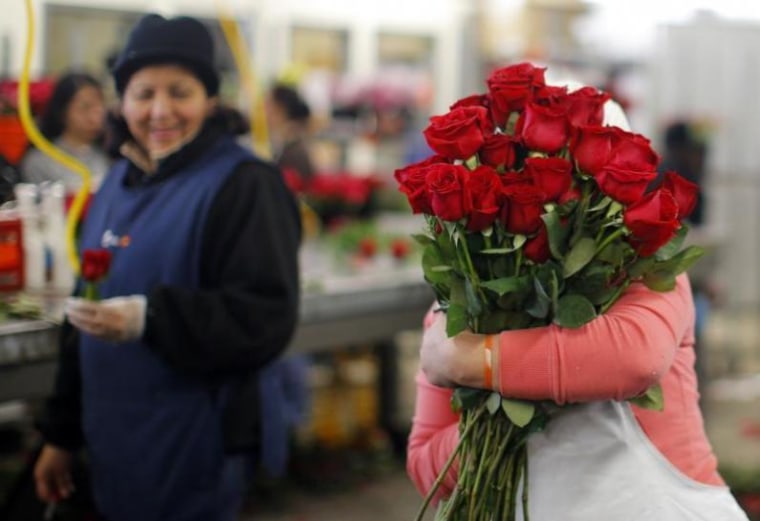 "It was surprising to find that over the last year there seems to be a shift in the so-called classic Valentine's Day traditions," said Sastry Rachakonda, iQuanti CEO. "It seems that the expectations around Valentine's Day have changed, putting men and women on more of a level playing field. No longer is this holiday just about men buying flowers and chocolate, but women participating as well."
iQuanti's data shows that in 2016, the sum of Google searches around "gifts for her" was at 2,702,250, while gift searches for him were at 405,020. The latter number may sound like small potatoes in comparison, but it reflects a swelling interest in a consumer sector that was once virtually non-existent. And retailers are helping to create and stimulate the trend.
"Female and male markets are buying increasingly similar gifts for each other, and in most markets it's no longer expected the obligation be solely on the man to 'wow' her with an impressive gift like it was 20 or even 10 years ago," said Drew Cerullo, owner and CEO of Better Profit Growth. "Women are equally feeling the pressure to impress their partners, as is evidenced by their buying behaviors and searches."
Yup, Men Also Like Flowers and Chocolates
Roses are red, violets are blue, and men may be gifted them, too. Some of the biggest players in Valentine's Day flower retail now focus sections of their site to touting products for guys. 1-800 Flowers has a "Valentine's Day Gift For Him" page, as do FTD and Teleflora.
Chocolates, another traditional "for her" present, are also being represented by retailers as an ideal V-day gift for men. Godiva has customized a "for him" page on its site, as have Lindt and Edible Arrangements.
"Mars found that men and women purchase chocolate for Valentine's Day in nearly even numbers," said Stephanie Lakritz of Mars Chocolate North America. "Fifty-two percent of chocolate purchases are made by women, and 48 percent by men."
A Man and His Man Cave
While traditional Valentine's Day companies are increasingly marketing to those shopping for their guys, novelty retailers focused on men are also cashing in on Cupid.
"At Man Crates, we've seen Valentine's Day searches for men grow well over 30 percent a year for the last five years," said CEO of Man Crates, Jon Beekman, adding that 2017 is panning out to be its biggest Valentine's Day ever.
As its name suggests, Man Crates retails a variety of crates filled with stuff that men in particular may appreciate. Think sports gear, grilling tools, shaving kits, meats, and booze.
And, while whiskey and cold cuts may be much appreciated by the average Joe, why not pin a few sentimental photos on the walls of his man cave?
"This Valentine's Day, for the first time in our 26 years in business, we've seen a crazy unusual spike in orders to surprise men versus women, with their decades-past pictures digitized for Tuesday," said Mitch Goldstone, president & CEO at ScanMyPhotos.com. "Over the past few weeks, from our analytical monitoring, 80 percent of all ScanMyPhotos.com orders are from females."
Narrowing Searches and Changing Family Dynamics
Any good Googler knows that the narrower the search, the better the results, and iQuanti's data indicates that consumers are increasingly looking for certain types of gifts both for him and for her.
A breakdown of iQuanti's Valentine's Day-related searches from 2015 to 2016 shows that searches for "cute" gifts increased by 111 percent, "cheap" increased by 81 percent, and "restaurants" increased by 391 percent.
"Searches for shared experiences such as dinner or restaurants shot up more than 300 percent year over year from 2015 to 2016," said Rachakonda, adding that other keywords people were searching seem to "echo today's modern dating scene."
Data also reflected that Valentine's Day love for moms is on the rise, while dads and siblings are taking a back seat.
"We found that there was a 22.3 percent increase in searches in Valentine's Day gifts for mom, while gifts for dad went down by nearly 14 percent and gifts for brother/sister went down by 20 percent," said Rachakonda.