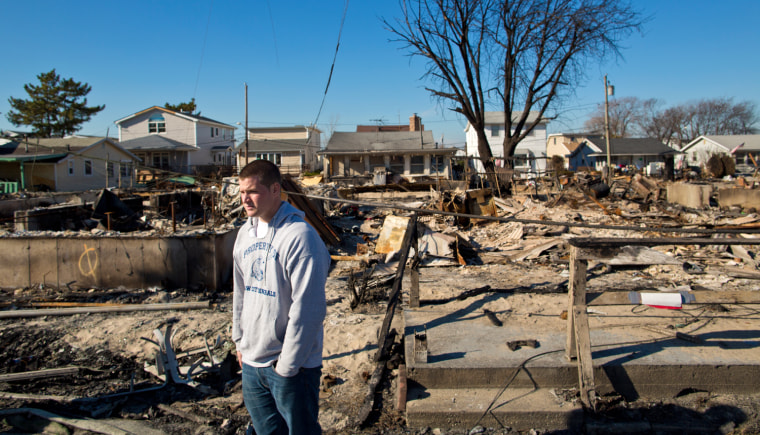 Matthew Petronis sat in his dorm room on Oct. 29, watching TV in horror as "my childhood burned down."
Petronis had spent the past three summers working as a lifeguard on Breezy Point beach, and had spent the first 19 years of his life learning how to walk, read, swim and throw a baseball in the idyllic Queens, N.Y., neighborhood. A sophomore at Catholic University in Washington, D.C., he thought he was a safe distance from Sandy's unforgiving storm surge. But as the first reports of a devastating fire on Breezy Point began to circulate, fear gripped him. His schools, his friends, almost everything he knew was there. He'd celebrated all 18 of his Thanksgiving Days with family there. 
As the night wore on, it became apparent that the combination of wind, water and fire had dealt Breezy Point a potentially mortal blow. He felt helpless in his dorm room -- but not for long.
A star pitcher at Xaverian High School near Breezy Point, Petronis is now a promising southpaw on the Catholic University pitching staff. So he knows a little about working his way out of trouble.
Only a few hours after the near destruction of his community, Petronis set up the first fundraiser to help the neighborhood get off the mat. Before people routed by Sandy could even begin to assess the damage, he had embraced the new form of crowd-sourced charity and set up an online-donation tool at WePay.com. Within hours, he'd raised a few thousand dollars. He topped $10,000  a couple of days later. 
Offers started pouring in, not just money. Accountants and lawyers offered to help him set up nonprofit status, which was granted by the IRS this week. Others offered to come to Breezy Point and help with reconstruction. Architects, carpenters, construction workers and good-hearted volunteers from across the country have offered to come for a week or two to Queens and help anyway they can. Petronis is managing both the money and the volunteers.
"People are running marathons to raise money for us, having free concerts for us. It's just crazy," Petronis said this week. In a way, the teenager has been the most personal link between Breezy Point, the most local of neighborhoods, and the outside world, full of folks desperate to help resurrect this treasured place.  
By Thanksgiving morning, nearly 1,400 donors had driven the fund above $78,000, all generated by a few creative clicks on a keyboard. Unlike other Sandy recovery funds, the money Petronis is collecting will go directly toward rebuilding Breezy Point.
In some ways, Petronis is lucky. His family – his parents, two brothers and two cousins they took in who recently lost their parents – has been squeezed into a studio basement apartment in Brooklyn for three weeks, looking for a more permanent place to live. Petronis' dorm room seems like a luxury accommodation in contrast. Naturally, he feels guilty about that -- but his life is hardly easy at the moment. He's juggling classes, mandatory study hall for baseball, keeping up with his family's rebuilding issues and managing the donations and volunteers.
"In other words, he's using business management major skills in a pretty useful way," said Catholic University baseball Coach Ross Natoli. "He's a free spirit, yet a caring kid. He has that New York can-do attitude. He's a terrific teammate."
In fact, the entire Petronis family knows something about being team players, Natoli said. Not only do they attend many games -- both home and away -- but Petronis' father, without being asked, started buying lunch for the players during long doubleheaders last year. Doubleheaders at smaller colleges tend to be long, inglorious affairs, often lasting 5 hours or more.  
"When you play a sport in college you try to emphasize importance of what it really means to care about teammates and have their back," Ross said. "Matt is one of those guys. What he's done has not surprised me."
Petronis' fund did so well because he set it up quickly, taking advantage of all the publicity that Breezy Point received in the immediate aftermath of the storm. It's now the main gift-giving tool for outsiders who want to help Breezy Point. The money will be given to the Breezy Point Disaster Relief Fund, to be administered by a seven-member board of directors.
"He did all this on his own, it's as simple as that," said Steven Greenburg, who will chair the disaster relief fund. "What he's done is magnificent, and a perfect example of what we do here in Breezy Point. It's just nice to see young people step up like this."
The money will be doled out to people who apply for it using anonymous forms, Greenburg said.
"We have to do it that way, because everyone knows everyone on Breezy Point," he said.
For Petronis, the fight is personal.
"The place where I grew up during my childhood is almost gone, but that is not the case for the children that are growing up now," he wrote on the wepay.com page. "They deserve to enjoy the same little piece of paradise I enjoyed when I was younger, so this is not just only for Breezy. It's for the younger generation as well that I want to have the same childhood, but better."
The last few weeks of the fall semester -- the crush between Thanksgiving and Christmas, tend to be the busiest time in a student's calendar. But despite the papers and exams staring him down, Petronis went home Thanksgiving week to help with the cleanup. It was the first time he'd seen the destruction of his family's Beach Road house in person.
Read more of NBC News' coverage of Breezy Point
"You just stare at in disbelief. I have so many emotions going through my mind," he said. "But there are so many positive things going on, and I really just want to help out, so I'm going to stay positive."
Petronis, who appeared in three games last year as a Catholic University freshman, had a disappointing end to his fall baseball season, pitching in a 2-1 loss to the Naval Academy. But one gets a sense there are a lot of wins in his future.
Already, Thanksgiving week has brought good things to his family. On Wednesday, Petronis was helping move furniture into a new apartment the family had just scored in Bay Ridge, Brooklyn, not too far from Breezy Point. There, they'll be able to find a little more normalcy while they plan to rebuild their home and their lives. But the new apartment isn't nearly big enough for a family gathering so, for the first time, they'll be eating turkey dinner outside New York City – at an uncle's home on Long Island.
"It's going to be weird, switching it up is odd. But we will be around family, and that's what Thanksgiving is about," he said. And he vows Sandy will be just a bump in the road, that holidays will come to Breezy Point again.
To give to the Breezy Point Disaster Relief Fund, visit Petronis' WePay website at:
https://www.wepay.com/x4c0ok9/donations/hurricane-sandy-raising-money-for-breezy-point
Or http://breezypointdisasterrelief.org/
Or send a check to:
Breezy Point Disaster Relief Fund/C/O The Law Office of Lee and Kane
2175 Flatbush Avenue
Brooklyn, NY 11234
Other places you can donate for Sandy relief, or offer help:
http://usnews.nbcnews.com/_news/2012/10/30/14805994-sandys-aftermath-how-you-can-help?lite
* Follow Bob Sullivan on Facebook.
* Follow Bob Sullivan on Twitter. 
More from Red Tape Chronicles: