The White House urged Wednesday that the minimum wage for tipped workers, such as restaurant servers, be raised to $4.90 from $2.13 per hour by the year 2016.
The president also supports eventually raising the tipped minimum wage, which has sat at its current level for 20 years, to 70 percent of the full minimum wage. If the Administration gets the $10.10 minimum wage it's been recently pushing for, that comes to $7.07 per hour for tipped workers.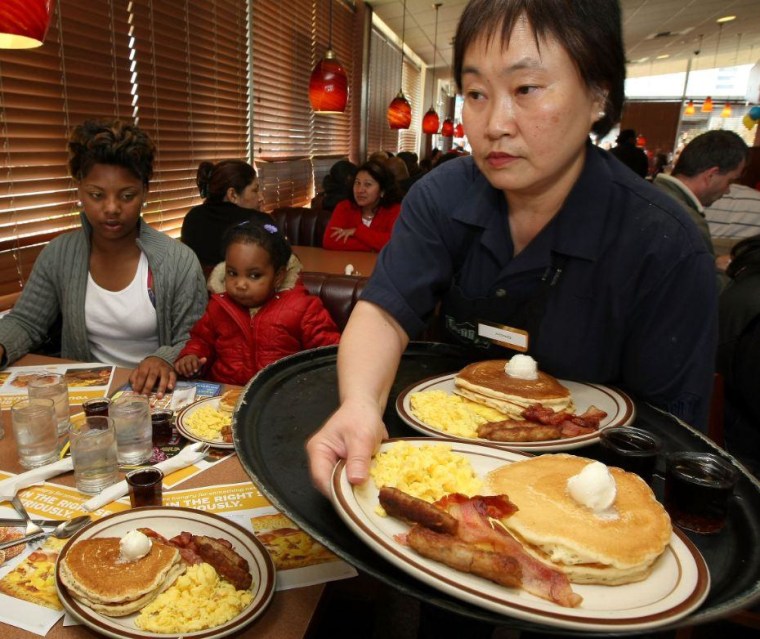 For nearly 50 years, the tipped minimum wage was pegged to half of the minimum wage, but in 1996 the Clinton administration let that provision lapse in a concession to the restaurant industry during a previous minimum wage boost battle.
While employers are legally required to make up the difference between tips and the federal minimum wage, currently at $7.25 per hour, one in 10 earn less than the minimum wage, said the White House.
The raise would mostly help women, the White House said. Of the 3.3 million workers in tipped jobs, nearly 2 million are restaurant servers, 70 percent of whom are women.
"People naturally think about whether women are breaking through glass ceilings and making great strides and achieving the same kind of significant goals as men," Betsey Stevenson, a member of the White House Council of Economic Advisers who issued the report, said in a conference call with reporters. "But equally, it's important to figure out how women are doing at the bottom."
Proposals to raise the minimum wage have met with opposition from the business sector and some Republican lawmakers, who say employers will be forced to eliminate positions to make up for increased costs. It's also a hot-button issue for some voters.
In Seattle, where there is a push to raise the city minimum wage to $15 for all, including restaurant workers, some blue-collar hourly wage workers have said they'll stop leaving tips if their waiters make more than they do.
Reuters contributed to this report.