Three months after Amazon bought Whole Foods, promising lower prices and impending savings at the notoriously expensive supermarket, it's time for a reality check. Frequent shoppers may have noticed that relatively few products are cheaper than they were before the takeover in August.
"I'm sure they'll do better at some point, but right now, the only thing we buy that's had a price change to our benefit is the organic avocados," said Ken Lonyai, who shops at a Whole Foods in Clark, New Jersey. "For my family, nothing has really changed as a result of Amazon's purchase."
Several new surveys find that the price rollbacks have been very limited so far — both the number of products affected and the discounts offered — even after additional price cuts on some best-selling grocery items and holiday staples just before Thanksgiving.
"The media frenzy last summer after the takeover may have created a false impression of the extent of the reductions in shoppers' minds," said Edgar Dworsky, founder of Consumerworld.org. "The actual number of price cuts is so small that one has to question whether this was more of a publicity stunt than a true commitment to rolling back prices storewide."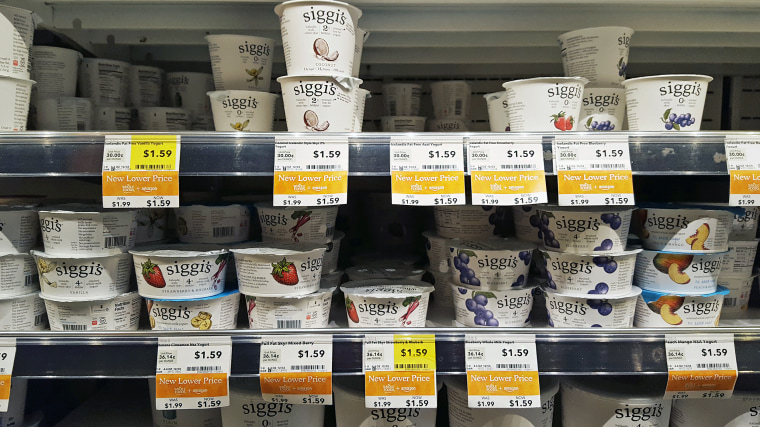 Dworsky went to three Whole Foods stores in the Boston area on Nov. 27 and counted all the "New Lower Price" shelf tags associated with the Amazon purchase. Weekly specials were not included. Dworsky found an average of 254 items marked down per store.
NBC News conducted a similar survey at a Whole Foods Market in the Seattle area and found 269 items with lower price tags. Nearly one-third of those discounts were on toothpaste or deodorant (48) or yogurt (48). The typical Whole Foods carries about 35,000 products, so that means less than one percent of the items at the store we surveyed had lower prices.
"When traditional supermarkets announce a major price rollback, they typically cut thousands of items, not dozens," Dworsky told NBC News. "Amazon and Whole Foods have cleverly cut prices primarily on popular items like eggs, milk, and yogurt — a sophisticated marketing and psychological trick —that can subconsciously create the erroneous impression that other groceries are similarly reduced."
When asked for a response, Whole Foods sent NBC News this statement:
"Whole Foods Market and Amazon have a shared goal to bring the highest quality, natural and organic food at affordable prices to everyone, and we're just getting started. Since the close of the acquisition less than four months ago, we've lowered prices on many of our best-selling grocery items and holiday staples, and this is just the beginning. We'll continue to work closely together to ensure we're consistently surprising and delighting our customers while moving toward our goal, and plan to offer more in-store benefits and lower prices for customers as we continue to integrate with Amazon."
Overall prices at Whole Foods are down just 1.1 percent since Amazon bought the company, according to a survey released on Tuesday by Gordon Haskett, a New York City research firm. They compared prices on 110 items at a Princeton, New Jersey Whole Foods just after Thanksgiving with prices for the same items in August, just ahead of the Amazon deal closing.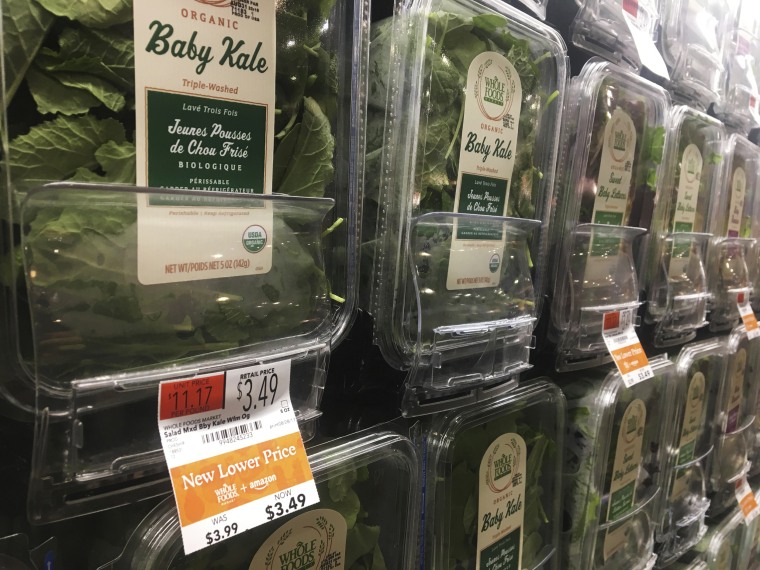 Despite the latest round of price cuts announced in November, the total price for the Gordon Haskett market basket increased 1 percent from two months earlier. Compared to the end of September, prices remained the same on 87 of the items, decreased on 10 and increased on 13. The report noted that the market basket consisted of "high velocity items with year-round relevancy," while some of the latest announced price actions were more holiday focused.
"The bottom line: "We continue to be surprised that Amazon has not been more aggressive with its pricing actions to date," analyst Chuck Grom wrote in an email to NBC News.
Why the discrepancy?
What we've seen so far at Whole Foods reflects Amazon's traditional strategy of "identifying a handful of things that people really want and going fairly deep on those discounts," said Miro Copic, a marketing professor at San Diego State University. Copic expects the online behemoth to move slowly — testing various strategies before making any major changes.
People already think of Amazon as the price leader, even though it doesn't have the best prices on everything. That "halo effect that whatever they do or whatever they're associated with is going to be a good value," will rub off on Whole Foods, Copic told NBC News.
That "Bezos Bump," as Bloomberg calls it, is expected to result in the fastest growth rate in several years for Whole Foods. Morgan Stanley analysts expect sales to increase about eight percent in the December quarter compared with 2016.
Phil Lempert, the Supermarket Guru, calls this "a first attempt" by Amazon to lower prices at Whole Foods.
"I don't think it's realistic to measure this based on percentage of items," he said. "I think they're choosing to lower the prices on the items that will affect the most customers."
Lempert calls the price reduction on fresh organic turkey for Thanksgiving a "brilliant move" that brought in new customers. He believes Whole Foods will focus on offering greater discounts to Prime Members to get more people to join.
How important is price?
Remember, Whole Foods is not your typical grocery store. People who shop at "Whole Paycheck" are usually higher income and not as price sensitive — they're willing to pay more for the perceived quality difference — and a lower price is not likely to get them to buy more.
Jeffrey Shulman, an associate professor of marketing at the University of Washington's Foster School of Business, teaches about price strategies. He believes Amazon sees prices as a way to attract new customers.
"They want more volume because with Amazon more volume as a corporate strategy works pretty well," Shulman said. "They're really equipped to learn fast and learn quickly. So more customers coming through means they're getting more data and can innovate about how to sell more products."
Lowering prices on high visibility items gets attention and you can make up the margins on other products, Shulman told NBC News.
"That's why you saw the deep discount on avocados — it made the news. People know avocados are really expensive. Amazon buys Whole Foods and immediately avocados go down, so that really sticks in the mind of customers," he said.
Consumerworld's Dworsky has this advice for shoppers on a budget: "Don't fall for the hype. Check to see whether the items you actually buy have dropped in price significantly at Whole Foods and how those prices compare to what competitors charge."
Herb Weisbaum is The ConsumerMan. Follow him on Facebook and Twitter or visit The ConsumerMan website.